Rapid changes in the modern world – from the dizzying and often fear-inducing acceleration of artificial intelligence (AI) to the increasingly harder-to-ignore changes to the climate – can make some people feel like they're on an unstoppable march towards a dystopian fate, with no ability to change course.
How can organizations fully realize their power to shape what's coming, even in unpredictable times?
"Very little is inevitable," says futurist Angela Oguntala, a United Nations Future Innovator and a global authority in foresight, innovation and design.
"Yes, there are macrotrends pushing in one direction, but the idea of inevitability is something you can test. I partner with organizations around the world to help them understand and innovate for a world in transition so they can create the change they want to see."
A founding partner at Greyspace, a foresight consultancy, Oguntala's interdisciplinary work fuses technology, design, future thinking and anthropology to offer organizations a holistic way of viewing the creative process. A Salzburg Global Fellow, Oguntala has empowered visionary leaders from diverse organizations around the world – including Google, IKEA, Hermès, Philips, Sky, Deloitte, The World Economic Forum, The World Trade Organization, Microsoft, Bayer and Swiss Life – with essential mindsets and processes to re-envision their products, services and organizational culture to meet changing needs.
Through visioning, experiments, and transition thinking, Oguntala's well-researched methodology shows leaders how to avoid becoming hypnotized by preconceptions about the future. She further helps them embed new mindsets and implement actionable tactics that produce purposeful innovation and sustainable change.
Tested Methods for Designing the Future – Without a Crystal Ball
According to Oguntala, everyone collects visions of the future from culture and society for inspiration – but at the same time, those visions can be limiting. Seeing the same visuals and hearing the same narratives repeatedly can be suffocating to the imagination, closing off our scope of possibility and ability to benchmark good from bad.
"Our ideas about the future are powerful, and they creep in all the time," Oguntala explained in her standout TEDx Talk. "Our actions in the present are guided by our notions of the future, so the first step in achieving the future we want is envisioning it."
An expert applied practitioner, entrepreneur and advisor, Oguntala develops bespoke recommendations that employ future thinking and rapid iteration to determine what kind of future people want and the best way to get there. In her future-casting program, leaders and teams proceed through six modules designed to teach them how to think purposefully about the future. She urges leaders to ask difficult questions that reveal the "whys" behind their individual concepts of the future, then applies new methods to innovate and experiment quickly to make their desired futures tangible. Embedding this future literacy allows managers to keep their newfound skills at the tips of their fingers, helping them lead in a time of continuous change.
"We tend to have this sexy concept of the future: there are sleek, happy people, the technology always functions seamlessly, and everything is somehow solved – but we're not sure how," Oguntala continues. "I'd like to see behind the seams of this frictionless future and wrestle with the reality that the future will be as messy as the present."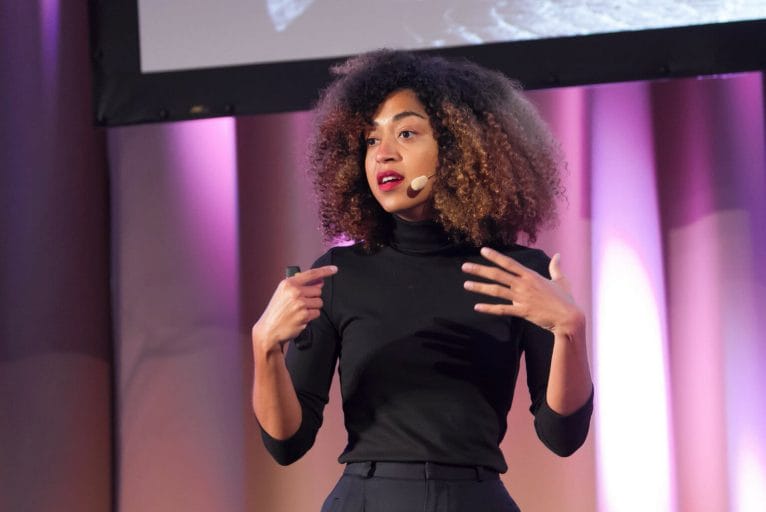 Propel Growth by Deploying a Purpose-Driven Approach to Innovation
When Oguntala researched methods for alleviating "future futility," one challenge that stood out was addressing societal myths around speed and convenience. While questioning old concepts like "time is money," Oguntala encourages leaders to consider the value of what she calls "positive frictions" to restore creativity and strengthen our ability to innovate in truly new and purpose-driven ways.
"One of the most valuable things we can question is, should the goal always be creating seamless experiences for audiences?" Oguntala elaborates. "If seamlessness removes all possible friction from our experiences, and then we look at the current state of a polarized world, we can start to question if we can push back with some positive frictions. This can look like adding more diverse and divergent thinking and ultimately having us contend with our existing preferences and information spheres. This will be what helps us stretch and bridge our imaginations."
Oguntala's bold approach offers organizations and governments a foundation to not only design for what's new and what's next but to have a deep grasp of the larger purpose and more desirable futures they want their innovations to foster. By asking what positive friction looks like in various systems and identifying ways to incorporate it, she reveals a different mindset that allows for reflection and restores agency to team members at all levels to create sustainable, purpose-led pathways to the future.
With Oguntala's recommendations, leaders will find themselves more aware of their impact on our global future and more confident in their ability to make their positive visions a reality.
---
Organizations that transform uncertainty into invention propel themselves toward a growth-fueled, purpose-driven future. Stern Strategy Group connects you with renowned thought leaders whose insights, strategies and management frameworks help organizations fuel growth and disruptive innovation to better compete in a constantly changing world. Let us arrange for these esteemed experts to advise your organization via virtual and in-person consulting sessions, workshops and keynotes.
From Foresight to Insight: How to Craft the Future of Your Organization
was last modified:
September 7th, 2023
by