Take it from Jimmy Fallon. Hashtags are #hip.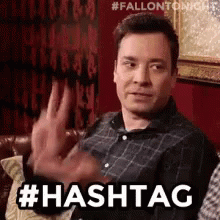 Although they're now used as a stylistic add-on for Twitter and various social media networks, there was a time hashtags served myriad purposes on the web. Long before Twitter existed, the pound symbol (#) was used for Internet Relay Chat, or IRC, much in the same way Slack currently uses it for channels. When Twitter first used the hashtag in 2007, it served as a grouping functionality to filter content. Today, 71 percent of people on social media use hashtags – on Twitter, Instagram, Pinterest, Google +, YouTube, Tumblr, Facebook, and the list goes on.
Hashtags are beneficial to communications pros for two reasons. (Well, there are many more reasons, but these are the most helpful.) First, they categorize information about specific topics, and second, they build engagement among audiences. Consider this: Tweets with hashtags get twice as much engagement as those without; they also receive 55 percent more retweets. Here's a basic rule of thumb for every social media marketer: Every post should contain a hashtag to ensure it's discoverable on a social media platform. 
If you're a communications or marketing professional charged with making sure your brand is present in relevant conversations, or if you're responsible for disseminating content or boosting engagement, consider these hashtags in your social media strategy:
Top Hashtags For Your B2B Social Media Strategy
#contentmarketing
#Digitalmarketing
#SEO
#blogging
#marketing
#branding
#marketingtips
#marketingstrategy
#startup
#b2bmarketing
This is just a sampling of the more popular hashtags, but you can expand your personal list to include PR, communications and social media industry hashtags. When you search specific hashtags on Instagram, it will generate a list of related and frequently used words from other users that may be applicable to your b2b social media strategy. Hashtagify is also a good resource.
Now that you have a list of the best marketing hashtags, here are few best practices for using them:
Use hashtags your audience actually searches for if you're trying to gain more followers. Avoid hashtags like #sternmarketingstrategy2018. It's too specific and not discoverable.
The exception to this rule is if you're developing a social media strategy for a conference or event and you need a community hashtag. In this case, you want attendees to tag their posts with your hashtag so you [and other conference attendees] can follow the event. This will also help you measure overall social engagement.
On Twitter, incorporate hashtags within your posts. Your copy will be more concise and use fewer than your allotted 280 characters. For example: "Here are three ways you can grow business with your #contentmarketing strategy."
While hashtags are important, your B2B social media strategy should also include big picture goals, tactics and paid media. How are you boosting your brand's social presence?
10 Hashtags for B2B Social Media Strategy
was last modified:
October 13th, 2022
by