In the current hybrid work environment, leaders are looking for tools to sustain and even increase productivity among employees, and they are finding them in bestselling author and MIT Professor Robert C. Pozen's new book "Remote, Inc.: How to Thrive at Work …Wherever You Are" (Harper Business, April 2021).
In addition to offering tips on keeping employees productive and happy in the remote space, the book offers leaders much-needed advice on designing policies for bringing employees back to a shared office space as the world moves toward a post-pandemic new normal.
A globally recognized management consultant, practitioner and executive coach who also conducts research at the Brookings Institution, Pozen has been advising major corporations and government entities for decades. His valued expertise reaches into a variety of areas, including asset management, investing, economic development, strategy, tax policy, entrepreneurship, ESG and productivity.
Pozen's latest book follows his bestseller "Extreme Productivity: Boost Your Results, Reduce Your Hours," which offered up its own effective prescription for workplace productivity before the pandemic altered the landscape.
"In today's hybrid environment, it is better for leaders to measure productivity based on what people accomplish rather than the hours they put in," emphasizes Pozen. "This requires managers to be clear about their expectations. It will also help with return to office decisions. What works for one team may not necessarily work for another, so organizations should allow team leaders to determine their own success metrics and hybrid office schedules. A sweeping organizational mandate on bringing people back to the office is not the answer."

During his distinguished career, Pozen has been active in business, government and academia. As executive chairman of MFS Investment Management between 2004 and 2011, he helped triple the firm's assets under management from a base of $130 billion to almost $400 billion. Prior to joining MFS, he was vice chairman of Fidelity Investments and president of Fidelity Management & Research Company. During his five years as president, Fidelity's assets increased from $500 billion to $900 billion.
In addition to advising boards and executives, Pozen helps managers and employees optimally manage their professional and personal workflows, including schedules, meetings and relationships, with an emphasis on work-life balance.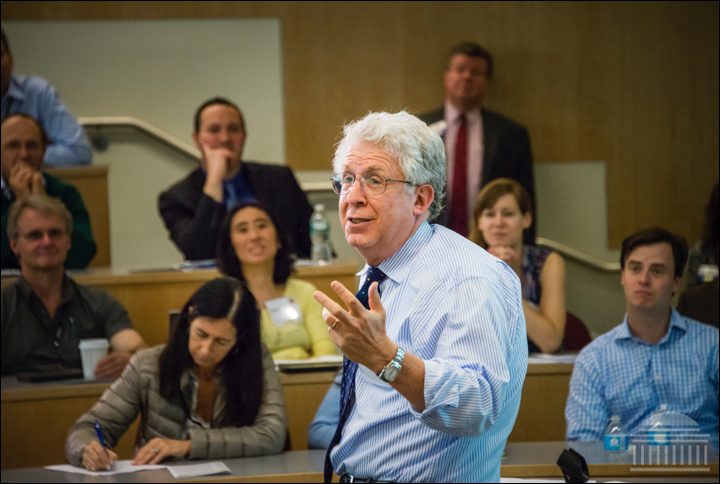 As organizations in every sector adjust to the new world of work, Pozen offers leaders a unique opportunity to markedly scale business while fostering a culture of loyal, satisfied and productive employees.
"By empowering team leaders to design a hybrid model and adopt success metrics focused on desired results, organizations will not only attract talented professionals and enhance their productivity," says Pozen, "They will set a better standard for workplace practices across the board."
FEEDBACK FROM EXECUTIVES PROFESSOR POZEN HAS COACHED
"Before I met Bob, I was struggling with how to protect my existing business while launching a new venture. Bob helped me solve these organizational issues. At the same time, he helped me sort out the geographical implications of my personal relationships." – Chairman of a European tech company
"With Bob's guidance, I revamped the organizational structure of my unit. He helped me design a new compensation system. And he forced me to spend more time on critical leadership issues and delegate more detailed tasks." – Head of an operating unit at a large U.S. hospital
PRAISE FOR "REMOTE, INC."
"'Remote, Inc.' is a timely and practical guide to remote work, explaining how we can recharge, reset and bring our full attention to the work that really matters." – Arianna Huffington, Founder and CEO, Thrive Global
"Working remotely is a learned skill, and 'Remote, Inc.' is the perfect guide to accelerate your learning. A quick read that will have you and your team working smarter tomorrow morning!" – Barb Bidan, Senior Vice President, Global Talent, Peloton
"'Remote, Inc.' provides a needed road map, enabling salaried employees, managers, and freelancers alike to be successful. It's a must-read for today's professionals." – Jenny Rooney, Communities Director and Chair of The CMO Network, Forbes
"The world has gone remote and is not going back. This book is an extraordinarily helpful guide to this new world." – David Rubenstein, Co-founder and Co-chief Executive, The Carlyle Group
"If you need to understand how leaders and employees can thrive no matter where or how the work gets done, 'Remote Inc.' is the book for you." – Ragy Thomas, CEO of Sprinklr
Leader's Guide to Simplifying Return to Office Decisions
was last modified:
November 11th, 2022
by