Learn More About Andrew J Scott
The majority of children born today are expected to live into their 80s and 90s and face a realistic prospect of living to 100. For the first time ever there are more people globally aged over 65 years than under 5. These two trends – longevity and aging – change everything, says Professor Andrew J. Scott, the world's leading authority on the economics of longevity and co-author of global bestsellers "The 100 Year Life: Living and Working in an Age of Longevity" (Bloomsbury, June 2016) and "The New Long Life: A Framework for Flourishing in a Changing World" (Bloomsbury, 2020).
A professor of economics at London Business School, Scott shows us what individuals, businesses and society need to do to unlock the opportunities that flow from this enormously important trend. Drawing upon broad and in-depth knowledge and combining economics with the personal, Scott speaks passionately and with wit, wisdom and insight about the profound changes underway.
Faced with the prospect of these longer lives, a new human imperative has emerged – to age well. Given how the world is aging, this is truly the largest emerging market, according to Scott. A new multi-billion-dollar sector will emerge focusing on supporting this "evergreen" economy, drawing on new scientific developments and drug discoveries and a growing awareness of the fact that "all's well that ages well." Longer lives also mean more time ahead of us, leading to dramatic shifts in behavior at all ages. This in turn will lead to major shifts in financial behavior and create demand for new products focusing on supporting longer lives and providing longevity insurance.
It isn't just in terms of products that firms will need to understand these twin forces of longevity and aging. In response to an aging society, firms that make the best use of older workers will gain competitive advantages. But doing so will require an understanding of how longer working careers will change the needs and behaviors of all ages.
Long neglected and frequently misunderstood, the topic of longevity and aging is rapidly rising up the agenda and Scott's work is having a material impact across the world: "The 100 Year Life" has sold three quarters of a million copies and was the focus of Japanese Prime Minister Shinzo Abe's commission "Design a 100 Year Life." Scott has established "The Longevity Forum," bringing together the extraordinary potential of scientific research around anti-aging with the behavioral and economic responses needed for longer lifespans. What started as a day of bringing together the brightest minds in this space from all spectrums of industry, has developed into the annual Longevity Week with a packed schedule of international events.
Scott's agenda is to make sure we turn longer lives into healthy and productive ones. The most frequent response by participants to Scott's talks is a realization that they need to live their lives differently and a commitment to do so. For firms, it is about recognizing this emerging new market and the need to develop new products and adjust their people policies.
Scott previously held positions at Oxford and Harvard University and the London School of Economics. He is a consulting scholar at Stanford University's Center on Longevity and previously served as Non-Executive Director for the U.K.'s Financial Services Authority and is a Non-Executive Director for Genflow Biosciences. He has advised a range of corporations and governments and is on the advisory board of the U.K.'s Office for Budget Responsibility; a member of the Cabinet Office Honors Committee (Science and Technology); a member of the National Academy of Medicine's International Commission on Healthy Longevity and WEF Council Healthy Longevity and Aging.
Andrew J. Scott is available to advise your organization via virtual and in-person consulting meetings, interactive workshops and customized keynotes through the exclusive representation of Stern Speakers & Advisors, a division of Stern Strategy Group®.
Andrew J Scott
was last modified:
March 15th, 2023
by
Navigating Your Business Through the Global Economic Upheaval
After years of low interest rates and low inflation thanks to strong financial conditions, the world economy is changing drastically. In this eye-opening talk, London Business School professor of economics Andrew J Scott explains the current global economic downturn's impact on businesses. He shares the multiple factors that are working simultaneously and causing financial tensions to grow across the world, such as a slowdown in economic growth in China, high energy prices that are hitting Europe hard, and high inflation combined with a soaring dollar in the United States. Scott shows how interest rates are impacting debt and financing, causing financial markets to become increasingly nervous. He'll provide leaders with strategies for adjusting to emerging trends such as labor shortages, sustainability, reshoring, AI and robotics, demographics and the growing importance of politics and social challenges. Providing outlooks on the short, medium, and long term impacts of these economic trends, Scott empowers executives to create robust plans to navigate through these challenging times.
The Business of Longevity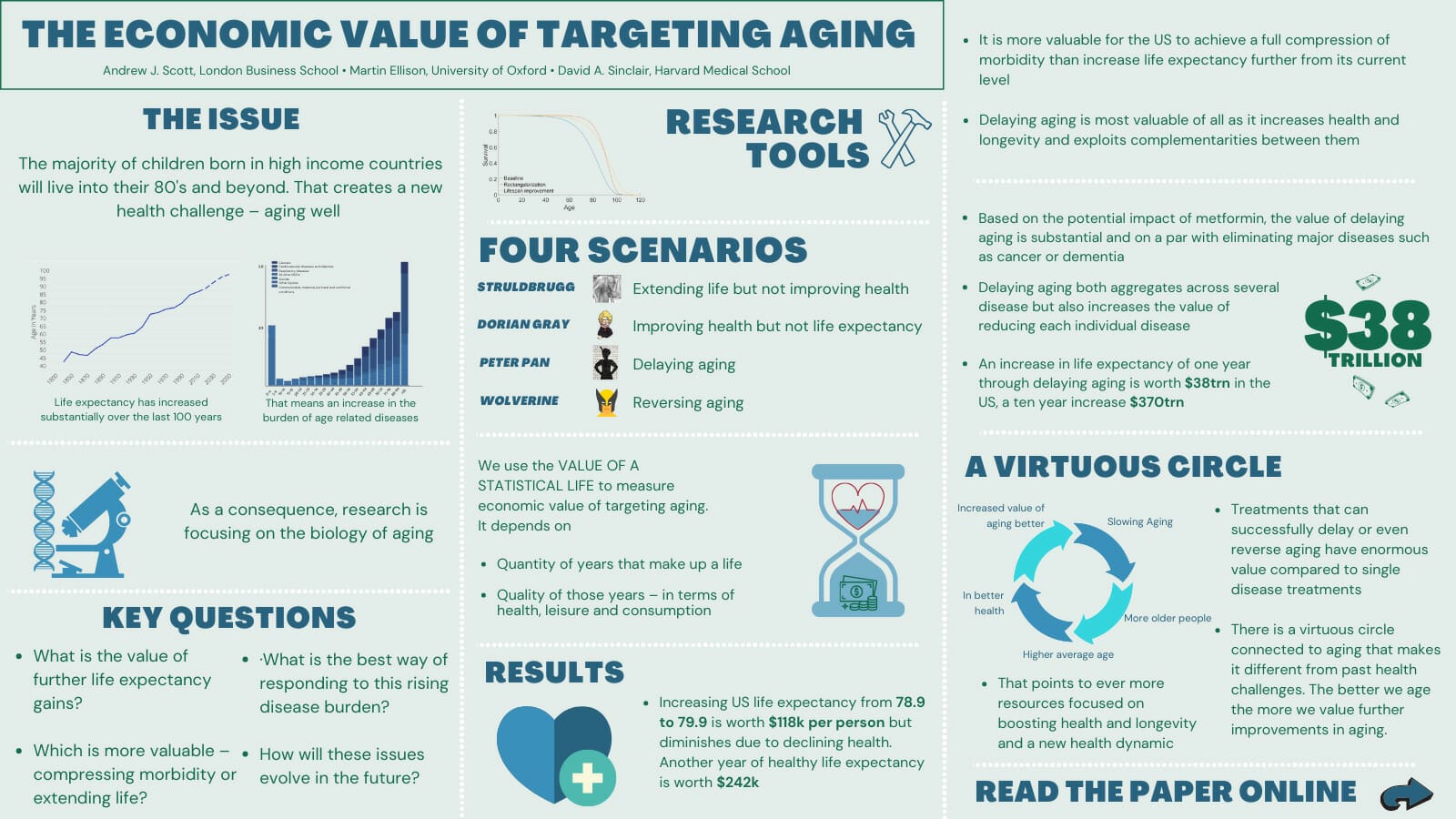 People are living longer and healthier lives, which isn't only enriching for our loved ones, but is also creating big business opportunities. Economist, London Business School professor and bestselling author of "The 100-Year Life" and "The New Long Life," Andrew J Scott is one of the first experts to closely examine the business of longevity. In this talk, he details how the shift from a negative perspective of an aging society to a more positive longevity agenda is generating a landscape that is rife with business opportunities. He shows how this expanding category needs more entrepreneurs, start-ups, and people in large corporations who understand the potential for this market and the career opportunities that come along with it. Bringing together science, biotech, finance and more, Scott gives leaders, investors, and start-up founders practical tools and frameworks to enter into the burgeoning longevity economy.
The 100 Year Life: Living and Working in an Age of Longevity
Gains to life expectancy mean each generation is living around ten years longer than its predecessor, meaning that the biggest expanding demographics are the middle-aged and older cohorts. The fact that people are now living longer means that businesses, governments and the wider society must change its attitude toward this population and see it as the future area for growth. Based on Andrew J Scott's global bestseller, "The 100 Year Life", this presentation outlines current life expectancy trends and what they mean for people and their careers, health, relationships and education. As populations age, understanding the consumer and workforce trends will be central for seizing a competitive advantage. Adapting to longer lives will require fundamental social change which, in turn, means fundamental changes to key markets, products and services.
New Long Life: A Framework for Flourishing in a Changing World
Based on his book, "The New Long Life," Andrew J Scott asks the question: How will technology and longer lives – together and separately – change our world and how we live? Powerful new technologies are rapidly developing and leading to fears that automation will catalyze brutal job losses. Given how we currently structure work and life, these developments bring about problems: assumptions that are no longer valid shape our existing habits and behaviours. In his presentation, Scott provides analyses on what is happening and how it will impact business, the economy and society, offering steps to take now to prepare personally and organizationally for this future. In a world where machines become ever more intelligent, we must realize the opportunities of smart, new technologies and longer lives, to become more human in all we do.
The Impact and Implications of COVID-19
COVID has truly shown us the meaning of the word disruption. But what can we expect from the economy over the next few years, and what will be the impact on the world of business? Drawing on his expertise in macroeconomics and his latest book "The New Long Life," those are the questions Andrew J Scott answers in this presentation. Starting with an overview of the likely short- and long-term economic implications of COVID, he draws recommendations around key corporate responses to high levels of uncertainty – a focus on robust not optimal strategies and the need to use this time as a 'pitstop' to prepare for future trends. Rather than transform our futures, COVID has in many ways accelerated existing trends, especially around issues of technology and healthy ageing. COVID has also acted as a stress test revealing who is prepared for future shocks. Drawing together these themes Scott outlines a path for now and the future that needs to be followed by individuals, corporates and governments.
Financing a Longer Future
One of the industries most affected by increased longevity is the financial sector. Longer lives require more savings but also innovative financial products and new patterns of behaviour. With a more elderly population, firms providing the same set of existing products that support a now out-of-date life plan will find themselves struggling to retain customers. In this presentation, Andrew J Scott outlines how the financial sector can transform itself to support 21st-century lives, and in doing so capture the enormous opportunities of the world's fastest-growing age demographic, the over 55. As longevity changes how we structure our lives, the financial system needs to respond with products and services that address unforeseen risks and offer different ways of shifting assets across time.
Education, Aging and the Machine
Technology and longevity will transform what skills we need; when we learn them; and from whom we learn them. At the same time, technology will lead to growth in new sectors, changing our existing jobs and requiring us to develop new skills. This has fundamental implications for learning, says Andrew J Scott. Rather than being front-loaded in the first stage of a life sequenced as "learn, earn and retire", learning will need spreading out throughout our (increasingly long) lives. It will require not only a change in what we learn early on but also the at scale growth of adult education and opportunities for retraining and upskilling. In this presentation, Scott elaborates on the challenges of our existing education and workforce training systems and offers practical strategies for how innovators in these industries can design the future. A transformed educational system will see new players and contemporary products emerge as individuals extend their learning over their lifetime. Representing a vital issue of social importance and a vast investment opportunity, it will be crucial to each of us individually as we benefit from the wonders of new technology.
The Longevity Dividend
There is an emerging lucrative global market in supporting people toward realizing healthy, fulfilling and productive lives, with the potential to unleash a "longevity dividend" both for the individual and the economy. Based on his research and findings, Andrew J Scott expertly traces out the implications and actions required for us as individuals, investors, companies and nations to seize this longevity dividend. The so-called "silver economy" is estimated to be worth $15 trillion globally by this year, making it the world's biggest emerging market. However, this market is poorly understood and too often represented by the label "65 and over". Due to demographic trends, firms will increasingly be reliant on the skills and engagement of older workers, yet few have policies in place to support this. A longevity dividend is there to be seized by both individuals and firms but to realize this, the new thinking and practices as presented by Professor Scott, need to be introduced.
"Professor Andrew Scott brought incredible insight to our discussions around longevity, productive aging and healthy living here in Singapore. His impactful delivery inspired our employees, customers and partners to reimagine the traditional three-stage life and embrace the possibilities of a 100-year life."
"We were delighted to have Andrew Scott present at our conference last year as a co-author of a bestselling book on longevity. Andrew delivered an engaging and thought-provoking presentation to our audience!"
"Andrew's work on longevity and the profound implications of a 100-year life is one of the most thought-provoking topics for us to consider. His presentation to my senior most global leaders brought great insight to us, stimulating a fantastic debate into the implications for us all personally, professionally and for our own business of recruitment. Thoroughly engaging!"
"Fujitsu has really benefited from Professor Andrew Scott's deep insight into a diverse range of macro-economic topics including Sustainability and the 100-year life. The purpose of the sessions has been to better equip our senior people to be able to have 'non-agenda' conversations with key clients to start to unlock and create extra value for our clients – and we are already seeing this investment paying dividends!"