Learn More About Ashley Whillans
Ashley Whillans, Ph.D., is an Assistant Professor in the Negotiation, Organizations & Markets Unit at Harvard Business School, and a member of Harvard's Behavioral Insights Group. She holds a Ph.D. in Psychology from the University of British Columbia. In 2018, her dissertation won the CAGS award for being the single best Ph.D. thesis in Canada across the fine arts, humanities, and social sciences. In both 2015 and 2018, she was named a "Rising Star of Behavioral Science" by the Behavioral Science and Policy Association. Prior to joining HBS, Whillans was a Visiting Scholar at the Chicago Booth School of Business.
She has published her research in top academic journals and popular media outlets like Harvard Business Review, The New York Times, The Wall Street Journal, and Time Magazine. Her first book, "Time Smart: How to Reclaim Your Time & Live a Happier Life," was published in October 2020 by Harvard Business Publishing. Three of her articles were the most-read research-based articles in Harvard Business Review in 2021. Her TED originals talk, "3 Rules for Better Work life Balance" has been viewed more than 3 million times.
Whillans is passionate about practical application of research. Currently, she is a Research Advisor for Gallup and a member of the UN Global Happiness Council.
Ashley Whillans is available to advise your organization via virtual and in-person consulting meetings, interactive workshops and customized keynotes through the exclusive representation of Stern Speakers & Advisors, a division of Stern Strategy Group®.
Ashley Whillans
was last modified:
May 23rd, 2023
by
Time & Happiness at Work and Outside of Work
There's an 80 percent chance you're poor. Time poor, that is. Four out of five adults report feeling that they have too much to do and not enough time to do it. In this talk, author and Harvard Business School professor Ashley Whillans will share science-based strategies for improving our relationship with time. The techniques that she provides will free up seconds, minutes, and hours that, over the long term, become weeks and months that you can reinvest in positive, healthy activities. The science-based strategies Whillans presents will help you make the shift to time-smart living and build a happier, more fulfilling life for you personally, as well as a happier and more fulfilling workplace experience for your team.
Scientific Strategies to Optimize Hybrid and Remote Work
The covid pandemic has changed how knowledge workers get work done and an increasing number of firms are exploring hybrid models of work. To reap the full benefits of hybrid work, it is necessary to be intentional and to manage collective time. Teams that are intentional about when and why they come to the office are best positioned to support their employees' wellbeing, development, and performance. In this talk, author and Harvard Business School professor Ashley Whillans will share proven strategies for optimizing hybrid work based on her research with top firms. These science-based strategies will catalyze conversations about how to create a more productive and fulfilling hybrid workplace experience.
During this presentation, Whillans will:
Present research on the changing nature of work following the covid pandemic. She will highlight data showing increased digital distraction, longer work hours among knowledge workers driven by decreased focused time, and the challenges of learning and development among junior employees.
Share her ongoing research from Google and a top consulting firm showing the importance of managing collective time to increase the productivity, efficiency, and enjoyment in hybrid models of work and of scheduling learning conversations between junior and senior team members.
Share research-based strategies that teams can employ to reduce digital distraction during the workday (e.g., focused blocks and KPIs for personal time). Most critically, Whillans will share research-based strategies to encourage employee coordination in hybrid work environments such as firm-level "anchor days" and in-person "defaults."
In this interactive portion of the presentation, Whillans will ask participants to set immediate intentions to change how they spend their individual time and manage the collective time of their teams. As part of this conversation, she will underscore research showing the importance of in-person interactions in the context of hybrid and remote firms to form and maintain relationships, build social cohesion, foster collaboration, career development for younger workers, and to spark innovation. This point will be supported with research conducted prior to the pandemic on remote and distributed teams and ongoing work she is conducting.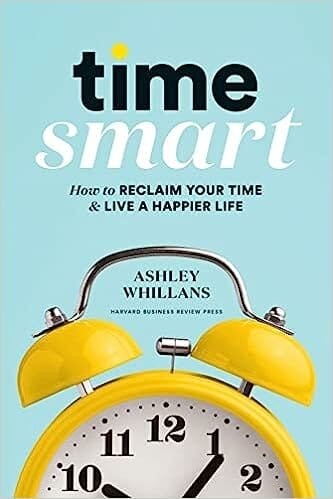 (Harvard Business Review Press, October 2020)
Negotiating Time and Happiness
Time is our most valuable resource. Yet, working women are more time poor than working men, are less likely to negotiate for time on adjustable deadlines at work and are less likely to delegate tasks. Women also spend more time on non-promotable assignments. In this highly interactive workshop, Harvard Business School professor Ashley Whillans presents her research on time-use and happiness and leads exercises on practical strategies that can be applied in real life immediately. She'll share her research on the importance of asking for more time on adjustable deadlines, of saying no and minimizing time spent on unproductive tasks. Participants will learn three strategies for reclaiming time: finding time, funding time and reframing time. Finally, participants will practice negotiating for time and saying no using scientifically based principles.
---
Negotiating Difficult Situations & Deflecting Power Moves
At work, we are often in situations where powerful people try to change our minds. How can we stand up for ourselves to live our best lives in line with our values? In this highly interactive workshop, Harvard Business School professor Ashley Whillans will share her research on how to recognize "power-moves" and how to deflect them in service of acting in line with our values and goals at work and outside of it. She'll present an example of a female CEO who is taking on a difficult new position and her employment journey to this new position. Following a video presentation, in breakout groups participants will be challenged to identify power moves and discuss what they would do to combat them. They will then be encouraged to practice role playing with one another about how to deflect power moves, and finally, will return the conversation back to their perspective and agenda.
Named one of Behavioral Scientist's "Notable Books of 2020"
Named one of the Globe & Mail's "Best Business Books of 2020"
"Why are so many of us so stressed? In this smart and accessible book, Ashley Whillans delivers a surprising answer: we overvalue money and undervalue time. And she shows us simple, practical ways to recalibrate the balance. 'Time Smart' is an essential book for anyone who wants to create more time for the things that really matter."
"'Time Smart' is an eye-opener. Combining rigorous science with an accessible style, Whillans offers scores of suggestions for how to use our time in ways that boost productivity, efficiency, and joy."
"What a fantastic read. I advocate for the four-day week to gain more time for the things that are important to us. Ashley Whillans delves into the detail of why time is so important. In our post–COVID-19 world we have a chance to reset how we construct our lives. This book comes at a perfect time."
"Time is the one thing you can't get more of, and 'Time Smart' will help you make the most of yours. Drawing on the latest science, Ashley Whillans lays out practical steps that will make your life happier and more meaningful."
"'Time Smart' is not a self-help book. It is a no-nonsense analysis of how to spend your time and your money. Instead of a series of snake-oil mantras and quick fixes, Whillans gives you a road map to better organize your life."
"Ashley Whillans is my hero. Welcome to the practical guide you need to protect the most important resource you'll ever have: time. Whillans provides the handbook every busy person needs."
"In 'Time Smart', Ashley Whillans gives us a practical road map to use this precious resource better, and in so doing, live happier, healthier lives."