Learn More About Rob Cross
For more than 20 years, Rob Cross has studied the underlying networks of effective organizations and the collaborative practices of high performers.
Working with more than 300 organizations and reaching thousands of leaders from the front line to the C-suite, he has identified specific ways to cultivate vibrant, effective networks at all levels of an organization and any career stage.
Through research and writing, speaking and consulting, and courses and tools, Rob's network strategies are transforming the way people lead, work and live in a hyper-connected world.
Currently the Edward A. Madden Professor of Global Leadership at Babson College in Wellesley, Massachusetts, Rob is also the co-founder and director of the Connected Commons, a consortium of over 150 leading organizations accelerating network research and practice.
He has written over 50 articles for Harvard Business Review, Sloan Management Review, California Management Review, Academy of Management Executive and Organizational Dynamics. His work has also been repeatedly featured in venues such as Business Week, Fortune, The Financial Times, Time Magazine, The Wall Street Journal, CIO, Inc. and Fast Company.
A graduate of the University of Virginia's McIntire School of Commerce (where he later taught), Rob earned an MBA from UVA's Darden School and completed doctoral work at Boston University. In his spare time Rob has become an avid cyclist, logging 100-150 miles a week with a group of similarly crazy old guys. He also loves playing tennis, spending time on the water fishing and skiing, hiking, listening to live music and is actively involved in his church. Practicing what he preaches on well-being he recently became PADI certified for Scuba and is loving the new world of friends and experiences this aspect of life has opened up.
Rob Cross is available to advise your organization via virtual and in-person consulting meetings, interactive workshops and customized keynotes through the exclusive representation of Stern Speakers & Advisors, a division of Stern Strategy Group®.
Rob Cross
was last modified:
March 16th, 2023
by
Elevate Personal Performance and Well-being
Collaboration is essential. But without knowing how to do it effectively, collaboration itself is hurting employee performance and well-being.
Through quantitative research in more than 300 organizations and more than 500 in-depth interviews in the past decade, Rob Cross and his team have gained a very detailed understanding of the networks of high-performing men and women.
Cross and his team identified people at all levels and roles who create enormous impact while, amazingly, spending the least amount of time on collaborative tasks. They produce innovative solutions, execute work efficiently and thrive in their careers.
What are these successful people doing that the rest of us are missing?
Cross' research identified six strategies needed to buy back time and re-invest wisely. Taken together, these practices create a reinforcing pattern of performance and well-being.
Time on meetings, calls, email and other collaborative work has risen by 50% in the past 10 years. Most people spend 85% of their week in collaborative work. Cross' research shows more effective people reduce collaborative overload and regain time.
But freeing up time isn't the end goal. What people do with the reclaimed time is the differentiator. Rather than repeating the practices that create overload, more effective people invest in high-impact network connections.
As time and energy are given to high-value collaboration and connections, people become less overwhelmed, more effective—and enjoy a sense of well-being in work and life.
Accelerate Role Transitions
Role transitions are frequent experiences in today's dynamic economy. Unfortunately, they are prime opportunities for talented people to stumble and underperform.
Rob Cross' research in more than 300 organizations over twenty years has shown that strategically building and leveraging personal networks is one of the most important actions people can take during a transition into a new role.
Cross and his team have identified what they called Fast Movers—employees at all levels who became much more connected in their organization than their similarly tenured peers. These newcomers were productive more quickly, more engaged and more likely to stay in the organization.
Cross has identified 12 practices that people can use to avoid common pitfalls, scale early results, reduce collaborative overload and tee-up future wins. Many are counter to common advice about starting a new job and easily overlooked. Notably, this game was not won in the first 90 days. Targeted actions over the first year—and especially at the 9-month mark—were critical to ongoing success.
Their research also showed how onboarding processes and actions by leaders and managers can help newcomers rapidly integrate into the network and develop the social capital needed for high performance.
Most organizations, if they address networks in transitions at all, treat everyone the same. This is a major mistake—their research was clear that context matters. For example, executives entering a new company need to initiate, engage and refine their networks differently than recently promoted first-level leaders. Role transitions are also relevant to diversity and inclusion efforts—for example, their research revealing network habits of successful women creates nuanced guidance to support women entering into new roles and new organizations.
Execute Critical Work Through Networks
Traditional team principles and many cutting-edge collaborative practices are ineffective for the way people need to work today. The result is poor execution of critical work.
Today's teams are often larger and more fluid than conventional teams, and work is increasingly interdependent. Rob Cross' research has put the spotlight on the downside of the technologies and organizational designs intended to improve collaboration—and revealed how top-performing leaders are managing collaboration in these groups differently.
Pairing leadership research with decades of data about the networks within organizations, we can now help other leaders drive efficiency and agility at the point of execution—where teams are working on new products, strategic initiatives or with top clients.
To become more efficient, effective and agile, leaders must understand and activate informal networks and engage team members in specific ways.
Propel Organizational Agility and Alignment
Pressing challenges are often met with a push for new structures, collaborative tools and agile practices. But when collaborative costs, network dynamics and cultural roadblocks are overlooked, the result is lack of alignment and less-than-expected performance.
From our ongoing research, Rob Cross and his team have identified strategies and network interventions that overcome these challenges and promote organizational agility and alignment. Drawing on Organizational Network Analysis (ONA) and established network research, we help leaders drive change, create cross-boundary alignment and enable cultural transformation.
Assessing collaborative patterns before a restructuring, strategic re-orientation or launching a significant initiative can improve uptake of a change and increase the odds of success. Network analytics can identify informal opinion leaders who can galvanize others around a plan and project—or derail success. By engaging influencers in key network positions, early on, leaders drive change quickly and more effectively. A follow-up ONA can be done to evaluate success and identify areas where future efforts should focus.
Network analysis can also determine where collaboration is misaligned with strategic goals and formal structure. Too often, well-intended collaboration efforts are counter-productive, sliding key employees into overload and leaving the most critical points of connection and collaboration understaffed or under-resourced.
When no single leader or unit is responsible for outcomes, organizations need to systematically connect expertise and bridge roles or functions. Our research and custom analytics shed light on who needs to collaborate with whom about what and the optimal ways to boost collaboration needed to align goals and strategy.
With large-scale or foundational change, a culture of agility is as important as having the right structures or processes—if not more so. Though most culture transformations begin top-town, culture is experienced locally in networks. To be successful, culture-change efforts should enlist, align and empower diverse groups and key influencers to co-create the change. Leadership actions should focus on alignment of goals and values, and generating trust, purpose and energy.
Promote Rapid Innovation
Complexity, short development cycles and lean budgets require organizations to innovate quickly and efficiently. But innovation is often stifled, and solutions are rejected.
Breakthrough ideas and insights usually arise at the intersection of silos of function, experience and expertise. Rapid innovation requires people, ideas, information and resources to flow across the organization—and a context to develop and support solutions from idea to reality.
Through a decade-long, multi-phase research program, involving more than 500 interviews and organizational network analysis (ONA) to understand the network dynamics tied to innovation, Rob Cross and his team have identified key strategies to leverage the power of employee networks, solve bigger problems and produce more innovative outcomes.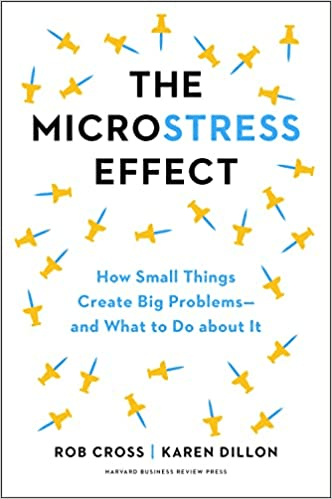 (Harvard Business Review Press, April 2023)
(Harvard Business Review Press, September 2021)
Praise for "Beyond Collaboration Overload

Named one of the Best Business Books of 2021 by the Globe & Mail
Named one of the Best Work and Management Books of the Past Year by Charter
Shortlisted for the Outstanding Works of Literature (OWL) Award in the Management & Culture Category
"'Beyond Collaboration Overload' convincingly argues that well-meaning attempts at transparency, communication, and collaboration can go awry when they consume too much of our energy. Cross offers useful tips for how to reclaim your time and a compelling vision of what healthy networking and collaboration look like...Cross offers a timely caution against overdoing the connection and communication that are hallmarks of modern workplaces, including tactics like cutting time allotted for meetings in half and discouraging replies to emails."
"'Beyond Collaboration Overload' earns its spot among this year's best business books for several reasons. It disabuses us of the notion that collaboration per se is a good thing. It defines dysfunctional collaboration and identifies its many causes. It provides a host of research-derived tools and techniques for managing collaboration in ways that benefit people and the organizations they work within. And, of course, there's the welcome prospect of getting one day per week of your life back."
"In his new book, professor Rob Cross shows how to rethink beliefs, structures and behaviors to help us adopt new patterns of interacting more efficiently. There is also a plan for dealing with collaboration overload to improve performance and innovation."
"At a time when so many of us have allowed our focus and relationships to become unidimensional, in orbit around our work, Rob Cross offers a framework that focuses us back on our fuller lives. And that may be exactly what we need to be happier and more productive at work."
"Thoroughly 'reader friendly' in style, organization and presentation, 'Beyond Collaboration Overload: How to Work Smarter, Get Ahead, and Restore Your Well-Being' must be considered essential reading for any corporate executive charged with the responsibility of maintaining an effective work force at all levels of their business."
"Rob Cross has produced a genuine marvel. He shows why collaboration is often overused and underwhelming—and how we can enlist its power more humanely and strategically. This is an essential book on an essential topic by an essential mind."
"'Beyond Collaboration Overload' is a powerful leadership tool for us all as we move into a postpandemic, hyperconnected world of work."
"OK, you're really busy. Why should you take the time to read this book? Only because it will save your work life and your home life. Only because if you follow its prescriptions, you'll be both happier and more effective. Only because it's based on solid evidence from leading firms and leaders. Do it!"
"If you're drowning in emails and meetings, look no further than this book. Drawing on a wealth of evidence and experience, Cross has written an unusually practical guide to help you make your collaborations more efficient and effective."
"Every leader needs to study this book—carefully. It's loaded with insights about how to scale up your leadership and help others to do more while maximizing your time in the process!"
"Rob and I have partnered over several years, first at Ford and now at DICK'S Sporting Goods, focused primarily on collaboration overload and wellbeing. He has a unique ability to bring rich, credible research to light in a digestible way. He humanizes the science and uses his expertise to help us all lead, work, and live better together"
"I value Rob's positive energy, collaborative approach, and the tremendous value he brings to every engagement. Rob is a dynamic speaker, and his style resonates with all levels of leadership. He is also an amazing consultant and is able to rapidly identify practical applications of his proven research to solve our most pressing social capital challenges."
"Rob's range and ability to connect with a broad global audience is world-class. He has presented for us several times in venues ranging from top leadership forums, to virtually delivered programs, to global audiences, as well as more focused leadership development programs and functional workshops. Rob is a thought leader who is masterful at finding the critical insights to enhance collaboration. He is even better at providing leaders with actionable steps to quickly adjust their behavior and approach to energize their teams and drive results"
"Rob's twenty-plus years of academically rigorous research makes him the unmatched leader in understanding the personal and organizational strategies required to succeed in the emerging connected economy. Over my career, I have seen his presentation style and counterintuitive insights mesmerize and energize the most executive C-suite teams."
"Rob is a true pioneer in taking organizational network analysis and in seeing its possibilities for leadership, innovation and talent management. His work on Overload has been very helpful to us as we have sought to help leaders navigate the increasingly hyperconnected, always-on world of work. His commitment to us over the years as a thought partner and practitioner has been invaluable."
"Cigna's emphasis on organizational and personal leadership networks has resulted in improved business operations, leadership pipeline development and talent effectiveness. These results have been amplified by the expertise and corporate acumen of Rob Cross, an essential element of our work in this space. Whether working with new Cigna leaders or executives working to establish ever-better business and workplace efficiencies, Rob has distinguished himself as a "must have" member of the conversation and team."