What is the secret to creating a great brand? To succeed, do organizations need to choose between being either customer-centric or performance-driven? According to growth and strategy executive Jason Wild, great brands start with great teams, and organizations absolutely can reach performance goals while operating with a people-centric ethos.
Vice president of CEO Co-Innovation and Customer Engagement for Microsoft, Wild is an on-the-ground practitioner who has led strategic precision teams for some of the world's most iconic technology brands such as IBM and Salesforce in addition to Microsoft. By taking a humanistic approach to digital transformation and creative problem solving, he helps organizations leverage design thinking to optimize engagement and customer loyalty.
"This world is always going to have deep, stubborn customer problems, so creative problem-solving is never going to go away," says Wild, an Investor/Entrepreneur in Residence at Emory University's Giozueta Business School. "We have to fall in love with the problem first, not the solution, and remember that customers are at the end of everything regardless of what business you're in."
The Innovation Recipe: Ingredients for Becoming a World Class Entrepreneur and Leader
In building trust with executives, leaders, and specialized teams, Wild challenges the classic view of decision-making through consensus building and shows leaders how to scale growth end-to-end across the company.
"How do you go from pockets of success to repeatedly, with predictability, understanding the ingredients it takes to be a world-class entrepreneur and innovator?" Wild asks. "To start, every CEO should have a team they trust to help co-create the future."
Taking his experience in building successful teams at organizations of all sizes, Wild is currently co-authoring a book with innovation leadership expert and Harvard Business School Professor Linda A. Hill. Tentatively titled "Scaling Genuis," it will be packed with real-world stories and case studies of the habits and characteristics of great leaders who have applied their unique styles in different ways to turn around and reenergize organizations. Offering a practical leadership framework, the book serves as a guide for aspiring leaders, early-career executives and experienced managers alike.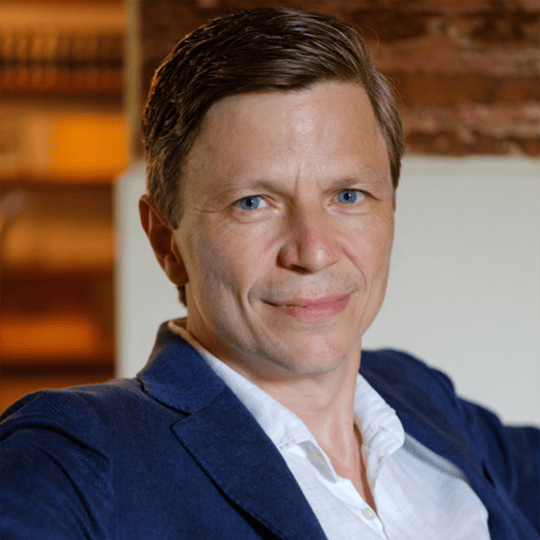 Products Are Important, But Customer Relationships Are Critical
Wild, who has worked with leadership teams on more than 250 projects in 38 countries, empowers organizations to develop their digital technology capabilities and invest in customer success. Through empathy and understanding customer viewpoints and pain points, organizations are better equipped to create an ecosystem of customers that are trusted co-creation partners who feel a genuine connection to a brand beyond a single product. His methods transform the DNA and cultures of successful companies while helping to drive business value through people-first design innovation. With projects at NASA, NATO, Disney and more, he leads specialized teams as they work through hands-on problem-solving initiatives.
"Selling the best product only takes you so far, relationships are what matter and what endures," says Wild, whose global customer engagement methodology and growth initiatives at Microsoft delivered more than $100B in incremental revenue over just five years. "Products and services come and go, and someone always comes along and copies the what. But it's the how that's very difficult to copy."
By changing business cultures to be more outside-in and customer-centric, Wild teaches organizations to recognize today's new customer-employee experience and how technology enables businesses to teach capabilities, not just sell products. When done right, customers forget they're interacting with a company and feel like they're talking to a person who is passionate about excellence.
"The return on investment in customer success is when customers become successful and grow. Then, businesses are able to grow with them."
Shake the "Us vs. Them" Mindset and Embrace The Human Side of AI
Wild's humanistic approach extends to the development and deployment of artificial intelligence (AI). With the recent explosion of news about AI – particularly generative AI, large language models (LLMs) and machine learning (ML) – he acknowledges that some technology experts are reacting strongly to the spread of the technology and the potential implications on society and the future of work. But Wild reminds us that AI isn't new, it's just suddenly gone mainstream. Instead of taking an "us vs. them" view of AI, he says business leaders should instead take an "us with them" approach.
"Executives should view AI as a sort of 'intelligent shadow' that can help to amplify employees' work and craft while raising the bar on the standard of quality," he advises. "The organizations that really understand the promise of AI are taking a very humanistic approach and thinking about artificial intelligence like a co-pilot that enhances work, collaboration and how we engage and lead. Applied with this mindset, AI will elevate and redefine our standards of quality."
---
Organizations that leverage design thinking are better positioned to optimize engagement and customer loyalty. Stern Strategy Group connects you with renowned thought leaders whose insights, strategies and management frameworks help organizations fuel growth and disruptive innovation to better compete in a constantly changing world. Let us arrange for these esteemed experts to advise your organization via virtual and in-person consulting sessions, workshops and keynotes.
Great Leaders Create Synergy Between Humanity and Performance Excellence
was last modified:
September 20th, 2023
by