In a knowledge economy, brainpower has value. And like other assets, it's worth protecting. Yet, the topic of brain health rarely comes up in board rooms, corporate meetings or even around the dinner table.
World-renowned clinical neuroscientist, neuro-nutritionist and New York Times bestselling author Lisa Mosconi, PhD, has been slowly changing that by teaching the science behind brain health to organizations, communities and scientific peers.
In her popular bestselling 2018 book "Brain Food: The Surprising Science of Eating for Cognitive Power" (Avery/Penguin Random House), Dr. Mosconi explains the connection between diet and cognitive function. Drawing from her extensive knowledge of neuroscience, as well as her many years studying Alzheimer's, the book sought to change the way people eat as an essential aspect of brain health, brain aging and overall well-being. Her latest research points to how certain foods may even help reduce the risk of getting COVID-19.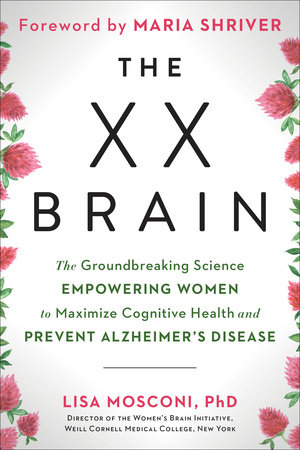 Dr. Mosconi's newest book "The XX Brain" (Penguin Random House, March 2020) – which became an instant New York Times bestseller – highlights the differences between male and female brains, particularly as they relate to the risk of developing dementia and Alzheimer's.
Investing in the XX Brain
It's no secret that women make up a significant percentage of the global workforce, and with commitments to diversity, equity and inclusion on the rise, those numbers are poised to go up.
What may be less obvious to organizations, says Dr. Mosconi, are the unique attributes and health needs of women, especially during menopause. Considering the high cost of hiring, training and keeping employees, and the burdensome effects of chronic illness on the economy, what role can organizations play in protecting this valuable segment of their workforce?
"It begins with awareness, education and more research into female-specific health conditions," says Dr. Mosconi in her TED Talk that has almost 3 million views. "By understanding the unique biological changes that specifically affect women, organizations are in a better position to promote sensitivity and remove stigmas. For example, our research shows that while menopause triggers changes in a woman's body, it does not affect her cognitive health, dispelling any myths around job performance."

Smart leaders realize the health of any organization is inextricably tied to the health of its employees. Dr. Mosconi's research, insights and real-world perspectives offer managers a unique opportunity to build stronger, more productive organizations by protecting the distinctive brainpower that drives their business forward.
Praise for "The XX Brain"
"The XX brain is fully empowering, leveraging the very best science allowing women to enhance cognitive health and gain control of their brain's destiny." — David Perlmutter, MD, NYT bestselling author of "Grain Brain"
"I give Dr. Mosconi's extraordinary new book my highest recommendation!" — Sara Gottfried, MD, NYT bestselling author of "The Hormone Cure"
"This extraordinary book gives women cutting-edge, research-based advice on what they particularly need to know to keep their brains functioning at maximum capacity. Highly recommended!" — JJ Virgin, NYT bestselling author of "The Virgin Diet"
How Healthy Is Your Brain?
was last modified:
February 13th, 2023
by