The retail industry was trying to adapt to the disruptive effects of online giants like Amazon even before the pandemic took hold. Since then, the impact of the crisis has dramatically changed how people shop and how retailers connect with consumers in a marketplace where conditions are constantly shifting.
This new environment presents both challenges and opportunities, says renowned Wharton Professor Barbara Kahn – a leading authority on retailing, marketing and branding.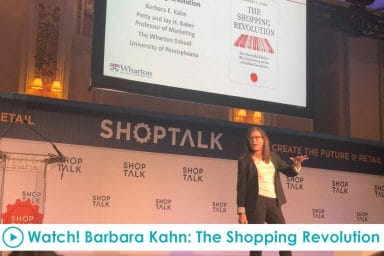 Kahn, who also serves as the executive director of the Marketing Science Institute, was ahead of her time when she addressed these emerging shifts in her 2018 book, "The Shopping Revolution: How Successful Retailers Win Customers in an Era of Endless Disruption." With the goal of helping retailers better compete in the new COVID economy, Kahn has just published an updated and expanded edition of the book, "The Shopping Revolution: How Retailers Succeed in an Era of Endless Disruption Accelerated by COVID-19" (April 13, 2021).
With an optimistic eye on the future, her practical Kahn Retailing Success Matrix framework provides fresh insights into what can be learned from companies that continue to ascend and transform in the face of unprecedented challenges.
"We are just witnessing the start of the radical changes in retail that have been hastened by the pandemic and will revolutionize shopping in every way," says Kahn. "There is no question that retail as we know it will need to change in some dramatic ways. For consumers, shopping is not really one channel or another. It is an omnichannel experience, which means that consumers expect seamless integration across online, offline and mobile."
Kahn has extensively researched and written acclaimed books on branding and the powers of visual marketing. As a speaker, advisor, educator and author, she teaches leaders across the world how to better compete in an increasingly competitive and changing retail landscape.
To stay updated on Barbara Kahn's work, follow her on LinkedIn and Twitter.
PRAISE FOR "THE SHOPPING REVOLUTION"
"In 'The Shopping Revolution,' Barbara Kahn reveals what has enabled today's most successful retailers to thrive in the face of these challenges. An essential read for anyone … who wants to understand the massive changes underway in retail." — Neil Blumenthal, co-CEO and co-founder, Warby Parker
"A masterful storyteller, Barbara Kahn expertly unpacks the strategies of today's seemingly unbeatable retailers. An indispensable guide for anyone who has a product to sell in the retail world." — Stuart Weitzman, Founder, Stuart Weitzman LLC
"Ideal for those who want to gain insight into the dynamically changing retail industry. This great read covers the mechanics at play in a straight-forward manner and will help readers understand the direction retailers must take to succeed." — Al Sambar, General Partner, XRC Labs
"Barbara E. Kahn reveals how leading retailers are generating strong growth and offers strategies for competing in an ever-shifting marketplace. I highly recommend 'The Shopping Revolution' to anyone who wants to … learn how to outperform the competition." — Thomas Kingsbury, CEO, Burlington Stores
Prepare your Retail Strategy for Constant Change
was last modified:
October 12th, 2022
by