Learn More About Mitchell Weiss
Can we solve the world's biggest problems? Can we – private entrepreneurs, citizens and the people we vote into office – make meaningful change happen, especially with the obstacles imposed by the pandemic and with democracy itself under duress? There is reason to doubt that governments can do new things in the days ahead, but Harvard Business School Professor, author and leadership advisor Mitchell Weiss, knows they can.
Weiss believes that if we move away from "probability government" toward "possibility government" and find new ways to generate solutions to public problems, communities — and the people in them — will get the new resources and programs they need to thrive.
"Probability government means doing programs and services that will probably work," says Weiss, "but often, they're too slow or it's too late. Much of what government currently does meets this basic criteria. Possibility government means trying things that might possibly work. In some cases, they may fail, but when they do work, they are transformative and change our lives."
Weiss, a leading expert on civic innovation, advises public and private leaders on navigating the shift to public entrepreneurship. Adapting the skills, traits and practices of entrepreneurship and using them to transform the way governments are run, Weiss – a senior advisor to the Bloomberg-Harvard City Leadership Initiative – repeatedly shows how positive change has, and can, happen.
Weiss's book, "We the Possibility: Harnessing Public Entrepreneurship to Solve Our Most Urgent Problems" (Harvard Business Review Press, January 2021), lays out an inventive vision for government and reveals the roles each of us need to play to make it happen. Described by former U.S. Secretary of Defense Ash Carter as "an important book for bending the arc of progress toward public good," Weiss cites myriad examples of modern entrepreneurship, the kind that can help business leaders, policymakers and citizens chart a path toward change together.
Before joining HBS, Weiss was himself one of these possibility leaders. He served as chief of staff to Boston's Mayor Thomas Menino and is a co-founder of New Urban Mechanics, helping to make Boston's innovation work a global model for peer-produced government and change. Now, as a professor of public entrepreneurship, Weiss gives business and government leaders the tools and techniques they need to incubate and then scale the solutions they create. By following this path, he says, it's possible for risk-averse government leaders and innovative enterprises to take bold steps and achieve lasting success.
"Moving from probability government to possibility government isn't something that is just for elected officials," says Weiss. "To achieve that type of government, we not only need bold business leaders who will try new things. We also need 'possibility citizens' – the rest of us – to participate and to give our elected officials encouragement."
###
Mitchell Weiss is an award-winning Professor of Management Practice at Harvard Business School and the Richard L. Menschel Faculty Fellow. He created and teaches the school's popular and demanding course on public entrepreneurship, focused on the public leaders and private entrepreneurs inventing a difference in the world. He has taught portions of the course to world leaders at all levels of government and in the private sector.
Weiss, who has received awards for his innovative teaching and community leadership, is an inspiring and sought-after speaker. In addition to his work with startups and other businesses, he has presented at 10 Downing Street, the World Bank and Code for America. Weiss is also the course head for The Entrepreneurial Manager Course at HBS, reaching all 900+ MBA students. Weiss's research has covered the hoverboard that crossed the English Channel, the world's first city built "from the internet up," the testing of autonomous vehicles, and the rise, fall and follow-up of dockless bike-sharing. His work has been referenced in The Wall Street Journal, CNBC, Politico and other major media outlets.
Weiss holds an MBA from Harvard Business School where he was a George Baker Scholar, and an A.B. with honors in economics from Harvard University.
Mitchell Weiss is available to advise your organization via virtual and in-person consulting meetings, interactive workshops and customized keynotes through the exclusive representation of Stern Speakers & Advisors, a division of Stern Strategy Group®.
Mitchell Weiss
was last modified:
October 27th, 2023
by
Creating Innovative Ideas for Entrepreneurial Government
Public managers tend to be risk-averse, relying on old ways of doing things and too often delivering mediocre outcomes. How can government leaders change their mindset, make bold decisions and try new ideas? Harvard Business School Professor Mitchell Weiss, an expert on civic innovation, champions a shift toward "possibility government," an inventive, alternative approach to leading change that borrows from the traits, skills and practices of entrepreneurs. Drawing from his book, "We the Possibility: Harnessing Public Entrepreneurship to Solve Our Most Urgent Problems," Weiss shares captivating, inspiring entrepreneurial stories from government leaders around the globe. He offers hope – and tangible tools and techniques – for generating new ideas and for scaling them, even in challenging and uncertain times.
Selling to the World's Largest – and Toughest – Customers: Governments
Who are the customers spending billions a year who we don't want to connect with or can't? They work in the world's largest markets, yet some startups shy away from them, investors steer clear of them and companies with relevant products and services don't even think of them. They're governments – at all levels around the world. Somebody is selling to them – why not you? Harvard Business School Professor Mitchell Weiss identifies some of the challenges for selling to governments, such as "They don't trust you and they don't trust themselves," and shares advice for surmounting such obstacles. He also gives guidance on choosing the right government customers, understanding their buying processes and defining the right value proposition.
Managing Uncertainty to Chart a Course for the Future
A local official commenting on e-scooter regulation told a reporter, "Three months ago, the city thought the next big thing would be dock-less bicycles." It can seem impossible to keep up with technology in an age when regulatory uncertainty about car sharing gave way to similar questions about bike sharing, e-scooter sharing and then, delivery drones and flying taxis. How should governments and companies utilize the latest technologies to enter "new" markets and regulate them? In this talk, Harvard Business School Professor Mitchell Weiss provides a framework for experimenting with technologies in so-called regulatory "gray zones." He also shares actionable tips for architecting technologies that leverage "platform approaches," and for fixing those platforms when they malfunction.
How Public and Private Sectors Can Collaborate on Innovation
The public and private sectors seem to be operating in different worlds – how can they possibly collaborate on innovation when their business goals are so different? Harvard Business School Professor Mitchell Weiss, author of the new book, "We the Possibility," offers guidance and frameworks for establishing this vital partnership. In this talk, Weiss explains why enhancing innovation depends on restoring trust between the two sectors, empowering government leaders to take risks and educating businesses and citizens on their roles in experimenting with bold ideas.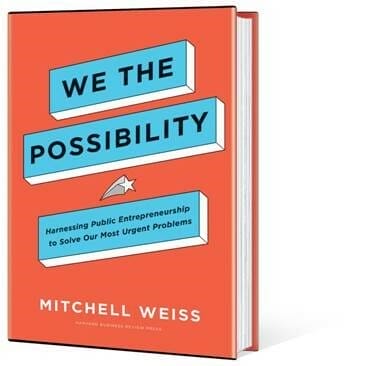 (Harvard Business Review Press, January 2021)
"You were fantastic – your keynote was a great mix of mission, story-telling, and takeaways which is hard to pull off…You had the highest ranking of any speaker or session in the 2 days."
"We need government to be more innovative and inventive, and in 'We the Possibility,' Mitchell Weiss shows that achieving it isn't a pipe dream. It's within our reach."
"As an optimist and businessperson who started several companies before I served in government, 'We the Possibility' struck a chord with me. At the Department of Commerce, we hung a sign in our office that read, 'trust your crazy ideas,' which continually encouraged us to unleash innovative thinking, experimentation and an entrepreneurial spirit for the benefit of America's businesses and workers. Mitchell Weiss captures this mantra well by offering a myriad of examples that show how to make our government operate better at a time when we most need it to solve tectonically significant challenges and create more inclusive opportunity for all Americans. This compelling book is well worth a read."
"In a sector crying out for innovation but where politics punishes failure, Mitch Weiss shows us how and why thoughtful risk-taking in public policy and government is the path to a hopeful future."
"Innovation is hard. Innovation in government is a lot harder. Mitch Weiss, one of the leading experts on civic innovation, has written an inspiring and practical guide to the art of the possible, of actually getting new things done in government."
"This extraordinary book vanquishes the idea that government innovation is an oxymoron. The status quo, Mitch Weiss reminds us, can present the biggest risk of all. Through deft combinations of public sector adventure stories and thoughtful analysis, he leads readers out of the dead-ends of binary thinking (government = bad; tech sector = good, or vice versa) and into a world in which government is as flexible, imaginative, and hopeful as the people it serves."
"'We the Possibility' is an important book for public sector leaders looking to build bridges between government and top innovators in science and technology. To bend the arc of progress towards public good, we must confront the dilemmas of emerging technology by shifting our mindset to public sector entrepreneurship."
"At a time when our problems seem to be getting bigger and bigger and our minds and hearts seem to be getting smaller and smaller, governments need to be able to try more, fail more, and succeed more. Mitch Weiss offers us a way forward through Possibility Government, presenting practical and thoughtful solutions for how we can generate new ideas, test them, and replicate good ones."
"Mitch Weiss is one of the world's best thinkers about government innovation, and I've been waiting years for him to write a book. I'm pleased to say it's been worth the wait. 'We the Possibility' is chock-full of great ideas for transforming the public sector. Essential reading for anyone who wishes government was more capable and creative, this book shows how that dream can become a reality."