When technological advancements scale new peaks every day, they likewise create valleys of vulnerability that pose unexpected threats to businesses. Evolutions in artificial intelligence and the Internet of Things (IoT) promise organizations a more efficient tomorrow, but at the same time, an unsuspecting click could lead to disaster.

As the landscape of cyber threats widens, Stern Speakers & Advisors offers organizations insights from the foremost cybersecurity experts in the field. Their wisdom guides leaders around the world as they demystify the maze of security threats, decode the cryptic language of hackers, and stand steadfast in the face of digital adversity.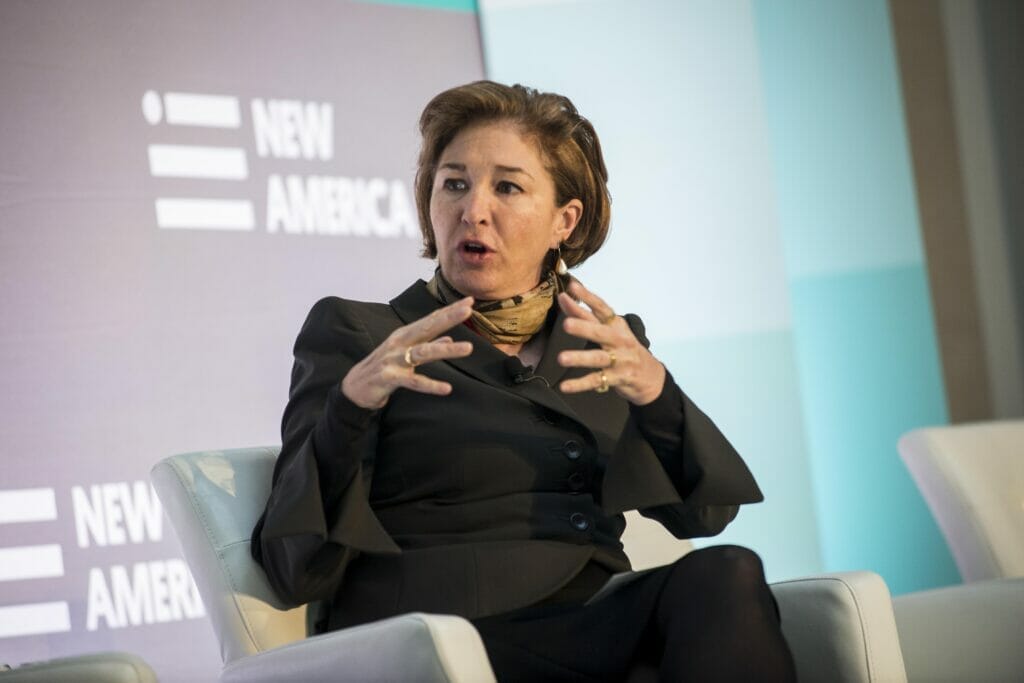 Anne-Marie Slaughter: A Global View of Cybersecurity
Top foreign policy expert Anne-Marie Slaughter, CEO of New America and former dean of Princeton University's School of Public and International Affairs, brings an academic's perspective to the question of how organizations should take on cybersecurity and interpret human intelligence during the rise of AI. "[There's been an] expansion of both the category of cybersecurity and the understanding of that category," explains Slaughter. "…Cybersecurity is not just for companies, it's not just for good hygiene on your own computer [anymore], this is a new part of conflict."
Chris Painter: The New Cyber Threats Affecting the Globe
Cyber threats are coming at businesses, governments and individuals faster than ever before. Multi-award-winning cybersecurity expert Chris Painter, president of the Global Forum on Cyber Expertise Foundation, spotlights the escalating cyber threats that often outpace corporate and government awareness and deftly explains how they are being exploited in current global conflicts like the Russia-Ukraine War. A former U.S. government official, his insight is crucial for entities preparing for the next generation of threats.
Jonathan Zittrain: Use Your Imagination to Develop Effective Cybersecurity Protections
As technology races forward, so does the ingenuity of security threats. Harvard Professor of Law and Computer Science Jonathan Zittrain underscores the need for creativity when identifying often-overlooked vulnerabilities, especially in the Internet of Things (IoT) era where a connected appliance might just be a hacker's invitation. Also an expert on AI, cybersecurity and the future of work as well as a pioneer in the field of cyberspace and cyberlaw, Zittrain warns that next-generation robots are coming – and unless we prepare for it, the way we establish trust online may be forever changed.
Azeem Azhar: Bridging the 'Exponential Gap' in a Rapidly Evolving Tech Landscape
In the words of Azeem Azhar, celebrated bestselling author of "The Exponential Age" (2021) and host of the new Bloomberg show Exponentially with Azeem Azhar, technology is racing ahead, often leaving society trailing in its wake. This accelerated progress not only unveils vast possibilities for innovation and growth, but also presents enlarged vulnerabilities ripe for hackers to attack. Institutions that lag behind risk deepening the "exponential gap" between the digital haves and have nots. As Azhar envisions a forthcoming era of collaboration, he emphasizes that technology firms, governments and the broader society must converge to seal this widening chasm.
Reid Blackman: Mitigating the Potential Danger of Chatbots – Before It's Too Late
Conversational artificial intelligence systems, or "chatbots," like ChatGPT have truly amazing capacities but, according to renowned AI ethicist and author of "Ethical Machines" (2022) Reid Blackman, they also carry pressing risks. Drawing parallels with the unforeseen consequences of social media's rise, Blackman underscores the ethical questions tied to the use of "black box" AI systems. While promising advancements such as accurate health diagnostics beckon, the darker side reveals chatbots that can misleadingly earn users' trust. He advocates for human intervention and regulatory oversight to guard against potential wide-scale ramifications, from tarnished brand reputations to societal harm.
Jeff Hancock: Rewiring How We Think About Truth and Trust in the Tech Era
A new trust framework is emerging – fueled by social, economic and technological forces that will profoundly alter how we trust, not only what we see and read online, but also one another. Many believe technology is the villain – an enabler of lies and deception online – but Jeff Hancock, an expert on technology's role in deception and trust and co-director of Stanford's Cyber Policy Center, believes the opposite is true: it's our intuition that is off. And that changes everything. Hancock says the real disruption taking place today isn't technological, it's psychological. He reveals several key principles that can guide how we think about truth, trust and cybersecurity on the internet, and how we – as individuals and as businesses – can rewire the ways we detect lies and better gauge truth.
In times of rapid technological change, threats are constantly evolving – but so are our defenses. With practical knowledge from cybersecurity and AI experts, organizations will be equipped to stay safe, no matter how the landscape shifts.
---
As bad actors evolve alongside emerging technologies, organizations must innovate and stay a step ahead in their cybersecurity approach to keep their information safe. Stern Strategy Group connects you with renowned thought leaders whose insights, strategies and management frameworks help organizations fuel growth and disruptive innovation to better compete in a constantly changing world. Let us arrange for these esteemed experts to advise your organization via virtual and in-person consulting sessions, workshops and keynotes.
Essential Cybersecurity Insights for Business Leaders
was last modified:
October 10th, 2023
by