Learn More About Christian Stadler
In an uncertain world with constant disruptions, how can organizations make impactful decisions that will lead to success?
Authority on leadership and strategy, Christian Stadler, PhD, professor of strategic management at the University of Warwick (U.K.), helps organizations open up the decision-making process in order to leverage input from all levels of their business, creating successful long-term strategies for internal and external stakeholders. It's what he calls "open strategy."
"Making strategy behind closed doors is a prescription for failure when disruptions are coming from all directions," explains Stadler, a Forbes contributor whose bestselling book, "Open Strategy: Mastering Disruption from Outside the C-Suite" (The MIT Press, October 2021), was named one of the best business books of 2021 by The Globe and Mail, The Financial Times and Strategy+Business. "The secret is to open the strategy development process beyond executive suites and boardrooms. My research helps leaders see the power that is unleashed when you include a large group of people in your strategy-making process."
Stadler – who teaches the core strategy course at Warwick and helped develop a doctorate program tailor made for senior executives – illuminates for leaders the benefits of bursting out of their C-Suite bubbles to invite in fringe perspectives during the strategy development process. Beyond improved financial metrics, his research shows that people involved in making big decisions are happier employees, and 70% of executives surveyed thought that by employing an open strategy process, they get greater commitment from staff. He's also found that when leaders open their strategy, they get ideas more closely related to the operational and human-centered realities of the organization. Emphasizing that execution can be stronger than innovation, Stadler's frameworks offer leaders a research-backed roadmap to plan for the future and achieve buy-in from colleagues throughout the organization.
With his first leadership responsibilities coming from his time as an officer in the Austrian Army, Stadler's military training provided valuable exposure to leading groups. He also recognized it wasn't a natural setting for questioning strategy. That realization, along with his history education, would later influence his academic research into the development of corporate cultures at legacy organizations like Royal Dutch Shell and Daimler, which led to his 2011 book, "Enduring Success: What We Can Learn from Outstanding Corporations" (Stanford University Press). In it, he takes a deep-dive into the strategies that have allowed some of the world's most respected businesses to succeed for 100 years or more, and offers key principles for corporate success and longevity.
Sought-after for his expert guidance training high potential leaders, Stadler has helped major organizations and startups alike embrace open strategy as a culture shift. A frequent advisor to African startups, he applies his knowledge of Western business strategy – and the lessons that African entrepreneurs can teach the West – to build bridges and help investors understand the dynamics of African business and culture.
In his engaging keynotes and highly interactive workshops designed for learning throughout the organization, Stadler's vivid storytelling, steeped in the history of business, offers leaders a solid foundation for innovating and collaboratively designing their future.
"We have found that there's still a relatively small number of organizations that open up their strategy processes," remarks Stadler. "About a third of all strategic initiatives are done with some aspect of openness. But this one third of initiatives make about 50% of the revenues and profits of organizations. So, if you're not yet opening up your strategy, it's your own fault."
###
Christian Stadler is a Professor at Warwick Business School. He has been invited to speak about open strategy on a variety of stages and podcasts, is a regular Forbes contributor and Harvard Business Review writer, and has provided commentary for CNN, the BBC, Al Jazeera, the New York Times, the Financial Times and the Wall Street Journal. Thinkers50 first recognized him as a future thinker in 2013 and in 2021 shortlisted him for the strategy award.
Stadler is a sought-after strategy and management professor and has taught on six continents, including as a visiting professor at Dartmouth, Austria's University of Innsbruck, Università Cattolica del Sacro Cuore in Milan, France's Université Toulouse and as a lecturer in strategy at The University of Bath (U.K.). Outside academia, Stadler is on the advisory board of two innovative startups. Chango is a fintech company in Kenya that translates traditional ways of saving and investing into the digital age. Thinkeco Power is a Canadian startup developing mobility solutions for cities.
Stadler earned a degree in history and theology and was an officer in the Austrian Army.
Christian Stadler is available to advise your organization via virtual and in-person consulting meetings, interactive workshops and customized keynotes through the exclusive representation of Stern Speakers & Advisors, a division of Stern Strategy Group®.
Christian Stadler
was last modified:
September 21st, 2023
by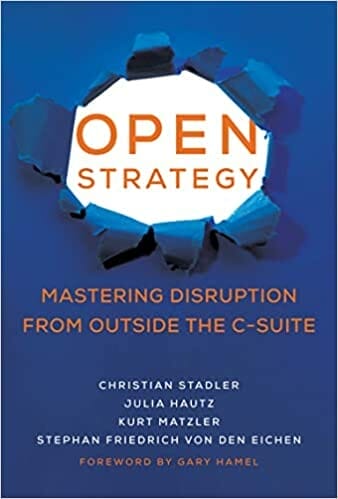 (The MIT Press, October 2021)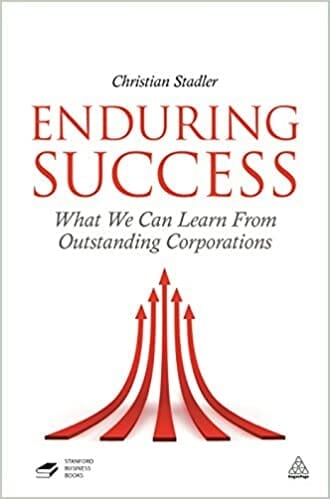 (Stanford University Press, April 2011)
Warwick Business School professor Christian Stadler is one of the foremost experts on strategy, enduring corporate success and African investment. Bestselling author of "Open Strategy: Mastering Disruption from Outside the C-Suite" and "Enduring Success: What We Can Learn from Outstanding Corporations," Stadler is a valued advisor for organizations that are looking to elevate corporate strategy both inside and outside the boardroom. An experienced partner, he can also advise organizations on strategies for entering new markets and successfully working with local entrepreneurs. Stadler is available to discuss any or all the following topics during one-on-one or small group advisory meetings. Each program can be customized to meet the needs and goals of your organization with the added option of meeting virtually or in person.
Executing Whole-Organization Open Strategy
Investing in Africa
How Smart Leaders Will Win in the New Era
Training and Learning from High Potential Leaders
How Strategy is Developed and Deployed
Scenario Planning
How to Identify an Organization's Nightmare Competitor
Scenario Planning – Creating and Preparing for Your Nightmare Competitor
In this interactive business-pitch-style workshop that can be arranged for half-day, full-day or two-day sessions, strategic management expert and Warwick Business School professor Christian Stadler, PhD, will lead your group through an interactive program to help develop your organization's strategy and create a roadmap for its implementation. Throughout this collaborative scenario planning exercise, participants will learn how to strategize like their biggest competition to develop blueprints that can be deployed proactively rather than reactively. With Stadler's bestselling book, "Open Strategy: Mastering Disruption from Outside the C-Suite," as a guide, participants will work together to scrutinize their organization and uncover its main competitive challenges so they can develop the appropriate strategies. Through discussing unique methods that legacy companies have successfully implemented, and showing how execution is even more important than innovation, Stadler's invigorating workshop will prepare leaders at all organizational levels to stay a step ahead of their biggest competition.
Training High Potentials for Leadership in a Time of Disruption
With disruptions coming from all directions, the leaders of tomorrow will need to know how to strategize for success. In this talk designed for high-potential leaders, Warwick Business School professor and expert on strategic management Christian Stadler presents a condensed MBA-style program that will help young people and mid-level leaders understand strategic thinking and planning in order to grow within an organization. Recognizing that learning also happens when young managers share ideas with executives, Stadler shows how future leaders can also help their bosses address everyday challenges in new, innovative ways.
Reviews for "Open Strategy: Mastering Disruption from Outside the C-Suite"
"[A] substantive and eloquent book…'Open Strategy' is more than a set of tactics or tweaks to an existing strategy. The authors set out the approach with such granularity and clarity that it is immediately actionable."
"Strategy is usually a closed, top-down affair, as a small group defines a new approach and, too often, it flops. The four professors share a different approach, opening key aspects of strategy-making up to front-line workers, others in the ranks, and even outsiders, tapping into differing perspectives and building enthusiasm for implementation."
"I have been a champion of open for many years. 'Open Strategy' provides a nice blueprint to unleash the power and impact of openness in your organization — recommended reading for all leaders."
"My benchmark for an important, long-lasting book is the number of notes I take while reading. 'Open Strategy' far exceeds my benchmark — I found something important on every page! It turns the existing strategic management paradigm on its head by showing executives the power of openness. An excellent how-to manual."
"This book shows how a strategy can be shaped around openness and the importance of the deep self-awareness an organization has to build to take this journey in these turbulent times. Very insightful."
"Open strategy is more than an inspiring idea. With this book, leaders now have the practical tools to make it a value-creating reality."
"If you are running an organization, this is the book you need. Old-style top-down thinking can't capture the complexity of the present or the uncertainties of the future. This is the first strategy book I've read that seems to know what kind of world we are living in today."
"The old rules of business said that strategy was the sole preserve of the boardroom. But strategy is being brought into the light. Open strategy is as game-changing as open innovation."
"'Open Strategy' promotes collaboration with people and organizations, a key to success in a highly complex market environment."
"Digitalization forces companies to reinvent themselves at pace. How do you fully engage your workforce around a radical new strategy? 'Open Strategy' offers a compelling answer: involve them."
"'Open Strategy' is an invitation for executives to experiment, tackle cognitive biases, and ultimately win against competitors. It is very timely, as our world is going through significant shifts in the post-pandemic era and leaders are looking for new ways of conducting business and identifying the strategies for becoming more resilient to future shocks. Unlike many strategy-focused books that leave busy executives with more questions than answers, this book provides a set of practical tools and instructions on how to implement."
"We applied open strategy. Involving a wide range of internal people as well as external experts was one of my best decisions."
"A revolutionary new way of doing strategy. Read and explore."