Learn More About Horace Dediu
Lime Scooters, Jump Bikes and the like may seem like novelties today, but they will revolutionize urban transport within the next two decades, predicts Horace Dediu, Partner and Chief Market Strategist at Relay Ventures. His conviction led him to coin the term micromobility to describe a field and future he is both actively shaping and accelerating. Founder of Micromobility Industries, the Micromobility Podcast, and Bond Mobility in Switzerland, Dediu is actively presenting on the topic worldwide, helping business leaders across industries anticipate the required major business model changes ahead.
A renowned business analyst and leading expert on the mobile industry (Fortune magazine declared him "King of Apple Analysts"), Dediu has in recent years shifted his attention and authority from mobile phones to smart transportation. As he explains it, just as the mainframe was unbundled into the personal computer, and the network and PC into phones, tablets and wearables, transport is moving from all-in-one owned cars into ever-smaller, on-demand vehicles – and the implications are tremendous for everyone and everything: cities, nations, work, urbanization, the environment, policy, entrepreneurs and manufacturers of Li-ion batteries, autonomous and shared vehicles, and more.
It's a transformation not only virtuous but highly profitable, says Dediu—and he's on its leading edge. A visionary, Dediu is also a convener. He launched the Micromobility Conference in 2017, and the now-annual summits bring together hundreds of micromobility doers and influencers across the sector: entrepreneurs, investors, engineers and policymakers. He hosts the Micromobility and Critical Path podcasts, and his market intelligence platform Asymco is followed by tens of thousands of mobile industry observers, setting the standard for public, open access to deep industry analysis. With more than 350,000 citations to his name, Dediu is relied on by major media for his technology and business strategy analysis and ideas.
Dediu draws from 25 years of research, analysis and publishing, and engages every audience – online and on stage, and across professions, industries and organizations. Through engagements and performances in front of companies as diverse as IKEA, IBM, Apple, Facebook, Fidelity Investments, Motorola and Riot Games, he enthralls audiences with a unique presentation technique, using custom-built tools that must be seen to be fully understood.
A former student and mentee of the late Clayton Christensen, Dediu was previously Senior Fellow at The Clayton Christensen Institute for Disruptive Innovation where he devoted time to teaching and researching the impact of technology on the disruption of sectors (such as banking, automotive and energy) and the impact of disruption on technology sectors (such as mobile, computing and wearables). Dediu is also a member of The Forum for Growth and Innovation at Harvard Business School. Perhaps best known for his authority on and enthusiasm for Apple's business, Dediu spent more than eight years analyzing mobile software, platforms and markets at Nokia.
Dediu has master's degrees from Harvard Business School and Tufts University in business administration and electrical engineering, respectively.
Horace Dediu is available to advise your organization via virtual and in-person consulting meetings, interactive workshops and customized keynotes through the exclusive representation of Stern Speakers & Advisors, a division of Stern Strategy Group®.
Horace Dediu
was last modified:
September 13th, 2023
by
The Emergence of Micromobility: How to Adapt to the Coming Disruption
While the world seems increasingly focused on electric cars and self-driving cars we are ignoring a more important and potentially disruptive revolution: micromobility. According to Horace Dediu, electric cars represent a technological innovation but not a true disruption to transportation, as they are still just that: cars. Rather, we should be looking more closely at lightweight vehicles like bicycles and scooters, now more widely and conveniently available on-demand thanks to the phenomenon of the platform-powered "sharing economy." According to Dediu, on-demand vehicles more suited to the dimensions [the individual] and their urban environment will be the true source of lifestyle and business model transformation in the mobility industry. Micromobility will also more effectively address problems of congestion, pollution and climate change than would a transition to electric or autonomous cars. In this presentation, Dediu shows organizations how the history of transportation offers a guide to how infrastructure will rapidly re-focus toward enabling micromobility once more people inevitably see the value in on-demand personal vehicles. These developments will, in turn, require major business model changes for companies across industries, as well as present opportunities for economic growth. After all, micromobility is "the fastest technological adoption in history" – a market expected to continue its boom; in 2030, it's predicted valuation is $300 billion USD.
What's Next? The Future of Mobile in Business
For 30 years, IT and personal and mobile computing have evolved to encompass and extend (and disrupt) the industries it touched – from telecommunications to entertainment, and now apparel. Will it continue to disrupt or will Moore's Law stop its ascent? Horace Dediu discusses innovation and the future of mobile, and explores what the post-mobile world will look like as Apple, Google and others are shaping the mobile experience of the future. Other highlights from the conversation include:
Understanding the factors that drive adoption of disruptive innovations
Recognizing the next disruption from patterns of previous ones
How to resize scope of opportunity when the basis of competition changes
Other "white spaces" Horace sees that are ripe for disruptive innovation, including education industry and transportation
The Innovator's Stopwatch
Here's the problem according to Horace Dediu: technologies enable new markets to be created and new industries – populated by competing firms – to emerge. As the adoption of technology increases (or diffuses into a market), the rate at which it happens is predictable. However, which firms benefit is usually not. Disruption theory provides insight into how and why this happens. It's a giant breakthrough, but not enough to pin down the winners. Missing is the "when" – when will an industry undergo a turnover in leadership? Dediu offers a method for measuring the rate of change in industry leadership. The Innovator's Stopwatch is a framework for identifying the stages of technology adoptions and classifying the type of industry architecture (interdependency or modularity), capital allocation (enabling, sustaining or efficiency), entrant strategy (new-market or low-end) and the management strategies that go along with these stages. The framework moves the discussion from "if" disruption happens to "when" and "where."
Survival, Prosperity and the Future of Technology
Technology has long impacted life and business. More recently, new technology paradigms affect what businesses do, not just how they do it. Looking back, we see a pattern of accelerating change – but how long can it last? And what does it mean for institutions unable to adapt? To answer these questions, Horace Dediu navigates a compelling documentary review of a century of technological change, and explores its effect on our lives, families, jobs and institutions.
(May 2019)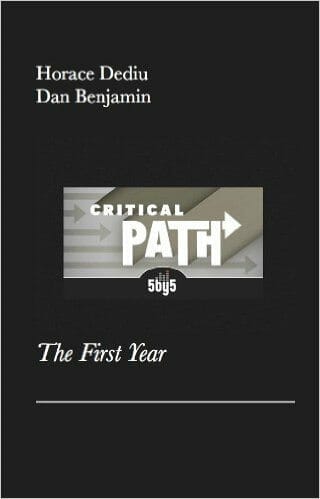 (Asymco, September 2012)
"Horace Dediu's opening keynote at the 2015 Association for Computer Professionals in Education (ACPE) conference was just what I was looking for. He was engaging, thought-provoking, humorous, and relevant. His presentation spoke to the need for institutions, such as schools, to adapt in response to the non-stop change within technology. He was effective in kicking off our conference by inviting attendees to think bigger than just within their offices or schools."