As one of the world's leading experts on human performance, Steven Kotler is the trusted authority for individuals and organizations interested in thriving during times of uncertainty.
The executive director of the Flow Research Collective, Kotler has spent decades studying the neurobiology of peak performance, focused primarily on the state of flow. While much of this research has centered on flow's extraordinary impact on motivation, creativity and productivity, his recent work takes this further, exploring lifelong learning and what can be accomplished by harnessing flow at any age.

In his latest book, "Gnar Country: Growing Old, Staying Rad" (Harper Wave, February 2023), Kotler presents a playbook for "peak performance aging." Overturning traditional ideas, he argues that, instead of a long, slow decline, our later years are a new stage of adult development—one where profound and positive changes in the brain unlock a suite of cognitive skills that can make these decades the most thrilling and successful period in our lives.
"Aging is a mental game as much as a physical game," says Kotler. "The research is very clear—the best way to stay young is to engage in challenging, social and creative activities that produce flow."
The Enormous Value Older Workers Offer
Writing a new story about our later years, Kotler explains how all of the mental and physical skills we once believed decline over time, are now understood as use-it-or-lose-it skills. "This means," says the two-time Pulitzer Prize nominee, "if we never stop training these skills, we can hold onto them, and even advance them, far later in life than anyone thought possible."
Kotler asserts that organizations squander economic potential and other valuable qualities when leaders discount older job applicants and team members. "There's a business revolution waiting to happen in people over 50," says Kotler, an LA Weekly Top 10 Keynote Speaker to Watch. "As you enter your 50s, there are profound shifts in how the brain processes information. We gain access to whole new levels of intelligence and critical thinking. Problem-solving, abstract reasoning, and creativity all spike, as do wisdom and empathy. These are crucial business skills in the Twenty-first century—difficult to hire for, or teach, yet they come built-in with properly trained older workers."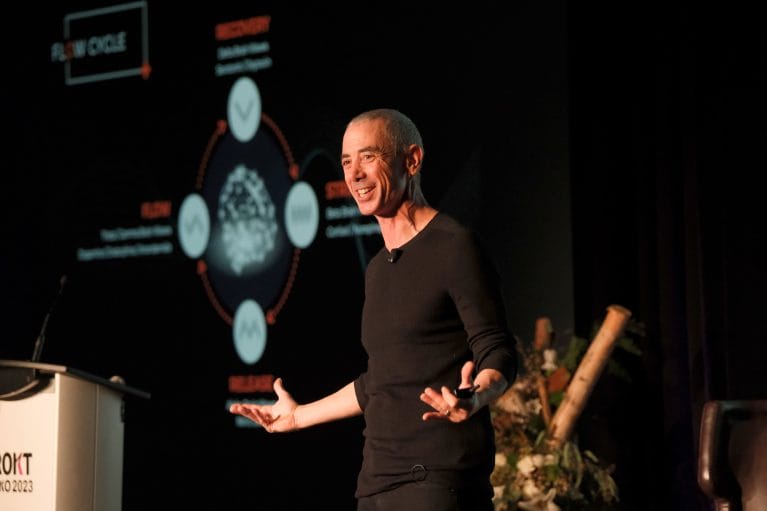 Harness Flow to Achieve Peak Performance
In his 2021 New York Times bestseller, "The Art of Impossible: A Peak Performance Primer" (Harper Wave), Kotler uses the tools of neurobiology to decipher the secrets of elite performers. Described by Kirkus Reviews as, "an inspiring approach to life-hacking that begs to be implemented…. it's a how-to manual for unlocking flow and achieving peak performance."
"There are specific things you have to do to access flow reliably. But when that happens, motivation, productivity, creativity, and learning go through the roof," explains Kotler in this highly engaging TEDxABQ Talk. "After flow training, we see a measurable increase in creativity and innovation ranging between 400 percent and 700 percent."
Bringing together his work on both peak performance aging and flow, Kotler urges leaders to see the business value in older employees who are at the top of their game.
"Customer-centric thinking is the mantra of Twenty-first century business," he says. "If you're not wise and empathetic, you can't understand what your customers are thinking, nor can you build the great teams needed to excel in today's demanding environment. Sidelining older adults is absurd from a business perspective: it's costing us so much money, time, resources, and lost opportunities. The over-fifty crowd is the dream workforce of the Twenty-first century."
---
Lifelong learning and peak performance aging benefit individuals and organizations alike. Stern Strategy Group connects you with renowned thought leaders whose insights, strategies and management frameworks help organizations fuel growth and disruptive innovation to better compete in a constantly changing world. Let us arrange for these esteemed experts to advise your organization via virtual and in-person consulting sessions, workshops and keynotes.
Harness The Exceptional Business Value of Peak Performance Aging
was last modified:
August 2nd, 2023
by