Learn More About Steven Kotler
Any organization looking to increase performance across the board would be hard pressed to find a more masterful guide than Steven Kotler, one of world's foremost experts on individual and group performance. For over two decades, Kotler's work has become synonymous with possibilities and breakthroughs at the highest level of human and enterprise capacity. By showing people how to leverage the neurobiology that drives peak performance – or "flow" – he continues to help organizations and individuals markedly achieve and exceed their goals.
As executive director of the Flow Research Collective, Kotler has spent years studying and decoding the science behind flow, in conjunction with researchers at leading academic institutions, including Stanford University, Imperial College London, University of Southern California and University of California, Los Angeles. Followed and endorsed by such leadership giants as Bill Clinton, Elon Musk, Michael Dell and Arianna Huffington, and named by LA Weekly a Top 10 Keynote Speaker to Watch in 2021, Kotler continues to transform organizations and individuals by helping them tap into their highest potential with tools for increasing productivity, enhancing performance, and improving focus and decision-making processes. To date, Kotler and his team have trained more than 250,000 people, among them Olympians, Navy SEALS and employees at all levels of corporations, including Google, Deloitte and Microsoft.
"There are six things you have to do to maintain a consistent state of flow. And when you do, motivation, productivity and learning go through the roof," explains Kotler. "After flow training, we see a measurable increase in creativity and innovation ranging between 400% and 700%."
Eleven of Kotler's 14 books have become bestsellers including his 2021 book, "The Art of the Impossible: A Peak Performance Primer" (Harper Wave), which has been described by Kirkus Reviews as "an inspiring approach to life-hacking that begs to be implemented."
Described by President Bill Clinton as "a visionary roadmap for change," Kotler's work is extremely relevant to organizations trying to keep remote employees motivated, productive and feeling a sense of connection and satisfaction during the pandemic – and likely after. His talks leave a deep and lasting impression on audiences who walk away equipped with actionable tools for sustaining high performance.
As an author, speaker and researcher whose life personifies flow, Kotler provides a comprehensive, pragmatic toolkit for optimizing potential, turning weaknesses into strengths and stretching thinking beyond old limitations. At a time when so many people find themselves paralyzed by today's challenges, his books and talks are uplifting antidotes. Those interested in aiming high now have a blueprint for achieving what once looked impossible.
# # #
Steven Kotler is a New York Times-bestselling author, an award-winning journalist, and the Executive Director of the Flow Research Collective. He is one of the world's leading experts on human performance. He is the author of nine bestsellers (out of thirteen books total), including The Art of Impossible, The Future Is Faster Than You Think, Stealing Fire, The Rise of Superman, Bold and Abundance. His work has been nominated for two Pulitzer Prizes, translated into over 40 languages, and appeared in over 100 publications, including the New York Times Magazine, Wired, Atlantic Monthly, TIME and the Harvard Business Review. Steven is also the cohost of Flow Research Collective Radio, a top ten iTunes science podcast. Along with his wife, author Joy Nicholson, he is the co-founder of the Rancho de Chihuahua, a hospice and disabled dog sanctuary.
Steven Kotler is available to advise your organization via virtual and in-person customized keynotes through the exclusive representation of Stern Speakers & Advisors, a division of Stern Strategy Group®.
Steven Kotler
was last modified:
November 23rd, 2022
by
"Flowing" Through Covid: The Remote Worker's Guide to Staying Focused, Productive and Stress-Free
At the Flow Research Collective, the idea that "focus drives flow" is foundational. Without focus, all hope of getting into flow is lost – which is why working from home requires a new set of rules and skills. In this presentation, Steven Kotler will teach participants how to manage stress and distraction in order to harness flow so they can get more done with a greater sense of satisfaction. He'll also explain how volatility, uncertainty, complexity and ambiguity – much like the conditions ushered in by the pandemic – can help trigger flow states. Participants will come away with actionable tools for managing a productive workday that invigorates rather than saps their energy and performance.
The Art of Impossible: Achieving and Sustaining Organizational Peak Performance
Each day, organizations are tasked with keeping employees motivated, productive and innovative so individuals and teams can reach and exceed their goals. Steven Kotler has taught over 250,000 people how to harness "flow" to establish and sustain peak performance, among them Olympians, Navy SEALS and employees at every level of organizations including Google, Deloitte and Microsoft. In this talk, he explains the science behind flow and provides tools for increasing productivity, enhancing performance, and improving focus and decision-making processes.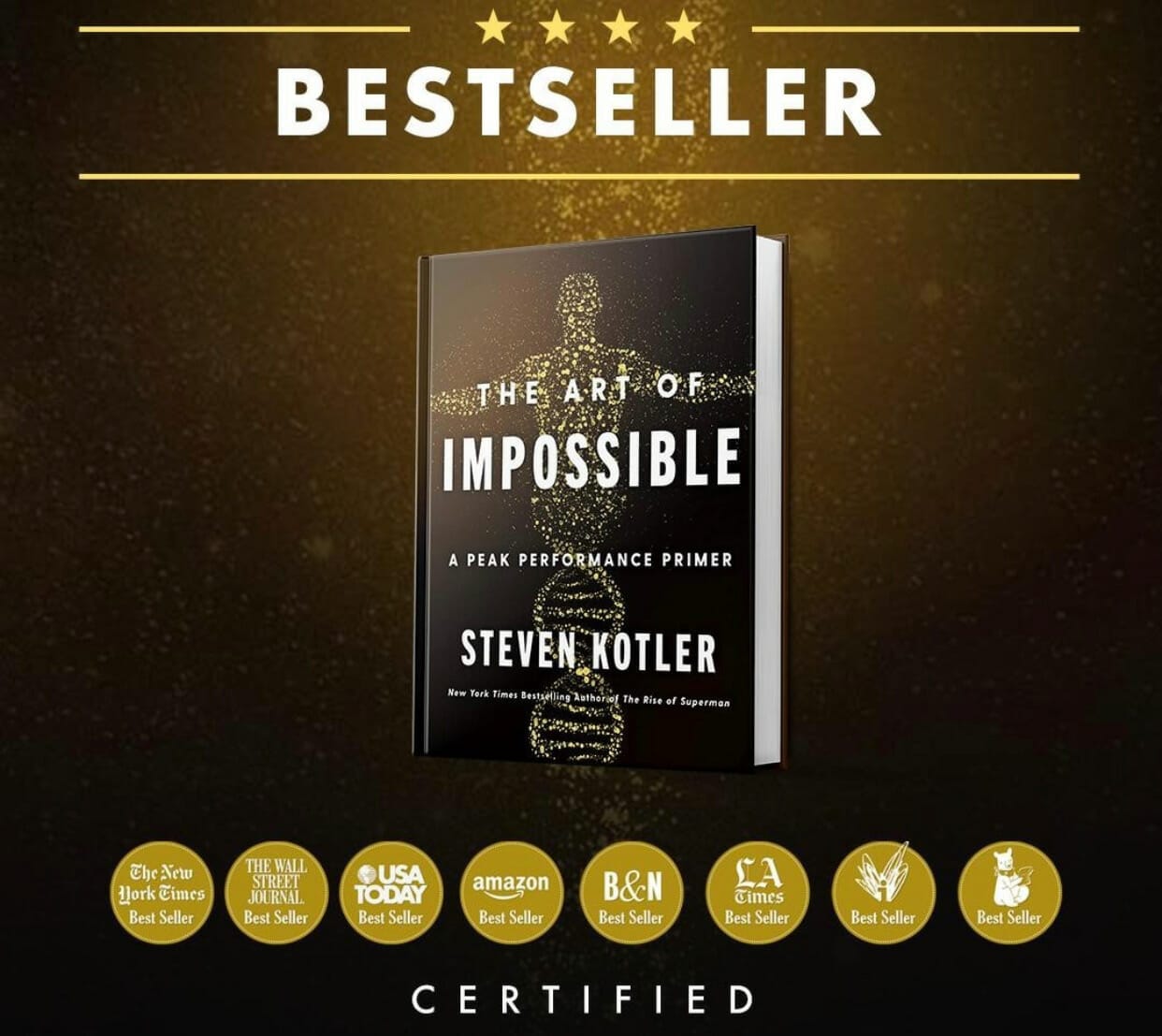 The Superman Leader: Leverage Flow to Heighten Personal and Organizational Performance
In today's accelerated business climate, peak performance is no longer optional — it's foundational. Over a century's worth of research clearly shows the secret to peak performance is the state of consciousness known as "flow." In business, the data is exceptionally clear. Top executives report being 500% more productive in flow. In this riveting talk, Steven Kotler teaches leaders how to keep themselves and their teams motivated, productive, creative and innovative. With examples drawn from his work with blue chip companies and his bestselling book, "The Rise of Superman," he explains the 22 triggers that drive flow, the three biggest flow blockers, and what leaders can do to harness and leverage flow to heighten personal and organizational performance.
The Future is Faster Than You Think: Preparing for the Next Wave of Technology
What happens as AI, robotics, virtual reality, digital biology and sensors crash into 3D printing, blockchain and global gigabit networks? How will these convergences transform today's legacy industries? Technology is accelerating far more quickly than anyone could have imagined. During the next decade, humanity will experience more disruption and create more wealth than we have in the last century. During this fascinating talk, Steven Kotler expounds on his bestselling book "The Future is Faster Than You Think."  Drawing from years of evidence-based research he and his team have conducted at the Flow Research Collective, he shows how wave after wave of exponentially accelerating technologies and technological convergences are poised to reinvent every part of our lives, from transportation, food, retail and advertising to education, health care, entertainment and finance.
Advance Praise for "Gnar Country"
"'Gnar Country' is a tour-de-force! Startling discoveries about peak performance aging, deep insights into human psychology, and a wonderfully written, laugh-out-loud, page-turning adventure story—only Steven Kotler could dream up and pull off a book this ambitious, smart, and useful!"
"There are so many who write, but don't do. Not Steven Kotler—he is the antithesis of an "armchair expert," a man who always lives what he writes, and in the case of 'Gnar Country', writes what he lives. In this refreshingly raw narrative, Kotler personally proves that aging is actually a gateway to exploring new levels of our performance potential—and shows us how to do it. 'Gnar Country' gets you excited to grow older!"
"This book is a trail map for anyone who's driven to be better at anything. I laughed, winced, and flowed right along with Kotler on his audacious quest to perform at his absolute best at an age when decline seems to be the accepted norm. Screw what people say you can or can't do past 50...This joyride of a story leaves you with just enough science-backed practical tools to take you where no one believes you can go. If he can shatter his own belief of what's possible, so can you."
"At an age when many adults have already checked into the sofa ride, Steven Kotler went back to school—the old school, the hard knocks school. His innate curiosity, combined with decades of sensitivity and self-awareness drew meaningful lessons from difficult and dangerous situations. Age-associated physical and psychological decline appears inevitable, but Steven demonstrates a different Way, and encourages us all to hold 'em, not fold 'em. After all, there will be nothing worse than knowing you could have but didn't, that now you can't and you're still alive to wish you had.
Praise for Steven Kotler's Presentations
"In short, Kotler was a huge success! He closed out the discussion part of the conference and I heard the word "flow" the rest of the weekend! Awesome choice you suggested, greatly appreciated!"
"I am on a Steven Kotler high. He was amazing!"
"Many thanks to you and Steven Kotler for a wonderful event. Steven generated a lot of conversation in our group and that extended well into the next day. Very successful!!"
"What Steven Kotler is seeking is nothing less than the big explanation."
"Steven Kotler's presentation was cutting-edge and utterly engaging. He introduced our audience to a unique set of concepts and perspectives that left participants deeply informed, richly inspired, and with a renewed sense of purpose. I recommend him highly."
"Steven connected with our audience in an unimaginable way. His incredible breadth of neuroscience knowledge allowed him to dramatically engage our group of academics and mental health professionals. The session was high energy, innovative, humorous and at times even heart-warming. This talk was a masterful demonstration of skill and talent from a brilliant mind. An experience worth repeating!"
"Steven Kotler presents a vision for the future that not only brings optimism, but inspires all who listen. His visit left our business school buzzing, and transformed students' visions for the roles business leaders can play in shaping the future."
Praise for "Art of the Impossible"
"…Thoroughly grounded in science, writing of the biological systems that drive fear, anger, grief, lust, and other emotions, all of which can be turned to advantage.…[Kotler] offers…an entertaining, inspiring approach to life-hacking that begs to be implemented by the willing reader."
"'The Art of Impossible' is consistently fascinating. There aren't many writers I would follow on an intellectual journey as ambitious as this to examine peak performance; fortunately, Steven Kotler is one of them."
"This book is a tour de force of high performance. It's an essential resource for those looking to align their curiosity, passion, and purpose to have not just a little more flow and creativity in their lives but to have a lot more flow and creativity. Want to learn how to take your innovation to seemingly impossible heights? Steven Kotler will teach you how."
"This book is quite literally impossible. I've been tracking Steven's work for ten years now, and it's impossible to overstate how important it is. It's impossible that he cracked the code on breakthrough success, yet he has. It's impossible to have turned extreme innovation from an art to a science, yet he has. It's impossible that he put it all together in a book that's impossible to put down, yet he has. Read it and go accomplish the impossible yourself."
"'The Art of Impossible' is a must-read! Steven Kotler is one of a handful of people on the planet with a deep understanding of the frontiers of human performance. His ability to bring applied neuroscience and psychology to life through storytelling is world-class. This book is a treasure."
"In 'The Art of Impossible,' Steven Kotler has managed to articulate what many peak performers intuitively know but can't explain: that there's a formula for impossible. Kotler demystifies the mythic, breaking down that formula and giving readers exactly the tools they need to accomplish their dreams, no matter how big."
Praise for Steven Kotler's Books
"Diamandis and Kotler do a masterful job."
"'BOLD' is a visionary roadmap for people who believe they can change the world—and offers invaluable advice about bringing together the partners and technologies to help them do it."
"At a moment when our world faces multiple crises and is awash in pessimism, "Abundance" redirects the conversation, spotlighting scientific innovators working to improve people's lives around the world. The result is more than a portrait of brilliant minds – it's a reminder of the infinite possibilities for doing good when we tap into our own empathy and wisdom."
"I loved Peter Diamandis' and Steven Kotler's book "Abundance," their writing and their Vision. "BOLD" is an amazing sequel, a book that every entrepreneur should read. It is inspiring, filled with incredible insights and offers a practical how-to game plan for going big and impacting the world."
"Every coach in America needs to listen to this stuff from Kotler."
"The result is nothing less than the most transformative and thrilling period in human history."
"'Stealing Fire' is a beautifully written, must-read for anyone interested in living up to their full potential. A user-manual for your hacking your brain to drive high performance."
"'BOLD' is an essential navigation tool for any proactive CEO who wants to remain relevant. In the next decade it is reasonable to assume that some of the corporations at the top of the Fortune 500 will be displaced by the 'exponential entrepreneur'. History tells us that if we don't proactively change and adapt, change will be imposed on us. 'BOLD' spells out the implications and opportunities driven by exponential changes transforming our world."
"A fast-paced, electrified, and captivating journey into the deep potential of the human brain."
"'Stealing Fire' cracks the secret code of peak performance so that ordinary people can achieve extraordinary results."
"If you read one business book in the twenty-first century, this should be the one. When Peter and I cofounded Singularity University, we based it on the ideas of exponential change and 'learn by doing.' This book clearly explains how to apply these concepts to change the world and overcome the age-old afflictions of human civilization."