Learn More About Ranjay Gulati
Ranjay Gulati is the Paul R. Lawrence MBA Class of 1942 Professor and the former Unit Head of the Organizational Behavior Unit at Harvard Business School. Until recently, he chaired the Advanced Management Program, the flagship senior leader executive program, at the school. Professor Gulati studies how "resilient" organizations—those that prosper both in good times and bad—drive growth and profitability. His work bridges strategy (establishing clear strategic pillars for growth), organizational design (reimagining purposeful and collaborative organizational systems), and leadership (fostering inspired, courageous and caring execution).
Professor Gulati was ranked as one of the top ten most cited scholars in Economics and Business for over a decade by ISI-Incite. The Economist, Financial Times, and the Economist Intelligence Unit have listed him as among the top handful of business school scholars whose work is most relevant to management practice. His research has been published in leading academic journals of business, the Harvard Business Review, and a range of other outlets. He is the author of a number of books, with his latest, "Deep Purpose: The Heart and Soul of High-Performance Companies" (Harper Business, February 2022) named to the list of Thinkers50 Top 10 Best New Management Books for 2022. He has been a frequent guest on CNBC and other media outlets.
Professor Gulati advises and speaks to corporations large and small around the globe. He also frequently leads small-group workshops focused on helping leadership teams of high-growth companies enhance the growth trajectory of their businesses. Some of his representative speaking and consulting clients include Abbott Laboratories, Adidas, Aetna, Allergan, Bank of America, Bank of China, Baxter, Berkshire Partners, Blackrock, Boston Scientific, Bristol Myers Squibb, Brown Brothers Harriman, Caterpillar, Credit Suisse, Expedia, Ford, GE, General Mills, Google, Henkel, Hitachi, Honda, Hospira, IBM, Iron Mountain, Kellogg Company, Keybank, KPMG, LaFarge, Lockheed Martin, Merck, Metlife, Microsoft, Mitsubishi, Novartis, Ochsner, P & G, Qualcomm, Sanofi, SAP, Target, Temasek, Unilever, and Vertex. He has served on the advisory boards of several entrepreneurial ventures and has appeared as an expert witness in business litigations.
Professor Gulati holds a Ph.D. from Harvard University, a master's degree in Management from M.I.T.'s Sloan School of Management, and two Bachelor's Degrees, in Computer Science and Economics, from Washington State University and St. Stephens College, New Delhi, respectively.
Ranjay Gulati is available to advise your organization via virtual and in-person consulting meetings, interactive workshops and customized keynotes through the exclusive representation of Stern Speakers & Advisors, a division of Stern Strategy Group®.
Ranjay Gulati
was last modified:
September 30th, 2022
by
Ranjay regularly speaks to executive audiences around the world. The groups he speaks to range in size from small senior leadership teams and corporate boards to large company off-sites. He has worked with companies in a range of industries and spoken with groups across a variety of functional areas. His clients range from large well-established companies to high-growth entrepreneurial ventures.
Through executive seminars and open lectures, Ranjay creates a forum for the development and implementation of business strategies for the challenging market conditions we face today. Each lecture is customized to fit the audience and their circumstances. Much of his speaking focuses on helping firms discover growth opportunities in dynamic and uncertain markets. He explores the dilemmas and enablers for building actionable strategies that encompass making strategic choices and architecting organizations to drive chosen strategies. His systemic approach also emphasizes the requisite leadership skills and pipeline that is essential to support strategy.
Sample speaking categories and topics include:
Building Resilient Organizations

Why Do Great Companies Derail?
Strategic Thinking For Turbulent Markets: Building A Breakaway Strategy
Redefining Innovation
Digital Transformation

Leading: Fostering Inspired, Courageous and Caring Execution

Leading Meaningful Behavioral Change
Playing To Win

Designing: Reimagining Organizational Systems For Performance And Purpose

Unbossing An Organization
Unleashing Growth Through Silo-Bridging
Build An Entrepreneurial Mindset
Building Customer-Centric Organizations

Connecting: Developing Effective Internal and External Collaboration

Relational Capital: Managing Relationships As Resources
Silo-Busting: Transcending Barriers To Build High Growth Organizations
Partnerships In Turbulent Markets

Activating: Embed Deep Purpose and Foster Resilience Within Organizations

Organizational Purpose as a Source of Competitive Advantage
Leading From Within
Cultivating Courage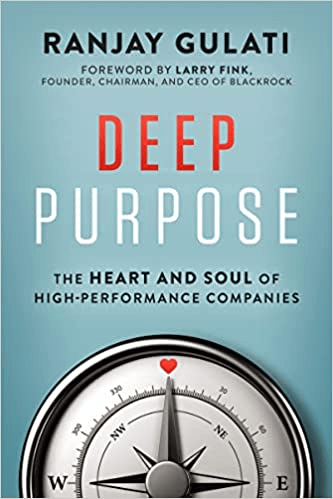 (Harper Business, February 2022)
(Cengage Learning, 2013)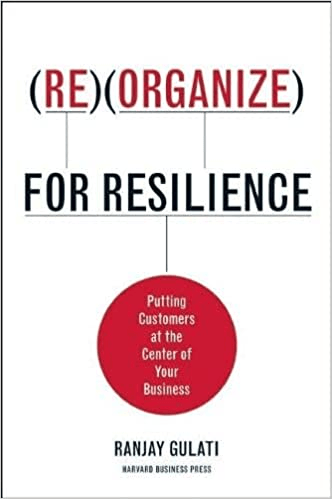 (Harvard Business Press, 2010)
"Pursuing a purpose as a company means arriving at a clear understanding of what you were put on this planet to do. It helps you steer in the right direction, navigate tradeoffs, and, when connected to a social or personal purpose, it can inspire remarkable performance. 'Deep Purpose' peels back the layers to unveil what it truly takes to cultivate a purpose-driven culture, one that enables both the company and its employees to experience its power and benefit from the growth it can generate."
"Many leaders give lip service to purpose, but few know how to create a compelling one. Ranjay Gulati is a preeminent scholar of organizational strategy, and in this book he shows what it takes to walk the talk on purpose. It's an insightful, practical, and timely read on building a mission that serves employees, customers, and communities along with shareholders."
"In this provocative and richly researched book, Ranjay Gulati argues that the pursuit of profits without purpose is no longer a sustainable business model. As he shows, the road to high performance, for both individuals and for companies, depends on deepening our connection to enduring and essential human values. If you want to be inspired to build more sustainable organizations, 'Deep Purpose' should be your next read."
"'Deep Purpose' points to the conversations we must have right now about how to redefine the role of business in society, restore trust, and enhance our license to operate. As Gulati rightly argues, the winning formula is moral leadership and a multistakeholder model with purpose at its core. It entails both leadership and systems transformation. Highly recommended."
"Leaders often invoke the rhetoric of corporate purpose to elevate their or their company's image. But for the people who work in these companies, the search for purpose is a real and defining part of their professional life. Gulati's book illustrates how the best leaders help employees discover a tangible link between the organization's stated purpose and what they do on the job. When people "come alive" with a sense of purpose in their work, their motivation, energy, and creativity blossoms."
"Many leaders today strive to align purpose with financial success, but only a few succeed. Gulati analyzes the tough challenges that leaders everywhere must address if they are to save the planet while also delivering strong profits. He provides a compelling account of what it means to be purpose-driven–a crucial objective for us as well as other organizations in the social innovation space."
"Brilliant and thought-provoking as ever, Ranjay Gulati applies scholarly rigor to the important topic of purpose. This book is a must-read for all leaders who wish to embark on or continue a journey toward a vibrant, high-performance business." — Kasper Rorsted, CEO, Adidas "Purpose isn't a "nice-to-have" in the business world anymore. It's a "must-have." Purpose-driven organizations will lead the future, and Ranjay Gulati's 'Deep Purpose' is essential reading for anyone who wants to be at the head of the pack. This comprehensive guide breaks down why cultivating purpose isn't just the right thing for businesses to do–it's the smart thing too."
"Where Gulati's book shines is in its emphasis on putting people and the health of the planet first. Doing so isn't naïve, he says, but rather brace and necessary in today's rapidly changing world."
"In this short guide, Harvard Business School's Ranjay Gulati offers plenty of useful advice about how leaders can set a principled course for their businesses."
"Deep Purpose will not be the last book to claim to show leaders the way, but it stands out as a thoughtful account of the dilemmas, trade-offs and pitfalls of moving beyond the pure-profit imperative, and how to overcome them."