Learn More About Amy Gallo
Amy Gallo is a workplace expert who frequently writes and speaks about gender, interpersonal dynamics, difficult conversations, feedback, and effective communication. She works with individuals, teams, and organizations in the United States and abroad to help them collaborate, improve how they communicate, and transform their organizational culture to one that supports dissent and debate.
Gallo is the author of "Getting Along: How to Work with Anyone (Even Difficult People)" (Harvard Business Review Press, September 2022) and the "HBR Guide to Dealing with Conflict" (Harvard Business Review Press, 2017), a how-to book about handling conflict professionally and productively. She has written hundreds of articles for Harvard Business Review, where she is a contributing editor. Her writing has been collected in numerous books on a range of topics from feedback to emotional intelligence to managing others.
For the past three years, Gallo has co-hosted HBR's popular "Women at Work" podcast, which examines the struggles and successes of women in the workplace.
Named one of LinkedIn's Top Voices in Gender Equity, Gallo is a sought-after speaker, who has delivered keynotes and workshops at hundreds of companies and conferences, including SXSW, the Conferences for Women, the World Economic Forum, the Bill and Melinda Gates Foundation, Google, Deutsche Bank, MetLife, Adobe, and the American Chambers of Commerce in Finland and Sweden. In 2019, she delivered a talk at TEDxBroadway about the positive benefits of conflict.
Gallo is frequently sought out by media outlets for her perspective on workplace dynamics, conflict, and difficult conversation. Her advice has been featured in The New York Times, the Washington Post (The Lily), Fast Company, Marketplace, and The Austin American-Statesman.
She has been a guest on numerous podcasts and radio shows including HBR's IdeaCast and "The Anxious Achiever," WNYC, the BBC, and ABC (Australian Broadcasting Corporation).
Before working with Harvard Business Review, she was a management consultant at Katzenbach Partners, a strategy and organization firm based in New York. She contributed to the firm's research on the "informal organization" — the unofficial networks and communities that govern how people work together in practice.
Gallo is on the faculty of the Emotional Intelligence Coaching Certification program, launched by Daniel Goleman. She has taught at Brown University and the University of Pennsylvania and is a graduate of both Brown and Yale University.
Amy Gallo is available to advise your organization via virtual and in-person consulting meetings, interactive workshops and customized keynotes through the exclusive representation of Stern Speakers & Advisors, a division of Stern Strategy Group®.
Amy Gallo
was last modified:
October 6th, 2022
by
How to Have "Smart Fights" at Work
We all want to work in an office where people are polite, considerate, and kind. But it's possible to be too nice, failing to disagree when it's important to do so and never surfacing new ideas or innovations. In fact, in some companies, "I don't agree" is the same as saying "You're an idiot." You can't have a diverse, inclusive, productive team without some healthy fights, and raising disagreements can be especially challenging for women when they feel pressure to be likable or accommodate others. In this talk, Amy combines management research and practical insights on difficult conversations and competition at work. You'll learn about how teams can smartly tackle uncomfortable conversations and disagreements and how managers can make it OK for people to dissent, debate, and express their true opinions while fostering a sense of belonging.
Navigating Conflict for Women: How to Advocate for Yourself and Be Heard
Every day we navigate offices full of competing interests, clashing personalities, limited time and resources, and fragile egos. While some of us enjoy a lively debate with colleagues and others prefer to avoid disagreements, we all struggle with conflict at work. We want strong relationships with our coworkers, bosses, and clients but that's not always easy, especially when time is tight and resources are limited. So how can you deal with inevitable disagreements in a professional and productive way, especially as a woman? In this talk, Amy combines management research and practical insights on difficult conversations, collaborative relationships, and negotiations for women at work.
Giving and Receiving Feedback Even When You Don't Want To
We all know that we're supposed to give feedback to our colleagues and ask for it in return. But that's often easier said than done, especially because emotions run high in these sorts of difficult conversations. In this session, Amy combines management research and practical insights. You will come away with a better understanding of the importance of a feedback-rich culture and your role in creating one, new approaches for giving and receiving feedback, and increased confidence in navigating tricky feedback situations, such as disagreeing with someone more senior and giving input to a peer.
(Harvard Business Review Press, September 2022)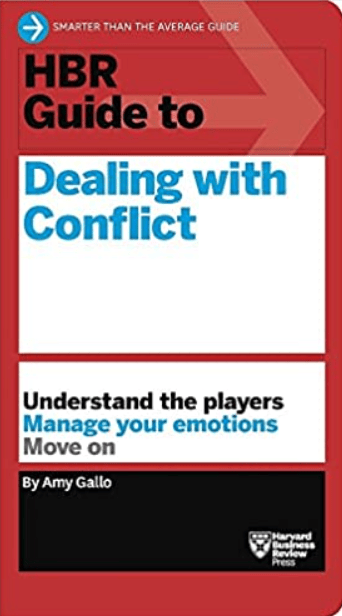 (Harvard Business Review Press, 2017)
"She was a huge hit. We will gladly be a reference."
"This practical and empathetic guide to taking the high road is worth a look for workers lost in conflict."
"We all go to work with a relationship résumé that shapes how we feel about ourselves, how we trust, how we communicate, and how we manage conflict. Getting Along offers a clear guide to navigating the murky waters of relationships at work."
"Amy Gallo is that rare combination of a first-class thinker and a wonderful writer. Getting Along tells us how to work well, even with that jerk we wish would get another job. Highly recommend."
"Getting Along is both practical and wise. And Amy Gallo is exactly the person you want by your side for the next step of your professional journey."
"An accessible, actionable book about how to navigate your toughest collaborations—and turn them into some of your most rewarding work relationships."
"A must-have for everyone in the workforce. Amy Gallo's handbook is a treasure chest of practical, evidence-based tips. I will be referring to and recommending this essential guide for years to come!"
"If you've ever lost sleep over a relationship at work, this book is for you. Amy Gallo has written a research-backed guide filled with relatable stories to help you turn the most complicated interactions into something to learn from."
"In this wise and deeply researched book, Amy Gallo has presented a powerful and actionable framework for dealing with difficult coworkers. No matter your situation, better working relationships start here."