Learn More About Jeremy Heimans
In the digital era, the nature of power has been upended. Once-respected institutions – governments, businesses, media – face unexpected challenges and mounting public skepticism, while successful organizations and individuals tend to be outsiders and startups who capture the public's imagination through unconventional means. Jeremy Heimans argues that these trends represent a seismic shift from the "old power" of establishment entities to what he calls "new power," which he describes as the ability to harness the energy of the connected crowd. A leading global authority on the dynamics and implications of this new power, Heimans shows organizations and individuals how to build influence in a world transformed by digital mobilization.
Heimans, co-founder and Chairman of Purpose, which was acquired by Capgemini in 2020, has spent his career bridging the practical world of business with the fervor of social activism. With Henry Timms, he co-authored the international best-selling book "New Power: How Anyone Can Persuade, Mobilize and Succeed in our Chaotic, Connected Age" (US Version, Penguin Random House, Feb, 2019). "New Power" describes the way in which digital connectivity has reshaped relationships and attitudes, causing influence to shift from traditional sources of authority to those who are best able to inspire participation and mobilize employees, consumers and the connected crowd. These trends have already transformed politics and business, and yet many organizations remain unable to develop strategies for integrating new power thinking and methodologies into their existing strategies. Heimans helps organizations – private, non-profit and governmental – understand how power functions in the new world, and advises on how different types of organizations (as well as social movements) can emulate past success stories and impact opinion locally and globally. As a true testament to the book's importance in today's business climate, Heimans and Timms' work was featured as the Big Idea in Harvard Business Review and Heimans' top-rated TED talk on the topic has been viewed more than 1.4 million times. CNN called "new power" one of the Top Ten Ideas to Change the World in 2015. The framework has been praised by Fortune 100 CEOs such as Walmart's Doug Macmillon and Unilever's Paul Polman. "New Power" was also named a best book of 2018 by the Financial Times, Bloomberg, Fortune, Inc and CNBC.
Heimans, who was named one of Fast Company's Most Creative People in Business, and who according to The Monthly may be "the most influential and connected Australian in the world," has been building movements since the age of eight. As a child, Heimans ran media campaigns and lobbied leaders on issues such as children's rights and nuclear non-proliferation. Since 2009, Purpose – a home for building 21st century movements and purpose-driven brands – has and advised institutions like the Bill and Melinda Gates Foundation, Bloomberg Philanthropies, Google and Unilever. He is one of the foremost global experts helping companies bring purpose into the heart of the brands and business models, and then engaging consumers around a meaningful and impactful brand purpose.
Heimans is also the co-founder of Avaaz, the world's largest online citizens' movement, now with more than 50 million members worldwide, and GetUp!, an Australian political organization with more members than all of Australia's political parties combined. In 2011, Heimans received the Ford Foundation's 75th Anniversary Visionary Award for his work as a movement pioneer and the World Economic Forum named him a Young Global Leader. The World e-Government Forum has named him as one of the top ten people who is changing the world of politics and the internet, and The Guardian named him one of the 10 most influential voices on sustainability in the U.S. A highly engaging orator, Heimans has been a keynote speaker at prestigious venues such as the World Economic Forum at Davos, TED, the Aspen Institute Ideas Festival, the RSA, Chatham House, the United Nations, Blair House, The Economist Big Rethink, The Guardian Activate and Social Media Week.
A former strategy consultant with McKinsey & Company, Heimans earned degrees from Harvard University and the University of Sydney.
Jeremy Heimans is available to advise your organization via virtual and in-person consulting meetings, interactive workshops and customized keynotes through the exclusive representation of Stern Speakers & Advisors, a division of Stern Strategy Group®.
Jeremy Heimans
was last modified:
May 10th, 2023
by
How to Navigate and Harness New Power
The digital age has turned the nature of power in our economy, politics and society upside down. New digital platforms and dramatically increased connectivity have given ordinary consumers and citizens unprecedented influence over how leaders and institutions behave, while eroding the authority of more established organizations. So how do those "old power" organizations – corporations, media, governments – survive and flourish in this new era? Jeremy Heimans and Henry Timms, who literally wrote the book on new power, offer in this presentation a guide to understanding and capitalizing on this seismic shift. Crucially, Heimans and Timms have worked with startups and social movements on one hand and with established institutions and Fortune 100 companies on the other, giving them a unique insight into how old and new power are successfully blended and combined. They argue how old power – that of formal authority, expertise and exclusivity – still offers important benefits to those organizations which wield it. But new power – the energy and enthusiasm of digitally organized crowds and communities – must be integrated into all aspects of how organizations behave internally and present themselves to the public. This keynote provides concrete examples of how to navigate the changing nature of power and harness its enormous opportunities.
Unlocking Consumer Engagement in a New Power World: How the Combination of Purpose and Participation is Supercharging Brands and Transforming Marketing
Twentieth century marketing – a world of slogans and jingles delivered from on high by big advertisers – is approaching extinction.  But what will replace it, and how can brands truly engage and build a connection to their consumers beyond increasingly commoditized Facebook pages and paid social media influencers? In this presentation, Jeremy Heimans and Henry Timms lay out three key elements of the successful new power brand, one that is built to thrive in the 21st century:
(Product + Purpose) x Participation = New Power Brand
Heimans and Timms show examples, from multi-billion dollar companies, to craft breweries and video game developers, who have figured out how to create a sense of higher purpose among their consumers – and then turn that purpose into action and participation. This presentation equips innovators, whether startup founders or large corporations, with the tools they need to create a Participation Premium that generates funding for ideas and builds a passionate customer base at the same time.
Leadership in the Age of Mass Participation
In the U.S. presidential elections of 2008 and 2016, two very different candidates broke through the political establishment to score upset victories. Though Barack Obama and Donald Trump have little else in common, they both utilized new power – the capacity to mobilize and inspire participation in our hyper-connected world – to overcome the old power of party machines, protocol and reliance on donor rolodexes. In politics and beyond, including the corporate world, leaders must learn how to not only survive in a world where digital connectivity challenges their influence but also use it to their advantage. Some of today's most successful corporate leaders understand that the capacity to mobilize beyond their payrolls, and to build a larger crowd that will show up for them, has become crucial. New power, says experts Jeremy Heimans and Henry Timms, is a current, not a currency – "and works best when it surges." Whereas previous leaders may have sought to contain the crowd, successful leaders in the digital era channel it into popular support and brand building. They understand that intensity is now more important than favorability. But as Heimans and Timms argue, the tools of old power are still necessary to help leaders shape and direct the energy they unleash. In this presentation, they reveal a whole new way to think about leadership – one that relies less on formal authority, and that can inspire unprecedented participation and creativity among employees, consumers and stakeholders.
The Future of Work in a New Power World
The 20th century model of work prized employees' ability to know their place within an elaborately structured and managed organization. In exchange, workers were rewarded with job security and a pension. But in a world guided by the "new power" values of disruption and mass engagement, managers are increasingly finding they must contend with workers who offer frank feedback, demand to be heard and want to feel – and participate – like start-up founders. The companies promoting such engagement tend to outperform those that stick to rigid hierarchy. Navigating the challenges of new power in the workplace has become a critical issue for corporate executives, especially those trained in the era of old power. But Jeremy Heimans and Henry Timms offer specific examples of firms that deliver recognition and opportunity to workers hungry for feedback and participation while maintaining sensible structures of decision-making. By combining these elements of old and new power, managers can effectively attract and retain young talent in a fast-changing world. This presentation can also look at the broader picture of how the shift to new power and the rise of the gig economy will impact the job market and the social safety net, as workers face not only greater recognition but less security.
The Future of Online Engagement: Building the "Full Stack Society"
The internet was supposed to be a decentralized, democratic space where people could share ideas. This idealistic vision has been tempered by the rise of giant digital platforms that extract value from consumers while often limiting their alternative options. Conversely, the idea of internet freedom itself has become tainted by the rise of "fake news" and online hate speech. How do we get back to the original optimistic notions of the internet's founders? Jeremy Heimans and Henry Timms offer hope in the form of real stories of how individuals, nonprofits and companies alike are using crowd-sourcing to mobilize popular engagement for good rather than negative purposes, and how we might reimagine the internet in a way that truly democratizes and brings us together, not drives us further apart. In this presentation, the experts provide guidance to organizations of all types on how to recapture the inherent good in digital cooperation – and help build a better world.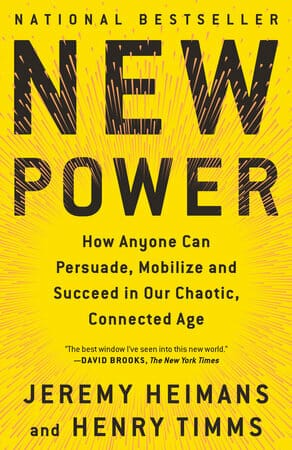 (US Version, Reprint, Penguin Random House, Feb, 2019)
(Journal of Scientific Psychology, February 2021)
"I am fortunate that as part of my role as CHRO of Unilever I have the opportunity to meet with some of our generations brightest and boldest thinkers. One of those people is Jeremy Heimans, CEO of Purpose and the co-author (with Henry Timms) of New Power, a fascinating book about the changes in the balance of power in society and how that is transforming our world."
Shortlisted for the 2018 FT/McKinsey Business Book of the Year. Named as one of the best books of 2018 by Fortune, Bloomberg, Inc. FT, CNBC. Nominated as one of the most essential books of the year by Malcolm Gladwell, Susan Cain, Adam Grant and Dan Pink. Selected by the World Economic Forum for their global book club. "A wonderfully incisive contribution that not only explains how the dynamics of power are changing, but also provides the tools—and the confidence—to harness those changes to build businesses, spread ideas, and make a better world."
"The networked age has revolutionized the way the public engages with institutions and organizations. 'New Power' is an essential and extremely insightful guide for anyone who wants to maximize the opportunities for progress and impact in today's new tightly connected world."
"This book will inform and inspire all those wanting to make change . . . and achieve a goal against all odds."
"A useful lens to use when thinking about how business has changed, how to spread ideas or start a movement, or create change. This book challenges all of us to think about the values we hold and how we can all be part of building a more open, equitable, and participatory world."
"The surest sign that I've encountered a big idea isn't what that idea does to my brain. It's what it does to my eyes. When an idea is sufficiently compelling, it changes the very way I see. That's what happened to me when I read New Power."
"A must-read, 'New Power' is a gift to our movements. It's not just about going viral—it's about connecting millions of people to roll up our sleeves and create the changes we long for."
"This fascinating book will transform your understanding of how to gain power—and how to use it for good."
"A manifesto for a more humane world"
"Fascinating… Cogent… Will intrigue anyone who wants to channel the new power of the crowd."
"You couldn't wish for two better people to write this explanation and exploration of new power than Henry Timms and Jeremy Heimans. It is the detail in this book that really excites… its optimism and practical advice. And, unexpectedly, it is funny. I'd encourage you to participate in purchasing."
"If you do not understand new power, you will not fare well in the new networked world of the 21st century. It's that simple."
"This is the cool, clear guide we all need to navigate the Trump era."
"The nature and use of power is changing rapidly, distributing broadly in unexpected channels.'New Power' provides the practical tools to help us all understand this shift. But it also draws out the big battle of our times—whether all this new power will end up being used for good or bad."
"Power is shifting as never before, so 'New Power' is addressing a vital issue for our times: how to make the voices and choices of all, not just a few, count for something. Plaudits to Heimans and Timms for their determination to help shape the future, not just complain about it."
"'New Power' is a tour de force by two of the great mobilizers of the first global generation."
"'New Power' is both a practical guide and a much needed dose of optimism, helping us understand that the future is ours for the making. A must-read for today's leaders in any field."