Learn More About Zeynep Ton
Businesses must continually adapt to new dynamics to survive, and responsive flexibility depends on a motivated team leaders can trust. But too often, companies find themselves caught in a vicious cycle of high turnover and undertrained staff, leading to dwindling operational efficiency. Is there a way out?
"If you ask most leaders what it takes to win, they say a great team is needed to succeed. But many leaders, especially in front line industries, think that they can't afford to create that team," says award-winning operations strategist Zeynep Ton, Professor of the Practice at the MIT Sloan School of Management. "My research shows that low pay ends up hurting businesses more than decision-makers might anticipate. There's a better approach that helps companies win with customers and improves lives of employees, and it's less risky to adopt that approach than leaders may think."
A Modern Blueprint for Operational Efficiency
Co-founder of the Good Jobs Institute, Ton is driven by an unstoppable passion to show organizations how to develop a new mindset for creating good teams that win with customers while simultaneously satisfying investors and employees. In engaging presentations, she reveals the tools leaders can use – including ways to improve corporate decision-making and tips for designing work – that entice employees to stay with an organization, reduce harmful turnover and increase trust and productivity. Her clear and practical-to-implement solutions enable organizations to escape their outdated operations models, replacing them with a new system to foster dignity, pay and meaningful work.
As she describes in "The Case for Good Jobs: How Great Companies Bring Dignity, Pay, and Meaning to Everyone's Work" (Harvard Business Review Press, June 2023), which is a follow up to her highly acclaimed book, "The Good Jobs Strategy," when organizations commit to becoming customer-centric, the decisions that improve the jobs and lives of their workers – especially those on the front lines – so that they can better serve the customer become obvious. Her profit-driving framework helps organizations overcome the obstacles to creating good jobs, spelling out clear operational changes leaders can adopt to deliver a better customer experience and satisfy employees' need to learn and grow.
"Part of the Good Jobs Strategy is investment in people – higher pay, more benefits, career paths. But the secret sauce is positioning your employees for success," explains Ton. "Design your operations in a way that increases the productivity and contributions of your employees, so you can invest in them."
Motivating Winning Teams Through the Lens of Customer-Centric Thinking
Deeply experienced as both a practitioner and researcher, Ton has partnered with retail and service industry leaders such as Quest Diagnostics, Mud Bay and Sam's Club as they adopted her "Good Jobs" model. A veteran executive educator, her insider's perspective of many of the problems that incur significant costs for leading global organizations has revealed that many issues in the supply chain happen in the last ten yards, or in the retail portion of the chain, leading to lost sales and lower profits. By giving workers more power at this last step, Ton emphasizes that organizations can bridge the gap between a company's desire for efficiency and the need for human-centered operations. This presents an opportunity to regain worker trust and build a strongly motivated team while increasing profits at the same time.
"Stores with higher employee turnover, that were understaffed and undertrained, had more problems," observes Ton, whose research also reveals how to navigate the impact of massive layoffs, which often leave companies worse off financially, competitively and ethically.
"When you look at companies like Costco, Four Seasons Hotels, Progressive Insurance, these companies have always created great jobs and are very customer-centric. And when you're customer-centric, you must be front line-centric. They're the ones who are providing the service. If you're understaffed, or if your employees make such low wages that their minds can't be on their jobs, or if they aren't allowed to make decisions, how can you be customer-centric?"
Empowering Organizations and Leaders to Make a Positive Change
For decision-makers, Ton points out how the rewards of the Good Jobs Strategy don't just go one way – leaders also find incredible benefits to their own well-being when they put their workers at the center.
"It's not just about winning with customers or having an amazing company, but it's also meaningful for the leaders who make these decisions because they change the lives of their employees," she elaborates. "It's incredibly meaningful for leaders to make so much of an impact, and in workshop after workshop, I hear how energized leaders are by the Good Jobs Strategy and how much they want to do this. We could have a much better society with a stronger middle class if more companies could adopt this approach that so many people want."
With her innovative mindset and value-adding frameworks, Ton challenges companies to redefine how they view labor and operational efficiency. By partnering with Ton, leaders and executives learn to apply her principles and foster an environment where both employees and businesses flourish.
# # #
Zeynep Ton is Professor of the Practice at the MIT Sloan School of Management and President of nonprofit Good Jobs Institute. Her work has been published in a variety of journals including Organization Science, Production and Operations Management and Harvard Business Review. In addition, she has written numerous cases that explore different approaches to managing operations and people.
Ton's earlier research focused on the critical role of store operations in retail supply chains. After publishing the findings in "The Good Jobs Strategy," retail leaders started reaching out to her to understand how to implement the Good Jobs Strategy in their organizations. In response, she co-founded the not-for-profit Good Jobs Institute to help them transform through assessments, workshops and long-term partnerships.
Prior to joining MIT Sloan, Ton spent seven years as an assistant professor in the technology and operations management area at Harvard Business School. She has received several awards for teaching excellence both at Harvard Business School and MIT Sloan. She was also named one of the World's 40 Best Business School Professors Under the Age of 40 by Poets & Quants. In 2023, she received the Thinkers50 Talent Award and was named among the top 50 management thinkers in the world.
Ton received her Bachelor of Science in industrial and manufacturing engineering from the Pennsylvania State University and her Doctorate in Business Administration from Harvard Business School.
Zeynep Ton is available to advise your organization via virtual and in-person consulting meetings, interactive workshops and customized keynotes through the exclusive representation of Stern Speakers & Advisors, a division of Stern Strategy Group®.
Zeynep Ton
was last modified:
November 8th, 2023
by
Breaking the Turnover Cycle for Higher Sales and Productivity
Many employers spend the equivalent of 10 to 25% of their labor budget on replacement costs — the costs to recruit, train and reach baseline productivity — only to start all over again when employees leave, according to new research by Zeynep Ton's Good Jobs Institute. Organizations are then forced to find more ways to cut costs to account for what should have been avoidable in the first place. There's another way, and companies can change, says Ton. As she describes in her new book, "The Case for Good Jobs," large-scale industry leaders like Quest Diagnostics, Mud Bay and Sam's Club adopted her "Good Jobs" model, which improved pay and schedules, created more valuable work for employees and redesigned their system for better operations and service. The results? Significant reductions in employee turnover, higher sales and improved productivity. Always encouraging, Ton's recommendations reveal a path to successful systemic change and growth for the organizations and the people within them.
A Blueprint for Building Winning Teams
Almost every leader would agree they need a good team well-positioned for success in order to win – but a lot of companies don't feel they can pay enough to have that team. MIT Professor of the Practice Zeynep Ton says organizations can take a different approach by putting customers at the center and creating great value for employees as well. As Ton explains in her new book, "The Case for Good Jobs," when organizations commit to becoming customer-centric, the decisions that improve the jobs and lives of their workers, especially those on the front lines, become obvious. Her easy-to-follow, profit-driving framework lays out four operational steps to create a high-productivity system that enables people to contribute to success. While Ton's approach is universally applicable, it's particularly transformative for industries grappling with high turnover among front line staff, such as retail, health care and in education settings. She invites leaders to delve into her strategies, not only to improve their employees' experiences but also to foster a more inclusive and satisfying work environment that ultimately benefits all stakeholders – including our collective society.
Beyond Paychecks: The Power of Customer-Centricity for Creating Employee Value
Is it possible to create great value for customers and employees while keeping investors happy at the same time? It may seem counterintuitive, but MIT Professor Zeynep Ton has found that by putting customers at the center of every decision an organization makes, the frontline workers naturally become a part of that decision as well. Pointing to low-cost retailers like Costco and QuikTrip to luxury hotel chains like Four Seasons, Ton illustrates how organizations can deploy her "Good Jobs" model to win with their customers. A veteran executive educator who is also the co-founder of the Good Jobs Institute, she deftly demonstrates the difference between being customer- and financial-centric and delivers vivid examples of how to focus on real value for all stakeholders, instead of simply driving sales. By implementing Ton's framework and adopting a customer-focused mindset, leaders will see their employees contribute more meaningfully, produce more and ultimately find a better sense of well-being.
Hurdle the Obstacles to Creating Good Jobs
Despite an array of examples proving that "good jobs" — roles with higher pay, stable schedules and advancement opportunities — can enhance competitiveness and resilience, many leaders, particularly in retail and other low-margin service sectors, still cling to the idea that low-paying, unstable jobs are a necessity for survival. Some want to get out, but feel trapped in a system of high turnover and poor performance. Challenging this perspective is MIT Professor Zeynep Ton, whose  "Good Jobs" model unravels the obstacles inhibiting companies from adopting a better approach. Exposing the misperceptions about the value of front-line workers and the role they play in operational success, Ton emphasizes that investing in employees, empowering them and enabling them to serve customers better can fuel a virtuous cycle of high customer satisfaction, superior productivity, low employee turnover, increased resilience and bottom-line growth. Even more provocatively, she challenges the idea that system change is risky. She demonstrates how to de-risk system change and provides numerous examples of companies—big and small, public and private, competing on low cost and differentiation—that adopted the good jobs system to escape their vicious cycle and improve productivity and competitiveness.  Equipped with a full framework of recommendations and tools for leaders, Ton offers a fresh lens through which to view and value employees, fostering sustainable success in the face of a competitive business landscape.
Why Good Jobs Companies are More Agile and Profitable
A lot of managers are so caught up in keeping the day-to-day machinery running they are unable to address problems – or they struggle to see them all together. Meanwhile, profits are decreasing, investors are on edge, employee turnover is high and customers are not happy. This results in a vicious cycle of disconnection and chaos. In this presentation, Professor Zeynep Ton explains how the Good Jobs Strategy (GJS) breaks this cycle and teaches leaders how to leverage it so investors, customers and employees are satisfied. She also outlines ways her GJS helps companies become more agile, adaptable and responsive when faced with disruption and uncertainty.
Reviving Retail and Service Organizations with the Good Jobs Model
In many economies, service sectors such as retail and restaurants account for a growing proportion of jobs that pay low wages while offering unpredictable schedules and few opportunities for success and growth. The pandemic has taken that problem to another level. In this presentation, Professor Zeynep Ton outlines ways to optimize what she calls the Good Jobs Strategy across operations so employees feel empowered and satisfied, customers are happier, managers are more organized and profits increase. Drawing on more 15 years of research, Ton shows that a human-centered operations strategy is not only possible but highly profitable, even in low-wage service settings.
Earning Trust from Investors, Customers and Employees with the Good Jobs Strategy
In any organization, management must answer to investors and when profits go down, stress goes up and layoffs can be on the horizon. While it may sound counterintuitive, Professor Zeynep Ton's Good Jobs Strategy is an antidote to investor worry and organizational dysfunction. In this presentation, Ton outlines the many ways her Good Jobs Strategy creates a three-way win for employees, customers and investors.
The Good Jobs Strategy
Most jobs in retail and service sectors pay low wages while offering unpredictable schedules and few opportunities for success and growth. To create a good jobs economy, we need to transform these "bad jobs" into "good jobs."  In this presentation, Zeynep Ton will make the compelling case that improving those jobs will require companies to operate differently. They need to evolve from seeing people as interchangeable parts to designing human-centered operations strategies. Drawing on more than a decade of research, Ton will show that a human-centered operations strategy is not only possible but highly profitable even in low-wage service settings.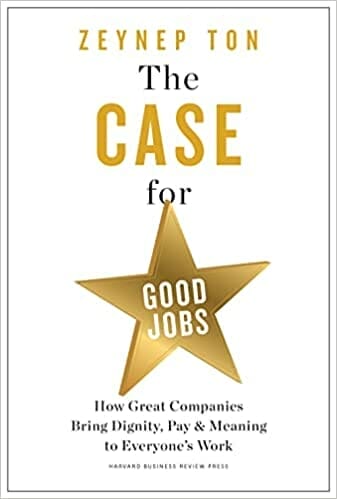 (Harvard Business Review Press, June 2023)
Praise for "The Case for Good Jobs"
Investing in workers is good for them and for business, according to this impassioned outing by Ton ("The Good Jobs Strategy"), a professor at the MIT Sloan School of Management. She contends that prioritizing customer-facing workers boosts profits because it reduces turnover while increasing productivity and customer satisfaction. To that end, she outlines the five tenets of her "good jobs system": invest in workers (generous hourly rates and consistent schedules), simplify workflow, give employees a voice in how to best serve customers, train employees to perform "both customer-facing and non–customer-facing tasks" (ensuring they can be productive during periods of low traffic), and staff "more hours of labor than the expected workload so that employees can do their jobs without rushing." Examining companies that have followed this advice, she notes that Costco's $25 median hourly wage for salespeople boosted employee retention and helped the company increase its annual revenue. Ton also details her work improving employee productivity at Quest Diagnostics' call center by embracing feedback from reps on how to improve workflow. Persuasively argued and bolstered by astute case studies, this will be a boon to business leaders.
"'The Case for Good Jobs' is essential business reading for executives and boards. Zeynep Ton doesn't just convince you that good jobs are the key to drive customer loyalty and company success, she gives you the courage to think and operate differently."
"Zeynep Ton cuts through the ESG noise and uses clear examples and hard data to show why companies that create good jobs can gain a competitive long-term advantage. This book should be required reading for CEOs in labor-intensive industries and their long-term shareholders."
"No matter what you thought you knew about the inevitability of lousy, low-wage jobs, this book will change your mind. Whether you're a CEO, a policy maker, or a cold-hearted economist like me, 'The Case for Good Jobs' will show you how people are underrated, and how their demoralizing, low-productivity jobs are not only avoidable but downright wasteful—for the workers themselves, for their firms, and for their firms' customers."
"A magnificent and important book! Zeynep Ton compellingly shows what I experienced at Best Buy: good jobs drive success. I admire how clearly she makes the case for good jobs. Every leader needs to read this."
"If you'd like to pay your employees decently, offer them decent schedules, and treat them with dignity and respect, but you worry that you can't afford it, this is the book for you. Drawing on years of research and in-depth work with dozens of companies, Ton shows you how to make the business case, develop the courage necessary to drive the change, and—most importantly—how to manage the implementation so that you reap the benefits."
"Zeynep Ton lays out a strong case for investing in high-quality jobs, focusing not only on the 'why' but the 'how,' and highlights forward-thinking executives who are leading by example, proving that creating good jobs is good business."
Praise For "The Good Jobs Strategy"
"Ton brought one of the most radical, and yet one of the most sensible, ideas to Aspen this year…As we worry about where middle-class jobs are going to come from, Ton's is a message that needs to be heard not just in Aspen but all across America."
"[Ton is] an improbably chic and energetic guide to the world of factory design, manufacturing schedules, supply chains, and process management."
"In the last few years, [Zeynep] Ton has become a revolutionary force in a field that would seem unlikely to generate many — the Kafkaesque-titled Operations Management. Her central thesis is that many of [the] big-box retailers have been making a strategic error… but she believes her core findings are relevant in nearly every industry. After re-evaluating the relationship between worker management and profit, she argues that many corporate leaders will realize that paying their workers more and treating them better will actually make everyone better off. And this, indeed, would foment a small revolution."
"…at a time when the complexity of workers' jobs is increasing and labour force investment declining, ["The Good Jobs Strategy"] is a methodically researched riposte to cutting staff and wages."
"In this brilliantly conceived and written book, Zeynep Ton shows that companies that view their workforce as an asset to be maximized rather than a cost to be minimized, have both happier workers and better business results. This book is a 'must-read' for anyone that wants to think creatively about how they manage their workforce."
"Using years of research and analysis, Zeynep Ton has proven what great leaders know instinctively—an engaged, well-paid workforce that is treated with dignity and respect creates outsized returns for investors. She demonstrates that the race to the bottom in retail employment doesn't have to be the only game being played. In fact, The Good Jobs Strategy shows that smart business leaders can create great shareholder value while creating good jobs."
"Stop the presses. Tear out the front page. Employers can increase profits by paying their employees more and treating them better. Raising wages and improving working conditions is not just a matter of public policy. The private sector itself can make a huge difference. Everyone who cares about good jobs—and especially every CEO—needs to read this highly informative and thoroughly readable book."
"In 'The Good Jobs Strategy', Zeynep Ton offers insights into how successful companies utilize operational excellence to thrive, and she reminds us that the spirit and culture of an organization—that sparkle in the eye—comes only from fully engaged employees."