Learn More About Zeynep Ton
The pandemic has presented companies across the world with distinct workforce challenges. Businesses already operating online have had to quickly staff up to meet increased demand, while those in retail, hospitality and service industries have had to lay off or furlough customer-facing employees due to a lack of demand. And then there are the low-paid "essential workers" who are putting their lives at risk to keep those bad jobs.
According to Zeynep Ton, Professor of the Practice at the MIT Sloan School of Management, each of these companies is struggling because they have been using an expensive and outdated operations model.
Ton, a leading expert on organizational performance, helps companies improve operations by making systems more efficient and profitable. Her well-researched frameworks and proven strategies offer organizations a unique opportunity to gain a competitive edge while simultaneously satisfying investors, customers and employees.
"The conventional wisdom is if you want high profits and low prices, then low wage jobs are inevitable. But that is simply not true," says Ton. "Too many companies have not invested in a long-term workforce. They have viewed employees as interchangeable parts. They were already paying a high price for that before the crisis and now they are seeing it may break them if they don't change course."
Earlier in her career, while working with organizations in the retail sector, Ton noticed how understaffing and employee turnover negatively affected every area of operations, resulting in unnecessary revenue losses, unhappy investors and company-wide dysfunction. After identifying the underlying causes of these problems, she developed what she calls the "Good Jobs Strategy," which led to her acclaimed 2014 book of the same name.
"The Good Jobs Strategy: How the Smartest Companies Invest in Employees to Lower Costs and Boost Profits" draws on 15 years of research that shows the key to offering superior returns to investors, great products and services to customers and good jobs to employees is to combine investment in employees with specific operational choices that increase their productivity, contribution and motivation. Those who are implementing her strategies – including Quest Diagnostics, Mud Bay and Sam's Club – are seeing significant results across the board. And while recent events have been devastating in many ways, Ton sees this recovery period as an opportunity for companies to reframe their business models so they can survive, and thrive, in the new economy.
"There's a strong financial case for good jobs," wrote Ton and her co-author in a Harvard Business Review article. "Offering good jobs lowers costs by reducing employee turnover, operational mistakes, and wasted time. It improves service, which increases sales both in the short term and — through customer loyalty — in the long term. All these improvements can more than make up for the large investments in better wages, benefits, training, and scheduling. In addition, a good jobs system makes a company more resilient and more adaptive."
While Ton praises a handful of model companies that are getting it right – like Southwest Airlines, Toyota, Cincinnati Children's Hospital, and In-N-Out Burger, as well as retailers Costco, Mercadona, Trader Joe's, and QuikTrip – she sees many organizations that have yet to transition and are still stuck in a vicious cycle. She urges them to leverage the Good Jobs model before competition takes over and they are left behind.
Through advisory roles, workshops, and keynotes, Ton teaches her Good Jobs Strategy to organizations in a variety of sectors, from health care, financial services and retail to manufacturing, shipping and e-commerce. She became so committed to the importance of good jobs to the economy and to society that she co-founded the Good Jobs Institute in 2017 with Roger Martin, a global authority on business strategy and management, and has since dedicated herself to helping companies get on board.
"A human-centered operations strategy is not only possible but highly profitable," says Ton. "We need to create a revolution, especially in low wage service industries, not only to increase profits and customer satisfaction, but to strengthen people, societies and economies."
# # #
Zeynep Ton is Professor of the Practice at the MIT Sloan School of Management. Her work has been published in a variety of journals including Organization Science, Production and Operations Management and the Harvard Business Review. In addition, she has written numerous cases that explore different approaches to managing retail stores and labor.
Ton's earlier research focused on the critical role of store operations in retail supply chains. After publishing the findings in "The Good Jobs Strategy," retail leaders started reaching out to her to understand how to implement the Good Jobs Strategy in their organizations. In response, she cofounded the not-for-profit Good Jobs Institute to help them transform through assessments, workshops and longer-term partnerships.
Prior to joining MIT Sloan, Ton spent seven years as an assistant professor in the technology and operations management area at Harvard Business School. She has received several awards for teaching excellence both at Harvard Business School and MIT Sloan. She was also named one of the World's 40 Best Business School Professors Under the Age of 40 by Poets & Quants.
Ton received her Bachelor of Science in industrial and manufacturing engineering from the Pennsylvania State University and her Doctorate in Business Administration from Harvard Business School.
Zeynep Ton is available to advise your organization via virtual and in-person consulting meetings, interactive workshops and customized keynotes through the exclusive representation of Stern Speakers & Advisors, a division of Stern Strategy Group®.
Zeynep Ton
was last modified:
May 19th, 2023
by
Why Good Jobs Companies are More Agile and Profitable
A lot of managers are so caught up in keeping the day-to-day machinery running they are unable to address problems – or they struggle to see them all together. Meanwhile, profits are decreasing, investors are on edge, employee turnover is high and customers are not happy. This results in a vicious cycle of disconnection and chaos. In this presentation, Professor Zeynep Ton explains how the Good Jobs Strategy (GJS) breaks this cycle and teaches leaders how to leverage it so investors, customers and employees are satisfied. She also outlines ways her GJS helps companies become more agile, adaptable and responsive when faced with disruption and uncertainty.
Reviving Retail and Service Organizations with the Good Jobs Model
In many economies, service sectors such as retail and restaurants account for a growing proportion of jobs that pay low wages while offering unpredictable schedules and few opportunities for success and growth. The pandemic has taken that problem to another level. In this presentation, Professor Zeynep Ton outlines ways to optimize what she calls the Good Jobs Strategy across operations so employees feel empowered and satisfied, customers are happier, managers are more organized and profits increase. Drawing on more 15 years of research, Ton shows that a human-centered operations strategy is not only possible but highly profitable, even in low-wage service settings.
Earning Trust from Investors, Customers and Employees with the Good Jobs Strategy
In any organization, management must answer to investors and when profits go down, stress goes up and layoffs can be on the horizon. While it may sound counterintuitive, Professor Zeynep Ton's Good Jobs Strategy is an antidote to investor worry and organizational dysfunction. In this presentation, Ton outlines the many ways her Good Jobs Strategy creates a three-way win for employees, customers and investors.
The Good Jobs Strategy
Most jobs in retail and service sectors pay low wages while offering unpredictable schedules and few opportunities for success and growth. To create a good jobs economy, we need to transform these "bad jobs" into "good jobs."  In this presentation, Zeynep Ton will make the compelling case that improving those jobs will require companies to operate differently. They need to evolve from seeing people as interchangeable parts to designing human-centered operations strategies. Drawing on more than a decade of research, Ton will show that a human-centered operations strategy is not only possible but highly profitable even in low-wage service settings.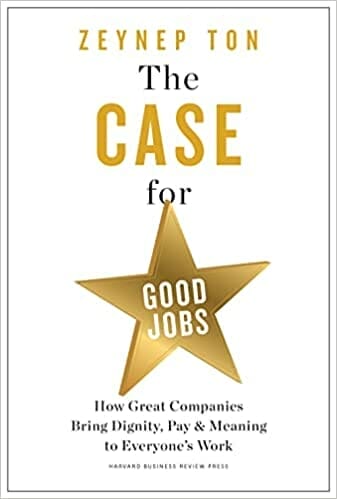 (Harvard Business Review Press, June 2023)
Advance Praise for "The Case for Good Jobs"
Investing in workers is good for them and for business, according to this impassioned outing by Ton ("The Good Jobs Strategy"), a professor at the MIT Sloan School of Management. She contends that prioritizing customer-facing workers boosts profits because it reduces turnover while increasing productivity and customer satisfaction. To that end, she outlines the five tenets of her "good jobs system": invest in workers (generous hourly rates and consistent schedules), simplify workflow, give employees a voice in how to best serve customers, train employees to perform "both customer-facing and non–customer-facing tasks" (ensuring they can be productive during periods of low traffic), and staff "more hours of labor than the expected workload so that employees can do their jobs without rushing." Examining companies that have followed this advice, she notes that Costco's $25 median hourly wage for salespeople boosted employee retention and helped the company increase its annual revenue. Ton also details her work improving employee productivity at Quest Diagnostics' call center by embracing feedback from reps on how to improve workflow. Persuasively argued and bolstered by astute case studies, this will be a boon to business leaders.
Praise For "The Good Jobs Strategy"
"Ton brought one of the most radical, and yet one of the most sensible, ideas to Aspen this year…As we worry about where middle-class jobs are going to come from, Ton's is a message that needs to be heard not just in Aspen but all across America."
"[Ton is] an improbably chic and energetic guide to the world of factory design, manufacturing schedules, supply chains, and process management."
"In the last few years, [Zeynep] Ton has become a revolutionary force in a field that would seem unlikely to generate many — the Kafkaesque-titled Operations Management. Her central thesis is that many of [the] big-box retailers have been making a strategic error… but she believes her core findings are relevant in nearly every industry. After re-evaluating the relationship between worker management and profit, she argues that many corporate leaders will realize that paying their workers more and treating them better will actually make everyone better off. And this, indeed, would foment a small revolution."
"…at a time when the complexity of workers' jobs is increasing and labour force investment declining, ["The Good Jobs Strategy"] is a methodically researched riposte to cutting staff and wages."
"In this brilliantly conceived and written book, Zeynep Ton shows that companies that view their workforce as an asset to be maximized rather than a cost to be minimized, have both happier workers and better business results. This book is a 'must-read' for anyone that wants to think creatively about how they manage their workforce."
"Using years of research and analysis, Zeynep Ton has proven what great leaders know instinctively—an engaged, well-paid workforce that is treated with dignity and respect creates outsized returns for investors. She demonstrates that the race to the bottom in retail employment doesn't have to be the only game being played. In fact, The Good Jobs Strategy shows that smart business leaders can create great shareholder value while creating good jobs."
"Stop the presses. Tear out the front page. Employers can increase profits by paying their employees more and treating them better. Raising wages and improving working conditions is not just a matter of public policy. The private sector itself can make a huge difference. Everyone who cares about good jobs—and especially every CEO—needs to read this highly informative and thoroughly readable book."
"In 'The Good Jobs Strategy', Zeynep Ton offers insights into how successful companies utilize operational excellence to thrive, and she reminds us that the spirit and culture of an organization—that sparkle in the eye—comes only from fully engaged employees."