Videos
ARVE Error: src mismatch
provider: ted
url: https://www.ted.com/talks/rosalind_picard_an_ai_smartwatch_that_detects_seizures/transcript?language=en
src in org: https://embed.ted.com/talks/rosalind_picard_an_ai_smartwatch_that_detects_seizures
src gen org: https://embed.ted.com/talks/lang/en/rosalind_picard_an_ai_smartwatch_that_detects_seizures


Learn More About Rosalind Picard
The pandemic has ushered in an urgent need to address myriad public health issues, including growing problems around mental health. The forced isolation brought on by the crisis has presented challenges for individuals and those trying to care for them during a period unlike most people have seen in their lifetime.
Entrepreneur, inventor and MIT Professor Rosalind Picard – one of the world's most cited scholars on Digital Health – develops technologies that address a range of health problems. Consistently ahead of her time, Picard coined the term "Affective Computing" in her seminal 1997 book of the same name, launching the now-widely recognized field of technology that gives computers (including avatars, robots, and interactive games) the skills of emotional intelligence. Her inventions have led to AI-driven advances in psychiatry and neurology, including the first AI-based smart watch (commercialized by Empatica, sold as "Embrace") cleared by the FDA for monitoring and alerting to seizures. Her related TEDx Talk has been viewed more than 2 million times. The wearable devices Picard and her team develop are also used by thousands of researchers globally for clinical trials and patient-focused research.
As founder and director of the MIT Media Lab's Affective Computing Research Group, Picard and her team focus on creating solutions to help people who are not flourishing or at risk of not flourishing. Their ongoing work is centered on developing empathic AI technologies that can recognize, understand, "have" and express emotions. Her team's inventions were named to The New York Times Magazine's Best Ideas of 2006 for their Social Cue Reader, and to Popular Science's list of Top Ten Inventions of 2011 for a mirror that monitors vital signs. Their breakthrough innovations, which were recently honored with the 2022 International "Lombardia è Ricerca" Award, continue to help providers better understand and care for the physical, emotional and mental health needs of their patients while also empowering patients with tools for monitoring their own health.
Considering the World Health Organization's recent data showing depression will become the number one disease burden by 2030, Picard's work has profound, even lifesaving, implications for people suffering from mental or emotional disorders. And for those functioning a bit better, it has the capacity to build resilience, empathy and a sense of connection.
"It's time for people to think about the framing of technology," said Picard in a 2018 interview about creating emotionally intelligent AI. "Do we just want to build technology that doesn't really care about people, that just makes money for powerful people who own it? Or do we want to make technology for people that truly makes their lives better? I think we need to get a lot more discriminating about what we say is cool. We need to stop saying that something is cool if it's really not making life better."
Named by CNN as one of seven "Tech SuperHeros to Watch" in 2015, Picard built the field of Affective Computing from the ground up. All along, she has been committed to designing AI with a sense of ethics, out of respect for the human-computer interaction, and she urges companies, colleagues and students to follow suit. The unique inventions emerging from the Affective Computing Group Picard leads and MindHandHeart Initiative she chairs have caught the attention of powerhouse companies like Apple, Amazon, Alphabet, Deloitte, Dell, IBM, Merck, NTT Data, and Samsung. She has received many awards including one of the highest honors for an engineer: election to the National Academy of Engineering.
In addition to her academic roles, Picard is co-founder of two technology companies that market her team's inventions. The first, Empatica, provides clinical-quality wearable sensors used in remote monitoring, biomarker design and clinical research. The second, Affectiva, creates technology that measures and communicates human emotion in a variety of ways, ranging from helping marketers and advertisers better understand audiences to making automobiles safer by equipping them with AI that detects driver emotion and attention. On May 25, 2021, Affectiva entered into an agreement to be purchased by Smart Eye, the world's leading eye tracking technology company, which is expected to close at the end of June 2021.
As an advisor, educator and author, Picard emphasizes the importance of designing AI that contributes to human health and happiness. Her inventions continue to enhance human-AI partnerships and dramatically improve the health and well-being of individuals in the workplace, at home and in society.
###
MIT Professor Rosalind Picard is a visionary entrepreneur, scientist, engineer and inventor. She has authored or co-authored more than 300 scientific articles and chapters covering such topics as digital health, affective computing, machine learning, human-computer interaction, and wearable sensing, many of which received best paper prizes. She serves and has served on numerous international and national science and engineering program committees, editorial boards and review panels.
Picard holds a bachelor's degree in electrical engineering with highest honors from the Georgia Institute of Technology, as well as master's and doctorate degrees in electrical engineering and computer science from MIT. Her research areas span computer vision, machine learning, wearable sensors and pattern recognition.
Rosalind Picard is available to advise your organization via virtual and in-person consulting meetings, interactive workshops and customized keynotes through the exclusive representation of Stern Speakers & Advisors, a division of Stern Strategy Group®.
Rosalind Picard
was last modified:
October 10th, 2023
by
Using AI to Improve How We Work, Live and Do Business
Artificial intelligence has the capacity to improve many areas of our lives, but, we have to be careful about how we use it. In this talk, digital health expert, inventor and MIT Professor Rosalind Picard – pioneer of Affective Computing – outlines the many ways technologies can serve us as individuals and as a society. She highlights how human-AI partnerships can help address a range of problems, including mitigating bias and bad habits, treating illnesses such as autism and epilepsy, helping marketers better understand audiences, and helping car makers design safer cars.
AI's Powerful Role in Addressing Mental Health Issues
Mental health problems such as anxiety disorders and depression have gradually increased among people under the age of 26 since the adoption of the smart phone. Depression is on track to be the #1 disease burden globally by 2030. To date, doctors do not understand what causes or precipitates depression or how to forecast it, nor is there a reliable treatment, although most people will get better. Thanks to MIT Professor Rosalind Picard and her team, mobile and wearable devices are improving in their ability to model continuous physiology and activity/sleep/social data, detect subtly changing patterns related to shifts in health, and provide early AI-generated forecasts. What are some of these patterns telling us about neurological activity, mood, stress and brain health, and how accurately? In this fascinating talk, Professor Picard highlights some of the latest research and technologies, focusing on both the scientific and ethical challenges around using AI to foster good mental health.
Shaping the Ethics of AI Together
Technology is increasingly designed in the image of people, often with skills that recognize and respond to human emotion expressed in voices, faces, text, physiology and other behaviors. Software agents and robots are made to appear to have their own emotions, but it's just a simulation, says MIT Professor Rosalind Picard. Today, AI developers have an opportunity to be part of ongoing conversations around the ethics of AI, including its use in medicine and how it can contribute to the greater good. In this interactive session, Professor Picard explains the beneficial uses of affective technologies, highlights current and emerging trends and addresses related challenges and ethical questions.
Using Technology to Build Empathy and Increase Happiness
MIT Professor Rosalind Picard likes to think of mental health partially in terms of an emotional bank account, where deposits and withdrawals must be roughly equal to maintain balance. Drawing on evidence-based techniques from Positive Psychology, Picard explains how AI-enabled technologies can help us consciously inject positivity into our day in order to stave off depression, promote emotional resilience and make us more empathetic and grateful. She then highlights AI-based tools people can use every day to improve mental health, boost productivity and promote well-being.
Artificial Intelligence 101: The Fundamentals for Industry
AI is so much more than a buzzword. Yet, for many, even the basics are shrouded in mystery. This session functions as MIT Professor Rosalind Picard's primer on AI essentials, from its power and limitations in the workplace to why AI hype so often confuses us. She provides guidance to companies seeking to understand what inputs they can give to AI, how to achieve desired outputs and why they should consider the technology as another tool in their toolbox. By deconstructing AI myths and bringing users into the conversation, Picard makes AI accessible to everyone.
Health Forecasting with AI
Could you live a healthier, happier life if computers could measure and help communicate emotion? MIT Professor and world-renowned visionary Rosalind Picard, creator of wearable sensors and other emotion-recognizing technologies, has been exploring and articulating what is possible in this area. In this presentation, she examines AI as an instrument for forecasting levels of health and happiness and highlights cutting-edge research to explain how wearable sensors collect statistics related to stress, anxiety, pain and joy. By teasing out differences between what the data shows to be causal versus merely correlative, she walks participants through the latest science on predicting health. With deep examinations of how AI impacts the management of autism, anxiety, depression, sleep and epilepsy, Picard illustrates how new capabilities might reveal complex interdependencies of emotions and health, and even help prevent future disease.
(Proceedings of the Natural Academy of Science of the United States of America, January 2022)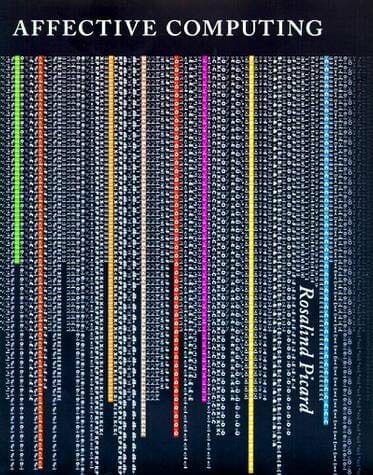 (MIT Press, 1997)
"Roz brought the house down at our Global Summit event in 2018. Her engaging style, use of great visuals, and heartwarming, emotional storytelling were just what our audience needed to get excited about making a difference in the world."