Learn More About Shalene Gupta
There is a crisis of trust permeating society and businesses have no choice but to address it.
Trust issues show up in many forms. Customers distrust brands because of scandals or product defects, employees come to distrust their employers because of inclusion concerns, and citizen distrust in governments is an age-old problem. And without trust in each other, business leaders cannot successfully build an organization together.
"The good news is, trust can be cultivated, and lost trust can be regained," explains Shalene Gupta, co-author of  the bestseller "The Power of Trust: How Companies Build It, Lose It, Regain It" (Public Affairs, July 2021) with Harvard Business School Professor Sandra J. Sucher. "But it is a deliberate process that must be activated with intention and a commitment to open conversations." Soon after its release, "The Power of Trust" was named among the best business books in July 2021 by The Financial Times.
A former research associate at Harvard Business School, a reporter at Fortune and a financial analyst at the U.S. Treasury Department, Gupta's expertise lies at the intersection of technology, diversity, trust and the workplace. Her multicultural background and extensive global experience highlight how trust deficits can stifle productivity, innovation and communication, eroding both professional and personal relationships.
Deeply rooted in practical frameworks, Gupta's approach guides leaders in building trust within their organizations. She emphasizes the need for policies that foster trust and the importance of allowing open expression. Leaders are encouraged to recognize the role of trust in decision-making and even consider appointing a trust officer to ensure that decisions reinforce trustworthiness.
In "The Power of Trust," the co-authors delve into the science behind trust, illustrating that genuine trust stems not from reputation management or PR efforts but from authenticity. Trustworthy organizations are characterized by reliable products and services, fair treatment, good intentions and responsibility for all impacts, intended or not.
"Companies don't put trust at the center of their decision-making because they don't know what that looks like and why it's important," says Gupta. "Yet it affects the bottom line and studies confirm that."
Empowering Employees to Be Their Whole Selves at Work
Beyond her work on trust, Gupta dives deep into the silent struggles women face in her latest release, "The Cycle: Confronting the Pain of Periods and PMDD" (Flatiron Books, February 2024). A mix of memoir, interviews and research, the book sheds light on premenstrual dysphoric disorder (PMDD), a severe form of PMS that impacts countless women's ability to function in their daily lives, including at work.
Gupta underscores the intersection of menstrual and mental health, highlighting a society where women's monthly struggles are often hidden, affecting workplace productivity, mental well-being and even organizational growth.
"There is a terrifying pipeline problem where women hit puberty, they drop out of education, they get lower wages, and then whole countries' GDP suffer overall," she explains. "It's clear that period stigma doesn't just hold women back – it holds us all back."
To cultivate a supportive workplace, Gupta suggests simple steps like providing free sanitary products and embracing flexible work hours. By starting the conversation around a topic that has been shamed and taboo for so long, organizations can create a culture where employees of all genders can thrive, benefiting their bottom line and global economies at the same time.
As Gupta clearly demonstrates, cultivating trust and empowering employees are not just ethical imperatives, but strategic necessities that can drive organizational success. By embracing these principles, leaders can figure out what it takes for different stakeholders to trust their organizations while bridging the gap between current practices and an ideal, trust-filled and inclusive workplace.
###
As an advisor, writer, researcher and speaker, Shalene Gupta addresses issues around diversity, equity and inclusion, and technology. Her work has been published in The Atlantic, ESPN, Fast Company, Fortune, and Harvard Business Review. She previously served as an editor at MIT Horizon, an MIT-owned start-up which seeks to advance knowledge within the business community about cutting-edge technologies. Gupta was named to the Thinkers50 Radar List in 2022. In 2021, Gupta and her "Power of Trust" co-author were shortlisted for the Thinkers50 Breakthrough Idea Award, which celebrates a eureka moment in management thinking.
Gupta received a Fulbright grant to Malaysia in 2012, where she taught English to over 2,000 low-income high-school students. While there, she also drew source material for her book documenting the history of the Malaysian Fulbright program, "Bridging the Pacific: Celebrating 50 Years of Fulbright in Malaysia," and ran a leadership seminar for young women funded by the U.S. Department of State.
Gupta holds a B.A. in writing and psychology from Johns Hopkins and a masters in journalism from Columbia University.
Shalene Gupta is available to advise your organization via virtual and in-person consulting meetings, interactive workshops and customized keynotes through the exclusive representation of Stern Speakers & Advisors, a division of Stern Strategy Group®.
Shalene Gupta
was last modified:
November 27th, 2023
by
Trust as a Path to Business Growth
Trust isn't merely a nice-to-have. It impacts everything from the economy and customer loyalty to workplace productivity and diversity, equity and inclusion (DEI). "The Power of Trust" co-author and Harvard Business Review researcher Shalene Gupta helps firms tackle their biggest problems by putting trust at the center of their decision making. Confronting high-stakes scandals like the Boeing crashes and the Volkswagen emissions scandal, Gupta helps organizations move from vague notions of trust toward an applicable framework. Citing case studies, including Japan's Recruit Holdings, which rebounded from massive scandal in the 1980s to achieve over 20 billion in profits without layoffs, Gupta explains what it takes to strengthen or repair reputations and enlist the trust of stakeholders so organizations and their employees can flourish.
The Hidden Challenge: Pioneering a Culture of Total Well-Being at Work
An unseen force is impacting workforce productivity and employee well-being around the world: the taboo around menstrual and mental health. Revealing the true impact of this silent burden is journalist and expert on trust in the workplace Shalene Gupta, whose new book "The Cycle" presents groundbreaking research on premenstrual dysphoric disorder (PMDD) and menstrual stigma. Her insights, drawn from a unique blend of personal experience, interviews and research, unveil how period-related issues not only affect individual employees, but also influence global economic trends. Empathetic and highly relatable, Gupta shares practical, stigma-breaking strategies to foster more inclusive, understanding work environments. As she explains, making these changes isn't about creating comfort—it's about unlocking potential and adding value. Gupta's approach shows leaders how to build a workplace culture that recognizes and celebrates every aspect of employee well-being, paving the way for heightened productivity, improved employee morale and a substantial economic impact.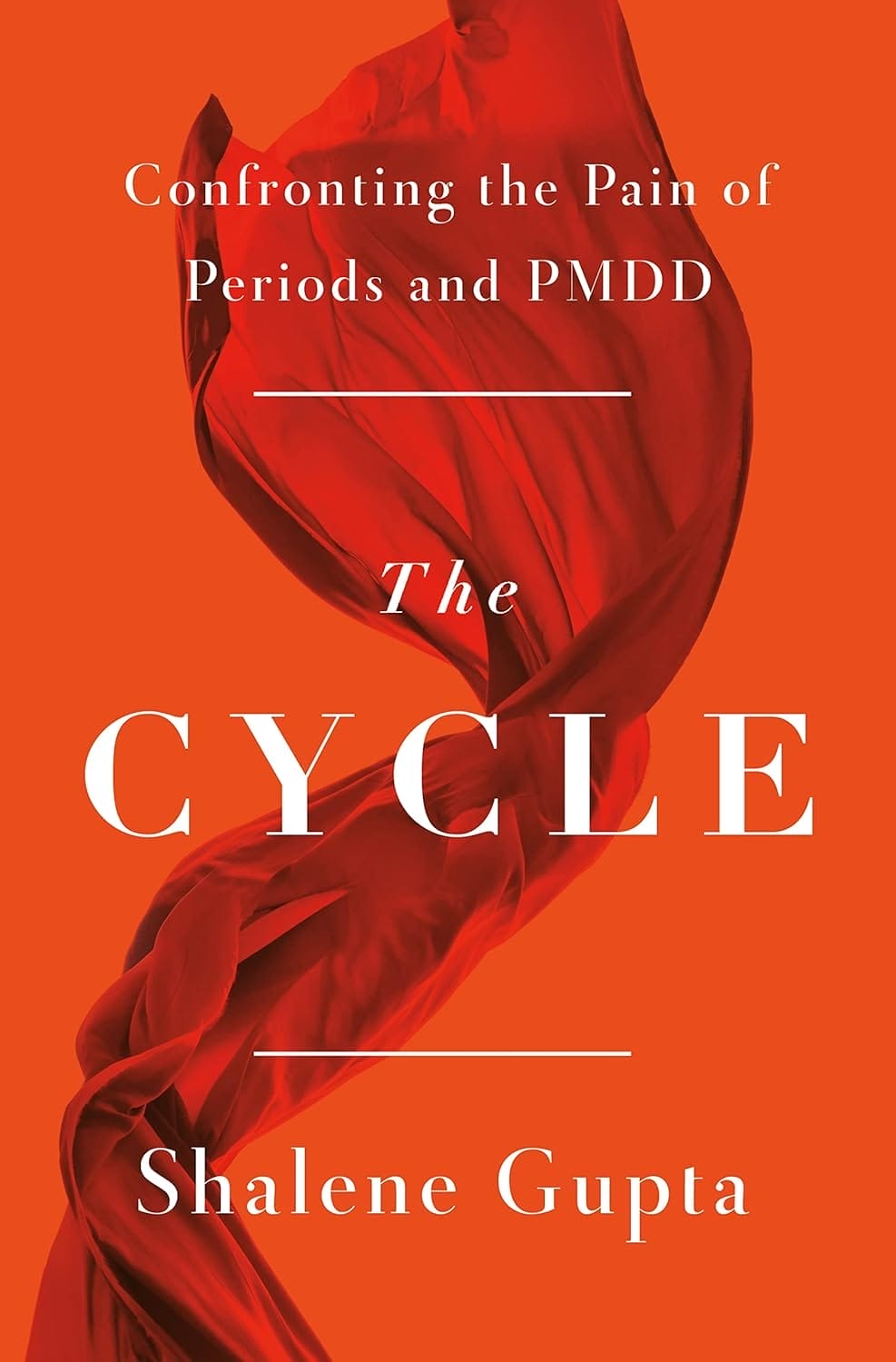 (Flatiron Books, February 2024)
(Public Affairs, July 2021)
Empowering Whole Selves at Work: Trust, Transparency and Triumph Over Taboos
Authentic leadership and inclusive cultures define successful organizations, says Shalene Gupta, co-author of the bestseller "The Power of Trust: How Companies Build It, Lose It, Regain It" (2021), which was named among the best business books in July 2021 by The Financial Times.
Drawing from this groundbreaking work and her latest release, "The Cycle," which calls the often-overlooked intersection of menstrual and mental health in the workplace into sharp focus, Gupta brings leaders a new way to transform their workplace cultures.
Through a blend of compelling memoir insights, riveting interviews and robust research, Gupta uncovers the veiled dynamics of menstrual stigma and its far-reaching effects on organizational productivity, individual health and even global economic growth. She also reveals the unspoken challenges of premenstrual dysphoric disorder (PMDD) and its profound impact on women's performance and well-being at work.
Through guided activities and discussions, leaders and teams will discover practical strategies to foster a more inclusive workplace. Key takeaways include creating open dialogues about menstrual and mental health, implementing supportive policies like flexible hours and accessible healthcare resources, and nurturing an environment where employees feel empowered to be their whole selves.
Transcending traditional corporate boundaries, participants are invited to reevaluate and reconstruct their approach to workforce empowerment. Perfect for executives, HR professionals and team leaders seeking to champion inclusivity and trust, Gupta's session equips attendees with the tools to build a workplace culture that not only acknowledges but celebrates every aspect of employee diversity and well-being.
"You can't buy it. You can't sell it. You can't even see it. But if you had more of it, your employees would work harder, and your customers would stay with you longer. Trust is one of the most valuable intangible assets that a company can have and this book will show you how to get more of it. Packed with wonderful stories and practical examples, this book is a great read. TRUST me!"
"The 2021 Edelman Trust Barometer found business is the most trusted institution. Business has a new mandate to lead as the world combats ongoing crises and widespread mistrust. Against this backdrop, 'The Power of Trust' is a must-read. Both scholarly and practical, it draws on fields from ancient philosophy to modern management theory to analyze and deeply examine the core elements of business trust while taking a lively journey through real-world cases of trust won and lost (and won again). Professor Sandra Sucher and Shalene Gupta make a vital contribution to the trust conversation and provide a compelling call to action for CEOs to build trust by embracing a broader societal role."
"Full of fresh insights brought to life by compelling examples, 'The Power of Trust' is a rich and rewarding read. It's also extremely timely. With more and more companies today pledging to balance the interests of all of their stakeholders, and not always put their shareholders first, Sandra Sucher and Shalene Gupta make clear that the driving question executives should be asking themselves every time they make a major decision is, 'Will this enhance trust among those we claim to serve—or betray it?'"
"Unveils a new understanding of the business, economic, and societal importance of trust."
"With vibrant and compelling insights, Sandra Sucher and Shalene Gupta break important new ground about trust as a key foundation for both human relationships and business. Their illuminating and exciting exploration of what it takes to build trust, combined with vivid storytelling, make this page-turner a critical companion for any business leader."
"Trust is at the foundation of sustainably successful enterprises in business, government, and any organization, for that matter. 'The Power of Trust' does a great job explaining the how and why of building trust, including fairness, one of my favorite issues."
"Sandra Sucher and Shalene Gupta offer a comprehensive blueprint for companies and leaders who want to build or regain the trust of their stakeholders. Their work provides an insightful trust model that underpins moral leadership — looking at competence, motives, means, and impact. A brilliant resource for anyone who wants to truly understand what trust is, how it works, and what they can do to incorporate it into their leadership practice."