"I learned that courage is not the absence of fear, but the triumph over it. The brave man is not he who does not feel afraid, but he who conquers that fear." – Nelson Mandela
How do we understand what other people think and feel, and what drives us to help, rather than harm, them?
For centuries, humans have sought to understand what motivates some people to perform selfless acts ­– such as donating organs to strangers or helping someone escape a burning building – even at the expense of their own well-being. A pioneer in the science of altruistic behavior, top-rated Georgetown University psychology professor Abigail Marsh is uncovering what makes the desire to help other people irresistible for some but unthinkable for others. Her study of this "caring continuum" is revealing new pathways for managing fear and cultivating courage and kindness in all aspects of life.

"The capacity for both compassion and cruelty are deep-seated parts of human nature. Both are equally real and important, and both have clear biological origins," explains Marsh, who in 2022 was recognized as the "most admired and respected" instructor at Georgetown. "Studying the brain basis of these phenomena has helped illuminate for me what it means to be human, and also how we may be able to make humans better."
Rescued by a heroic stranger following a car accident as a teenager, Marsh channeled this experience into a groundbreaking research career exploring the biological processes that give rise to empathy. In her role as director of the Laboratory on Social and Affective Neuroscience, she's found that individuals at the extreme ends of the spectrum – from extraordinary altruism to psychopathy – are connected by their reaction (or lack of reaction) when others are afraid. As she describes in her electrifying 2017 TED Talk, which has amassed more than two million views, this led her to a surprising discovery: humans don't know the limits of their selfless potential to care for others – or that this potential can be increased.
Courageous Leadership: Taking Risks, Improving Cooperation and Practicing Gratitude
Accessible, real and propelled by genuine passion, Marsh's inspiring message that heroes aren't fearless makes bravery achievable for anyone. By highlighting hidden opportunities for cooperation and altruism, she shows teams and leaders how to increase their comfort with risk-taking, raise their ability to express gratitude and even improve their ability to turn focus outward instead of inward – all essential qualities of courageous leadership.
"Excessive self-focus is at the root of a lot of misery – rumination underlies depression and the self-consciousness associated with social anxiety," Marsh advises. "The solution is to turn your focus away from yourself, to increase your humility. By practicing gratitude and pursuing awe-inspiring experiences, it puts your focus on other people and your connectedness to the world. This makes it easier for us to open up our minds later, helping us make sense of new or overwhelming information."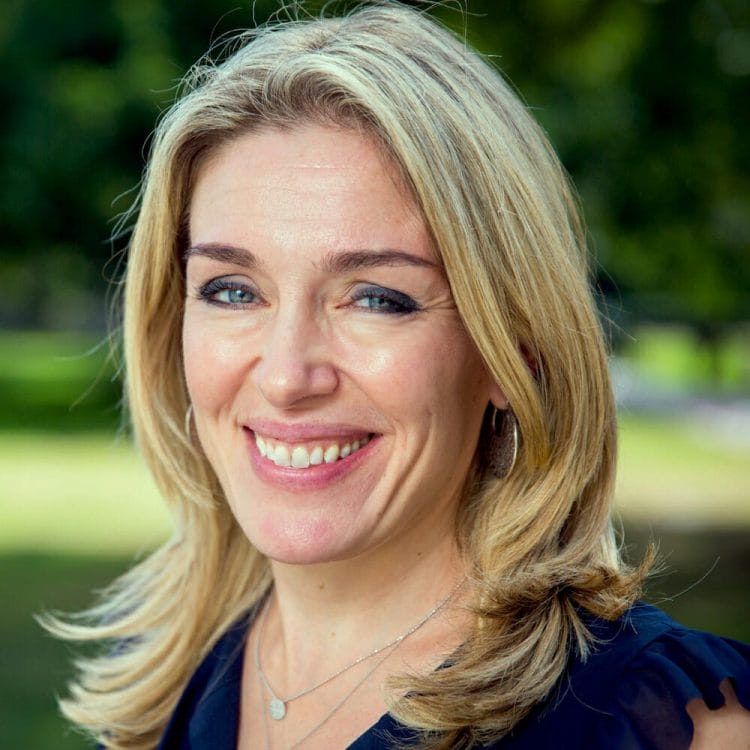 By recommending that individuals commit to helping others when possible, Marsh reveals a path to a heightened sense of connectedness to others. Noting that people whose needs are met and who feel a sense of purpose naturally tend to be more generous, she delivers actionable advice for increasing altruistic behavior that begets more altruism, raising psychological safety and increasing collaboration. Her captivating recommendations for finding opportunities to be generous in everyday life enable anyone to better resolve conflicts, build more productive teams and improve their relationships.
Overcoming Fear, Not Eliminating It
Marsh's decades of research into the origins of fear led her to discover that physical brain structure differences can explain why some people act heroically in terrifying situations. She details the fascinating case studies that brought her to this conclusion in her award-winning book "The Fear Factor: How One Emotion Links Altruists, Psychopaths, and Everyone In-Between" (Basic Books, 2017).
Through hundreds of interviews with heroic rescuers, organ donors and others who have successfully increased their bravery, Marsh has identified strategies to keep fear from spiraling out of control and good habits that increase comfort in scary situations. She points to common traits like honesty and humility that indicate an individual may be more willing to take risks on another's behalf. By practicing good habits to exercise those characteristics, Marsh says, it becomes possible to close the "empathy gap" and become more courageous.
Equipped with inspiring research conclusions that, despite popular belief, humans aren't fundamentally selfish, Marsh's ultimate lesson is that we can better our lives and truly become courageous if we learn to help and trust each other.
"The typical person has the capacity for immense care and compassion and to trust the good intentions of people around them. Sometimes fear causes us to withhold trust, to not reach out, to not ask for help, but these are mistakes. People are generally surprised to discover how much better life goes when they make the choice to trust people."
---
Organizations that cultivate an altruistic, compassionate culture will see their teams improve their relationships, increase their productivity and better resolve their conflicts. Stern Strategy Group connects you with renowned thought leaders whose insights, strategies and management frameworks help organizations fuel growth and disruptive innovation to better compete in a constantly changing world. Let us arrange for these esteemed experts to advise your organization via virtual and in-person consulting sessions, workshops and keynotes.
The Altruism Advantage: How Helping Others Can Help Your Business
was last modified:
April 17th, 2023
by