How do some rare companies unleash the power and passion of their employees and their broader networks to achieve tremendous innovation and growth, while many organizations' know-how is trapped in silos?
What are the critical mindsets and behaviors in the board, executive suite and front lines that unlock expertise across the organization to tackle complex, high-value issues and opportunities? How do leaders avoid the traps that turn well-intentioned collaboration into overload, underperformance, or biased decision-making? How do executives build the systems and culture that drive sustainably higher performance while nurturing inclusivity and employee wellbeing?
Dr. Heidi K. Gardner is a sought-after advisor, bestselling author, Harvard professor, and former McKinsey consultant who has dedicated two decades to finding science-backed, empirically tested, pragmatic ways to foster smarter collaboration.

Widely regarded as the foremost expert on collaborative working today, Dr. Gardner is currently a Distinguished Fellow at Harvard Law School, and was previously a professor at Harvard Business School. She serves as Faculty Chair and instructor of multiple executive education programs at both institutions. With her team at Gardner & Co., she helps organizations across the globe to achieve their strategic objectives through smarter collaboration — creating an environment where people play to their strengths and achieve superior outcomes.
The author or co-author of over 100 publications, Dr. Gardner's work has been selected multiple times for Harvard Business Review's "best of" collections. Her groundbreaking Washington Post bestseller "Smart Collaboration: How Professionals and Their Firms Succeed by Breaking Down Silos" and just-released "Smarter Collaboration: A New Approach to Breaking Down Barriers and Transforming Work" (both Harvard Business Review Press) show how firms that collaborate smarter consistently generate higher revenues and profits, boost innovation, strengthen client relationships, and attract and retain better talent.
Developing a Measurable Approach to Collaboration
"Smart collaboration is the best way to accomplish a company's strategic, financial, and talent goals. Hardly a "soft" topic, it can and should be measurable," Dr. Gardner emphasizes. "As our toughest and highest-value challenges become more VUCA — volatile, uncertain, complex and ambiguous — experts must integrate their knowledge to generate higher-impact solutions than anyone could produce on their own."
As a strategy consultant at McKinsey & Co., Dr. Gardner became fascinated with understanding why some (but not other) contexts encourage employees to thrive — leading her to develop an empirically-based, scientific explanation to demonstrate the benefits of smarter collaboration. To provide a data-driven, objective way to improve collaboration-based outcomes, Gardner developed and launched the Smart Collaboration Accelerator, a psychometric assessment tool that helps individuals, leaders and teams turn their behavioral tendencies into strengths to foster smart collaboration.
Achieving Greater Margins and Loyalty with Collaboration
Never giving mere speeches, Dr. Gardner customizes every presentation, often based on significant upfront diagnostic work that identifies collaboration barriers, structural and cultural impediments and leadership opportunities. Her tailored insights spark action by pushing audiences to find pragmatic applications for smarter collaboration. She also offers advice based on participants' specific business challenges and opportunities, inspired by her work with senior executives, boards of directors, and front-line teams in hundreds of organizations around the world, in industries including professional services, financial services and fintech, healthcare, biotech/pharma, consumer products, automotive, energy/renewables, technology and more.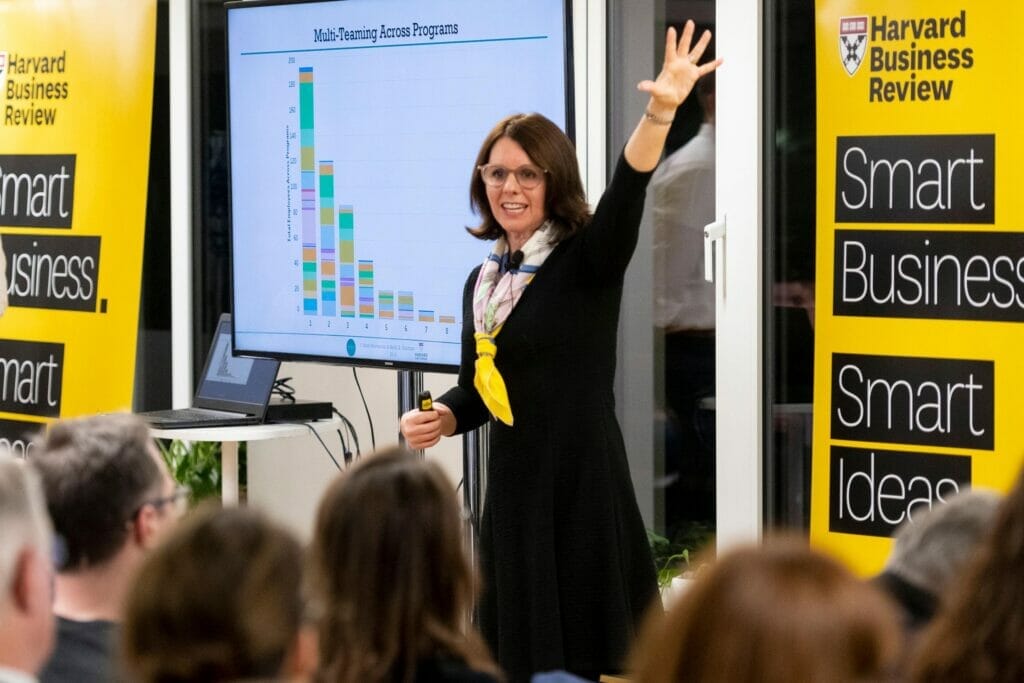 Dr. Gardner emphasizes that leaders who don't consider the benefits of collaboration are leaving talent and treasure on the table.
"When organizations get collaboration right by leveraging a diversity of perspectives and backgrounds across silos, they earn higher margins, inspire greater customer and employee loyalty and attract more cutting-edge work," she stresses. "Our data backs it up, and our approaches help companies achieve it."
By combining strategy, analytics and insights from organizational behavior, Dr. Gardner provides a strengths-based, action-oriented methodology that transforms the soft science of teaming into the hard science of smarter collaboration, shaping organizations into institutions that attract admirers and accomplish unimaginable outcomes.
---
Organizations that collaborate smarter consistently generate higher revenues and profits, boost innovation, strengthen client relationships, and attract and retain better talent. Stern Strategy Group connects you with renowned thought leaders whose insights, strategies and management frameworks help organizations fuel growth and disruptive innovation to better compete in a constantly changing world. Let us arrange for these esteemed experts to advise your organization via virtual and in-person consulting sessions, workshops and keynotes.
Collaborate Better: Measurable KPI's that Benefit the Bottom Line
was last modified:
December 12th, 2022
by