As the adoption of artificial intelligence spreads across the business world, Michèle Lamont, Harvard University professor, says there's something vital humans can give to each other that machines cannot – recognition.
Author of "Seeing Others: How Recognition Works ― and How It Can Heal a Divided World" (Simon and Schuster, September 2023), Lamont is a pioneer in the study of cultural and comparative sociology. A professor of sociology and African and African American Studies and European Studies, she explains that we all seek recognition, and if we want people to be more committed at work we have to create empowering environments where people feel more valued. "Seeing Others" offers leaders and employees the tools to put themselves in a safe context, allowing frank discussions about the lack of recognition without assigning blame.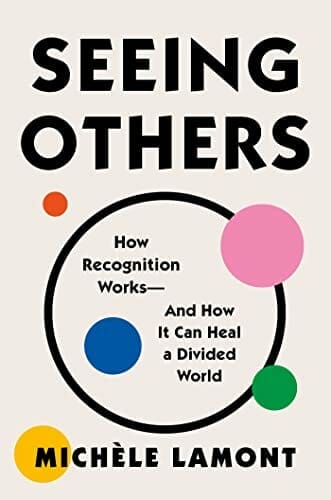 Through her 40 years of research and deep investment into topics such as worth, dignity, respect, and recognition, Lamont offers organizational leaders a unique, non-partisan perspective into cultural dynamics at work, including how to make group boundaries more permeable. She shows how organizations can create conditions where dignity, equality, respect, trust, inclusion, and destigmatization are actively promoted and ensured so people can do their best work and be their best selves. By creating sustainable workplaces with committed employees, retention, collaboration, and productivity are all boosted.
Redefining The Workplace to Be a More Sustainable Environment
In an age defined by growing inequality and increasing pessimism, Lamont says we're in a moment of crisis and people are looking for hope. To achieve that, she urges leaders in particular to redefine the workplace in a way that is sustainable by creating an environment where workers want to be there.
To do so, Lamont advises leaders to think about work more holistically. While in its simplest terms work is a way to earn money, her research shows that we crave much more than just a paycheck from our jobs. "Most people think of work as something that gives you money, which gives you the tools to do other things in life," explains Lamont, chair of Harvard's Weatherhead Research Cluster on Comparative Inequality and Inclusion. "But research really shows that what people seek at work is not only money but also meaningful relationships. Therefore, if we want people to be more committed to work, we really have to figure out how to engineer collective environments which are more empowering and where people feel more valued, leading to positive relationships both at and outside of the office."
A Different Approach to Work for the Employees of Tomorrow
In "Seeing Others," Lamont outlines a framework for creating successful workplace cultures for both the present and future.
The first step is to create a more inclusive setting in which people can live authentically, which fosters a sustainable workplace with committed employees.
Next, Lamont points to the power of narratives to bring visibility and acceptance of diverse experiences, with an emphasis on what we have in common. This allows people to redefine the frames through which we perceive others, better relate as human beings, and recognize a hopeful message in the changes that are already taking place in society.
Finally, she emphasizes the importance of recognizing the values and unique characteristics of younger generations.
"There are huge intergenerational contrasts between Boomers, Millennials, and Gen-Z," explains Lamont, who co-chaired the advisory board to the 2021-22 UN Human Development report, "Uncertain Times, Unsettled Lives: Shaping our Future in a World in Transformation." "With the workers of tomorrow now starting to enter the job market, you have to understand what they're seeking and approach work differently for them to be fully engaged in it. Otherwise, it will be challenging to retain them."
Lamont's qualitative, interdisciplinary research empowers leaders to foster social resilience, recognition, dignity and trust, leading to enhanced workplace culture, employee retention, collaboration, and productivity, which extends to society as a whole. By engaging in a collective reflection about how to create workplaces that value all, she provides the lenses for leaders to understand the role recognition plays in our lives, both professionally and personally.
"I am glad to see young adults and agents of change promoting destigmatization, but organizations can play a powerful role in expanding recognition to the largest number of citizens," Lamont explains. "By becoming more inclusive we also invite in more ideas, strengthen teamwork and build trust. It is our moral obligation to ensure people feel part of the greater whole at work, in their communities and in the world."
---
In an era marked by shifting workplace dynamics, organizations must nurture the timeless essence of human recognition to create an environment in which workers want to be. Stern Strategy Group connects you with renowned thought leaders whose insights, strategies and management frameworks help organizations fuel growth and disruptive innovation to better compete in a constantly changing world. Let us arrange for these esteemed experts to advise your organization via virtual and in-person consulting sessions, workshops and keynotes.
Create Empowering Workplaces Through Recognition: The Secret To Enhanced Employee Commitment
was last modified:
September 21st, 2023
by