Learn More About Gautam Mukunda
Gautam Mukunda is a research fellow at Harvard Kennedy School. In his book, "Indispensable: When Leaders Really Matter" (Harvard Business Review Press), he takes a hard look at the age-old question, "Does history make the man, or does the man make history?" In his new book, "Picking Presidents: How to Make the Most Consequential Decision in the World" (University of California Press, October 2022), he sets his sights on presidential candidates, proposing an objective and tested method to assess whether they will succeed or fail if they win the White House.
From historic icons like Abraham Lincoln and Winston Churchill, to high-impact contemporary leaders like Jamie Dimon and Judah Folkman, Mukunda identifies the unique circumstances when individual leaders really do make a difference. By illuminating the "filtration" processes undergone by all potential leaders, he expertly illustrates which leaders matter, when and why they do, and what we can learn from both their successes and their failures. In addition to his new release, Mukunda has previously been published in The Washington Post, Security Studies, Parameters, Politics and the Life Sciences, and Systems and Synthetic Biology. His past articles focus on leadership, military innovation, network-centric warfare and the security and economic implications of synthetic biology.
An accomplished academic, Mukunda is a member of both the Council on Foreign Relations, and the Massachusetts Institute of Technology's (MIT) Security Studies Program and Program on Emerging Technologies. He is a Paul & Daisy Soros New American Fellow, an NSF IGERT Fellow and a Next Generation Fellow of The American Assembly. He is a Principal Investigator on the National Science Foundation's Synthetic Biology Engineering Research Center, a member of the Council on Foreign Relations and The Chief of Naval Operation's Executive Advisory Panel, and a Jeopardy Champion. Formerly, he was an assistant professor of business administration in the Organizational Behavior Unit of Harvard Business School and a Distinguished Visiting Professor for the Schwarzman Scholarship.
Before joining Harvard Business School, Mukunda was the National Science Foundation Synthetic Biology ERC Postdoctoral Fellow resident at MIT's Center for International Studies. He received his PhD from MIT in political science and an AB in government from Harvard, graduating magna cum laude. Prior to his graduate career, Mukunda served as a consultant with McKinsey & Company, where he focused on the pharmaceutical sector.
In addition to his current work as author and assistant professor, Mukunda serves as founding managing director of The Two Rivers Group and is a member of the board of directors and chair of the Mentorship Committee of The Upakar Foundation, a national non-profit devoted to providing college scholarships to underprivileged students of South Asian descent. He is a Paul & Daisy Soros New American Fellow, an NSF IGERT Fellow, a Next Generation Fellow of The American Assembly, a Member of the World Economic Forum's Global Agenda Council on New Models of Leadership, and a member of the New England Regional Selection Committee for the White House Fellowship.
Gautam Mukunda is available to advise your organization via virtual and in-person consulting meetings, interactive workshops and customized keynotes through the exclusive representation of Stern Speakers & Advisors, a division of Stern Strategy Group®.
Gautam Mukunda
was last modified:
September 8th, 2023
by
Leadership and Innovation
Companies that cannot innovate cannot succeed, and helping their companies to innovate is one of leaders' most important, and least understood, responsibilities. Through a series of studies of figures in politics, business, and science, Gautam Mukunda's research shows what separates the extraordinary leaders who produce company and industry-changing innovations from ordinary ones, how some organizations are able to choose highly innovative leaders in surprising ways, and how different types of innovative challenges are likely to require very different types of leaders.
Leadership and Change
Changing an organization is leaders'  quintessential, and most challenging, task. Change efforts, however, are highly likely to fail, and too often leaders are far too resistant to changing the systems that brought them to power.  In this presentation, Gautam Mukunda explains which leaders are likely to attempt to make substantial changes to the organizations they lead, when they are likely to succeed and fail, and how organizations can pick the leaders most likely to dramatically improve their performance.
Are You an Indispensable Leader?
The importance of leadership and the impact of individual leaders has long been the subject of debate. Are they made by history, or do they make it? Gautam Mukunda offers a fresh look at how and when individual leaders can really make a difference. Drawing from his book, "Indispensable" (Harvard Business Review Press, 2012), he profiles a mix of historic and modern figures, and through the stories of how they came to power and made their most important decisions, he reveals how, when and where a single individual in the right place at the right time can save or destroy the organization they lead – or even change the course of history. Mukunda also helps you understand how you can use this model in your life – whether as a citizen casting a ballot, an executive choosing your next CEO or a leader trying to make your mark.
Balance of Power: Solving Leadership's Struggle With Wall Street
As Wall Street's size and profit continues to swell, so does its pressure and influence on public companies. The problem is power, says Gautam Mukunda. And Wall Street has amassed an enormous and disproportionate share of it, forcing corporate executives to make risky decisions in the best interest of shareholder returns, not business value. Pointing to compelling examples – from Boeing to Sara Lee to Dell – he discusses why so many leaders continue to succumb to the financial sector's demands. Based on his Harvard Business Review  "Spotlight" article (June 2014), he also offers ideas for reform that will rebalance the American economy, which he says is vital to the competitiveness and health of the country. American business needs to get involved, Mukunda urges. And for that, leadership is critical.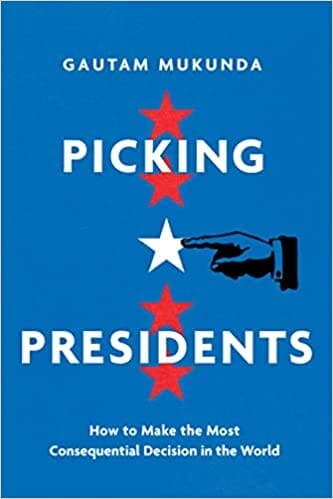 (University of California Press, October 2022)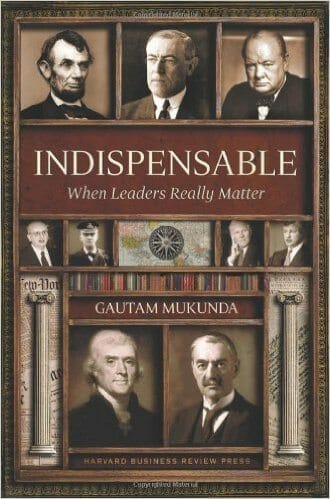 (Harvard Business Review Press, September 2012)
Praise for "Picking Presidents"
"An essential read for every citizen, an important selection for every book club, and a cautionary analysis for our democracy at large. Gautam Mukunda's 'Picking Presidents' is a thought-provoking review of the evolving way we have selected our chief executives, an honest appraisal of where we've gotten it right and painfully wrong, and a proposal for how we might make the most important hire in the world better."
"Bad presidents are very dangerous. In this engaging empirical study, Gautam Mukunda offers sage guidance on reforms to lower the odds of choosing the worst."
"Gautam Mukunda has written a vital book for understanding how we pick presidents and why the process is so at odds with the job. It is carefully argued and leaves the reader with a framework for understanding what's wrong and how the system can be improved. The stakes are high. At the very least our understanding of the process should respect the enormous power of the office. You'll want to get this book and study it not just before the next presidential selection contest, but to understand the presidency itself."
Praise for "Indispensable"
"In his new book, Indispensable, Gautam Mukunda, of Harvard Business School, uses Lincoln to examine one of the liveliest debates in modern management—whether insiders or outsiders make better bosses."
"These insights should now be of considerable help to the future development of aspiring executives and those who coach them, and to those responsible for selecting a CEO most suited to mastering a looming challenge."
"Gautam Mukunda, with his book 'Indispensable' and its cornerstone leader filtration theory (LFT), provides a significant new contribution to, first, organization studies in general and, second, leadership theory in particular."
"Associations seeking a CEO will benefit from Mukunda's leadership research and examples, as well as his six guidelines for increasing the chances of a successful hire…Mukunda's conclusions are likely to inspire rich dialogue among board members and CEOs."
"In reviewing the life of some of the greatest leaders in history, Gautam Mukunda offers us a vision of leadership that is fascinating and original."
"'Indispensable' is indispensable—an eye-opening analysis of how we should evaluate leaders in our politics and our organizations, and a set of gripping narratives about some of the most fascinating people who have ever lived."
"'Indispensable' provides a masterly, absorbing, and exceptionally original approach to the age-old study of leadership."
"I have studied innovation and change from many dimensions. Somehow, however, I had simply assumed that the right leader can be selected to effect the changes required. 'Indispensable' has taught me that I was woefully naive. This is a great book."
"'Indispensable' provides fascinating insights into how leaders are shaped by their unique personal and professional journeys and by the context of their times. Whether they were focused on saving countries, saving companies, or saving lives, the individuals profiled here are memorably illuminated through Mukunda's sharp and engaging analysis."
"Why do some leaders change the course of human events, while others find themselves not quite up to the task when history knocks? In a study that applies to business as well as to civil society and politics, Mukunda explores the 'filtration' systems through which we choose our leaders, providing fresh and fascinating insights."