There's no doubt that advancements in artificial intelligence have pushed our society to the next level of technological breakthroughs. Exciting developments in finance, healthcare, education and more have taken humanity to new heights in speed and productivity. While machine learning and AI create a world of opportunities for innovators, they also present new risks with the potential to impact business and relationships.
Reid Blackman, Ph.D., knows the landscape of ethical risk inherent in organizations, particularly in AI programs. He specializes in building practical frameworks for responsible innovation and supporting organizations as they create and deploy AI for "not bad."
An entrepreneur and former philosophy professor, Blackman is captivated by the ethics of emerging technologies. As founder and CEO of Virtue, a digital ethical risk consultancy, he is an authority on creating and scaling AI and digital ethical risk programs. He is relied upon by Fortune 500 and Global 1000 companies, including AWS, US Bank, EY, Deloitte and Anglo American, for his scalable cross-functional plans that leverage existing infrastructure and operationalize ethics practices. Blackman also offers advice for blockchain developers and users interested in avoiding threats like bad governance or privacy violations.
Avoiding Critical Pitfalls when Scaling AI Programs
"Most people are afraid of AI ethics because they don't understand the problems in the risk landscape. Once you see the issues, you'll draw the same conclusions," encourages Blackman, who advises the Canadian government on their federal AI regulations.
By understanding the sources of risk, he emphasizes, organizations can avoid critical pitfalls as they scale AI and machine learning programs. His book, "Ethical Machines: Your Concise Guide to Totally Unbiased, Transparent, and Respectful AI" (2022) breaks the complex topic of AI ethics down into understandable, actionable and achievable components, including articulating the seven elements of an effective and efficient AI ethical risk program. Called a "fresh contribution to the complex challenge of putting AI ethics into practice," the book tackles the big three AI risks — bias, explainability and privacy — and tells you what to do (and what not to do) to mitigate them.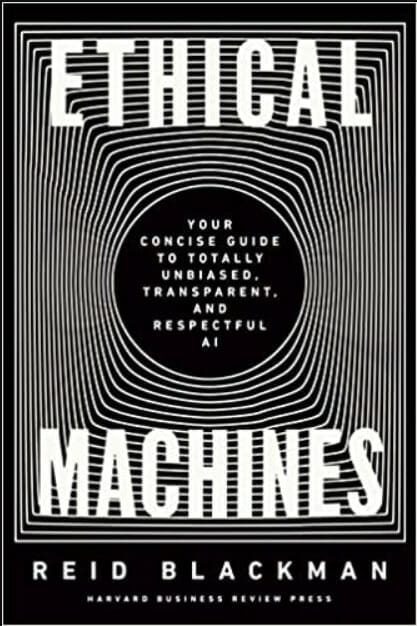 Moving beyond ethical practices and processes for AI, Blackman argues that the same frameworks can also apply to an entire organization. He recommends putting scalable ethical infrastructures, processes and practices in place to encourage innovation leaders and teams as they grow. His pioneering principles support leaders working closely with data scientists and developers, giving them organizational pathways to answer tough questions about emerging technologies, curbing offensive behavior in the workplace, and more.
Using the Newest Technologies while Staying Ethically Safe
Despite the inherent ethical challenges in using the newest technologies, Blackman's straightforward and no-nonsense approach helps companies detect ethical smoke before fires start, accomplishing their core functions using the newest technologies while maintaining a creative, innovative and ethically sound organization.
"Operationalizing data and AI ethics is not an easy task," Blackman admits. "Companies that make the investment, however, will not only see mitigated risk but also more efficient adoption of the technologies they need to forge ahead."
---
For businesses experimenting with AI, understanding and addressing ethical implications must be top-of-mind to ensure scalable, sustainable success. Stern Strategy Group connects you with renowned thought leaders whose insights, strategies and management frameworks help organizations fuel growth and disruptive innovation to better compete in a constantly changing world. Let us arrange for these esteemed experts to advise your organization via virtual and in-person consulting sessions, workshops and keynotes.
In AI We Trust? Unlock Innovation Without Compromising Ethics
was last modified:
November 8th, 2023
by