Learn More About Reid Blackman
There's no doubt that advancements in artificial intelligence have pushed our society to the next level of technological breakthroughs. Exciting developments in finance, healthcare, education and more have taken humanity to new heights in speed and productivity. While machine learning and AI create a world of opportunities for innovators, they also present new risks with the potential to impact business and relationships.
Reid Blackman, Ph.D., knows the landscape of ethical risk inherent in organizations, particularly in AI programs, and specializes in building practical frameworks for responsible innovation and supporting organizations as they create and deploy AI for "not bad."
An entrepreneur and former philosophy professor, Blackman is captivated by the ethics of emerging technologies. As founder and CEO of Virtue, a digital ethical risk consultancy, he is an authority on creating and scaling AI and digital ethical risk programs. He is relied upon by Fortune 500 and Global 1000 companies, including AWS, US Bank, EY, Deloitte and Anglo American, for his scalable cross-functional plans that leverage existing infrastructure and operationalize ethics practices. Blackman also offers advice for blockchain developers and users interested in avoiding threats like bad governance or privacy violations.
"Most people are afraid of AI ethics because they don't understand the problems in the risk landscape. Once you see the issues, you'll draw the same conclusions," encourages Blackman, who advises the Canadian government on their federal AI regulations. By understanding the sources of risk, he emphasizes, organizations can avoid critical pitfalls as they scale AI and machine learning programs. His book, "Ethical Machines: Your Concise Guide to Totally Unbiased, Transparent, and Respectful AI" (Harvard Business Review Press, July 2022) breaks the complex topic of AI ethics down into understandable, actionable and achievable components, including articulating the seven elements of an effective and efficient AI ethical risk program. Called a "fresh contribution to the complex challenge of putting AI ethics into practice," the book tackles the big three AI risks — bias, explainability and privacy — and tells you what to do (and what not to do) to mitigate them.
Moving beyond ethical practices and processes for AI, Blackman argues that the same frameworks can also apply to an entire organization. He recommends putting scalable ethical infrastructures, processes and practices in place to encourage innovation leaders and teams as they grow. His pioneering principles support leaders working closely with data scientists and developers, giving them organizational pathways to answer tough questions about emerging technologies, curbing offensive behavior in the workplace, and more.
"A good deal of organizations don't know the ethical risks they're exposed to, and they don't know how to tackle them," Blackman cautions. "If companies don't get their ethical houses in order, they're going to be in trouble."
Despite the inherent ethical challenges in using the newest technologies, Blackman's straightforward and no-nonsense approach helps companies detect ethical smoke before fires start, accomplishing their core functions using the newest technologies while maintaining a creative, innovative and ethically sound organization.
"Operationalizing data and AI ethics is not an easy task," Blackman admits. "Companies that make the investment, however, will not only see mitigated risk but also more efficient adoption of the technologies they need to forge ahead."
# # #
Reid Blackman, Ph.D., is the founder and CEO of Virtue, a digital ethical risk consultancy, and is the author of "Ethical Machines: Your Concise Guide to Totally Unbiased, Transparent, and Respectful AI," published by Harvard Business Review Press. He has served as a Senior Advisor to the Deloitte AI Institute, a founding member of Ernst & Young's AI Advisory Board, and volunteers as the Chief Ethics Officer to the non-profit, Government Blockchain Association.
Blackman's work has been profiled in The Wall Street Journal, Forbes, and many other publications, and he has contributed multiple pieces to Harvard Business Review, TechCrunch and VentureBeat. He has been quoted in dozens of news articles, and he regularly speaks internationally to audiences including the World Economic Forum, the Federal Bureau of Investigations, SAP, Cannes Lions, Forbes, Amazon Web Services, NYU Stern School of Business, Columbia University and NASA.
Prior to founding Virtue, Blackman was a professor of philosophy at Colgate University and the University of North Carolina, Chapel Hill. His research has appeared in numerous prestigious professional journals including the European Journal of Philosophy, The Canadian Journal of Philosophy and Erkenntnis. He also founded a fireworks wholesaling company and was even a flying trapeze instructor. He received his bachelor's from Cornell University, his master's from Northwestern University and his doctorate from The University of Texas, Austin.
Reid Blackman is available to advise your organization via virtual and in-person consulting meetings, interactive workshops and customized keynotes through the exclusive representation of Stern Speakers & Advisors, a division of Stern Strategy Group®.
Reid Blackman
was last modified:
October 25th, 2023
by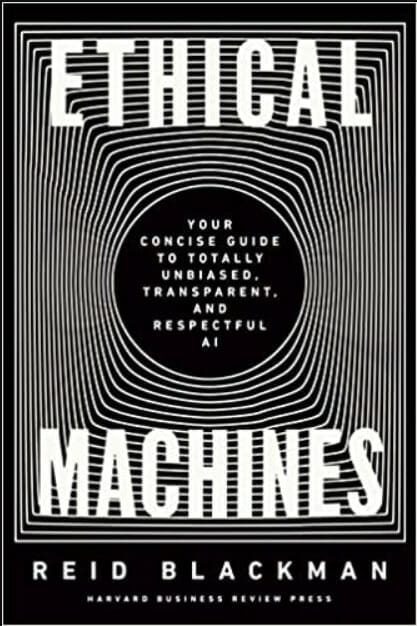 (Harvard Business Review Press, July 2022)
(Canadian Journal of Philosophy, January 2020)
Reid Blackman, Ph.D.'s mission is to enable others to make informed and wise decisions regarding emerging technologies. As he does in his new book, "Ethical Machines: Your Concise Guide to Totally Unbiased, Transparent, and Respectful AI" (Harvard Business Review Press), he removes the fog from the landscape of risks inherent in artificial intelligence programs, then provides a path to proactive strategies for mitigation. By guiding teams as they think deeply about their industry or organization-specific risks, Blackman helps them articulate the important ethical and reputational business questions they couldn't ask before. "Once the questions become clear," Blackman advises, "It's easy to devise strategies to address them."
His interactive and customizable workshops offer technical and non-technical teams the opportunity to understand the difference between "AI for good" and "AI for not bad," supporting organizations' creative and innovative growth while keeping them true to their core values. Topics covered in Blackman's half- and full-day workshops can include:
Lifting the Fog on AI Ethics
Building an AI Ethical Risk Program
Solving for Biased AI
Organizational Ethics
Looking Inside the Black Box
Guiding Principles for Blockchain
The Evolving Digital Landscape and its Ethical Risks: AI, Blockchain, Quantum, AR/VR, and the Metaverse
"Finally! A book that demystifies how to responsibly manage AI and does it in an engaging, succinct, and practical way. This is a must-read for anyone embarking on a machine learning journey. Blackman is a true expert in AI ethics, and this book is an indispensable resource."
"An excellent read that turns a complex topic into understandable and actionable components. Business leaders need to understand that AI ethics isn't just hand-waving. It poses real risks to brand and profit. Fortunately, Blackman is outstanding at laying out how you should think about AI ethics and the steps you should take."
"Reid Blackman's new book, 'Ethical Machines,' is a fresh contribution to the complex challenge of putting AI ethics into practice. Using vivid examples and accessible storytelling, Blackman introduces an actionable framework for comprehensive ethical risk management that will help companies avoid critical pitfalls as they incorporate AI into their products and processes."
"Companies of all stripes are increasingly looking to use AI and hoping to build it ethically and responsibly. In this charming book, Reid Blackman provides practical guidance to turn these hopes into a reality."