Learn More About Ariel Ekblaw
During NASA's 1960s Apollo missions, many people turned their dreams skyward hoping to one day visit the cosmos. Today, Ariel Ekblaw, founder and director of the MIT Space Exploration Initiative, is working on turning those dreams into reality while uncovering ways to improve life on Earth.
An eloquent communicator whose future-focused work has leaders in every sector paying close attention, Ekblaw is on a mission to democratize space exploration. At MIT, she oversees more than 50 scholars and 80 member companies who are driving space-related research across fields as diverse as aerospace engineering, synthetic neurobiology, architecture, design, robotics and AI, tourism and the arts. She is also the founding CEO of Aurelia Institute, a hybrid space architecture research institute and venture incubation studio. Through this connected ecosystem, she strives to bring humanity's space exploration future to life.
Much of Ekblaw's team's research is focused on the day-to-day experience of life in space — the tools we use, the food we eat, the spaces we occupy. Her ongoing discoveries, which provide a window into the future of work and life, have major implications for businesses and governments, fueling innovative thinking and inspiring endless possibilities for new inventions and new ways of living. In the process, she is galvanizing the next generation of scientists and explorers, increasing access to knowledge, and engaging global citizens.
"In some way, we are each stewards of the final frontier," explains Ekblaw, an enthusiastic champion of space exploration. "It's time to open space to everyone so we can build humanity's interplanetary future together — responsibly, creatively, and audaciously."
An expert in space habitats and editor of "Into the Anthropocosmos: A Whole Space Catalog from the MIT Space Exploration Initiative" (The MIT Press, October 2021), Ekblaw's personal research is centered on the TESSERAE platform, a self-assembling geodesic architecture for space stations and orbital tourism. Her broader work is informing such areas as sustainable agriculture, urban renewal, natural disaster preparation and climate change adaptation, and the future of human culture in space. In addition to working closely with several international space agencies, she advises Fortune 100 companies and space industry non-profits, helping leaders understand such concepts as low-Earth orbit (LEO), emerging markets, our lunar and martian prospects in this decade, and traffic and waste management in LEO environments.
Optimistic about the future, Ekblaw's central message is that space exploration is not about an urge to escape the Earth. It's about a better vision for humanity.
"The Earth is the best home humanity will ever have," she says. "Space exploration isn't about abandoning that. We co-evolved with our planet to survive here, and all of our work should come back to benefit life on Earth in practical, environmentally-conscious and humanitarian ways."
# # #
Ariel Ekblaw has studied supersymmetry and microgravity research, big data programming, user-centered design, product development and hardware systems engineering at institutions such as CERN Particle Physics Laboratory, Microsoft Azure, and NASA. Through her work at MIT, she brings together international astronauts, scientists, CEOs, directors and writers to discuss space technologies, their analogous uses on Earth and their representation in fiction. She also charters parabolic flights and sub-orbital and orbital launches, forging collaborations among university departments and space industry partners, while providing technical advice for all mission deployments.
Ekblaw serves on the NASA Lunar Surface Innovation Consortium (LSIC) Executive Committee, guiding and shaping the coming decade of burgeoning activity on the moon. She has had the rare honor and pleasure of working directly on space hardware that now operates on the surface of Mars and is leading MIT's return to the moon.
Ekblaw's work has been featured in WIRED (March 2020 cover story), MIT Technology Review, Harvard Business Review, the Wall Street Journal, the BBC, CNN, NPR, PRI's Science Friday, IEEE and AIAA proceedings, and more. She holds undergraduate degrees in physics, mathematics and philosophy from Yale University, as well as a Master's degree in distributed systems and a doctorate in aerospace structures from the MIT Media Lab. Her Master's thesis on the uses of distributed ledgers in medical records management has been cited nearly one thousand times.
Ariel Ekblaw is available to advise your organization via virtual and in-person consulting meetings, interactive workshops and customized keynotes through the exclusive representation of Stern Speakers & Advisors, a division of Stern Strategy Group®.
Ariel Ekblaw
was last modified:
March 13th, 2023
by
Exploring Space to Improve Life on Earth and in the Cosmos
Organizations trying to understand the future of their industries are keeping a close eye on the work of Ariel Ekblaw, founder and director of the MIT Space Exploration Initiative. Ekblaw and her team of more than 50 scholars and the MIT Media Lab's 60+ Member Companies are at the forefront of uncovering spaced-based technologies that will profoundly impact the way we work, live and do business here on Earth. Based on the 2021 book she curated, "Into the Anthropocosmos: A Whole Space Catalog from the MIT Space Exploration Initiative," she discusses space technology for a new age, revealing discoveries her team has made in such areas as sustainable agriculture, urban renewal, natural disaster preparation, climate change adaptation and the future of human culture in space.
Urban Planning at Planetary Scale
Space, as the final frontier, is comparatively unspoiled territory. But entrepreneurs have their sights set on new opportunities, and as low-Earth orbit population eventually increases, so too will the economic, infrastructural and socio-political decisions that must be made about human life in space. In this talk, founding director of the MIT Space Exploration Initiative Ariel Ekblaw illuminates the previously unthinkable — floating advertisements, satellite-based Internet, space hotels, nationalized zones, utilities, traffic congestion, debris pollution — and urges audiences to consider the extra-planetary community we actually want. Calling for international regulation modeled on the FCC or ITU to oversee common needs like shared water and electromagnetic resources, Ekblaw applies the principles of communal life on Earth to our nascent lives in space to frame how current research can and should influence our approach over the next several decades.
Human Life in Space: Where We Are and Where We're Going
As Virgin Galactic, Blue Origin, and other space tourism companies advance, a new reality is coming into focus: soon, professional astronauts won't be the only people to regularly leave Earth. This new era of space access will bring with it new frontiers of creativity and culture, says Ariel Ekblaw, as well as values and pastimes unique to off-planet life. In this session, Ekblaw, founding director of the MIT Space Exploration Initiative, examines the ways our unique human activities will expand our imprint on the universe. With a focus on democratizing space exploration, Ekblaw highlights the opportunity for artists and designers of all genders, nationalities and identities to explore self-expression in space through fashion, dance, food, video arts, narrative and more. Giving equal consideration to scientists, she provides an overview of developing research areas, including neuromodulation in microgravity and alternative satellite fuels engineering, that invite new scholarship and new solutions. Through a whirlwind journey into cutting-edge space invention, this detailed examination of where we are and where we're going demonstrates in full clarity how our current moment in history is opening avenues of investigation never before possible.
Girls in STEM: Shifting the Imbalance
Founding director of the MIT Space Exploration Initiative Ariel Ekblaw knows firsthand the value of inspiration in choosing to pursue a career in STEM (Science, Technology, Engineering, Math). Her mother (one of the first female pilots in the United States Air Force) was a reservist instructor pilot who taught her male counterparts how to fly. In this presentation, Ekblaw explains why promoting STEM careers for women is at the heart of her work and how childhood programs, like Girl Scouts, can help parents guide their daughters toward new opportunities. Using the philosophy of "learn one, do one, teach one," Ekblaw discusses the service model of leadership and how values like exploration and courage can help young women see STEM subjects as viable paths to effect meaningful personal, professional and community change. With particular emphasis on Generation Z and underrepresented communities, Ekblaw focuses her talk on cultivating interest among youth in a way that motivates them to invest in the health of our planet and take up the banner of leadership for a new era.
(MIT Media Lab, April 2022)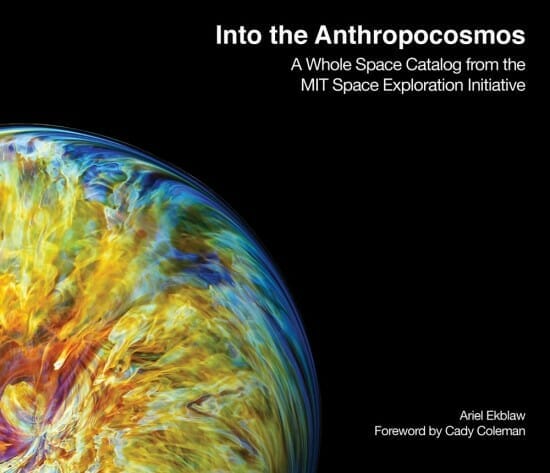 (The MIT Press, October 2021)
"'Into the Anthropocosmos' provides an insightful and comprehensive yet easy-to-understand summary of the complex science required to establish an interplanetary species. A compelling and informative read."
"Take a glimpse into a future of possibility—where SciFi can become SciFact. This book reminds us that the best solutions for overcoming the challenges of settling space far from our home planet are the ones that ultimately improve life on it."
"'Into the Anthropocosmos' importantly synthesizes science-art-engineering-design, postulating the duality of opportunity and responsibility for the future of space exploration."
"'Into the Anthropocosmo's is both glorious speculation and wild celebration of what is next in space travel technology and what could be right around the corner—a true playground for science fiction writers."